Pork neck steak with tomato sauce and melted mozzarella is flavorful and nutritious low carb meal. Pork meat falling apart in delicious and aromatic sauce with Mediterranean herbs.
This was my last night low carb family dinner. I try to cook for my family nutritious and low carb or keto food so this pork neck meat with delicious sauce was a huge hit. Sauce is made of caramelized onion and tomato with Mediterranean herbs like oregano and basil. It is thickened with mascarpone cheese and it is so smooth and delicious. This is one of those meals that you can make in under 30 minutes in one skillet and that is one more plus to this nutritious keto meal.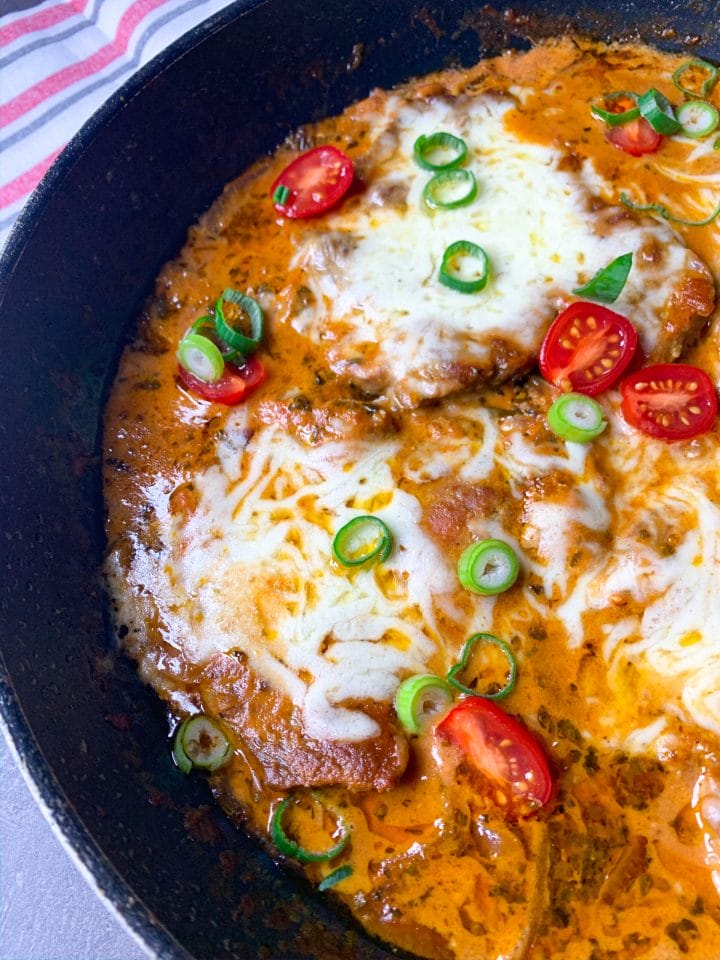 Keto sauce with tomatoes and mascarpone
Mascarpone cheese works great as a sauce thickener and it is great if you are on lchf, keto, gluten free or you just want to avoid flour for any other reason. I can say that the taste is way better than when you thicken your sauce or gravy with flour.
Flour free sauces are my specialty. I can recommend you some of my favorite keto meals with rich and thick keto sauces:
Pork chops with sun dried tomatoes and mushrooms
Salisbury steak in mushroom gravy

Tips to prepare delicious pork neck steak with tomato sauce
Remove the bones - when cooking pork neck meat in a pan or a skillet, remove the bones before cooking. Pork neck bones could be very fragile and bones particles could fall off. That's why it's better to remove them before cooking, the taste is great, but don't sacrifice your teeth! You can use the bones for a bone broth or a soup.
Brown the meat on a pan or a skillet. I recommend you to heat the olive oil or lard and brown the meat, because caramelized meat will have so much better flavor. After browning the meat, remove it from the pan and sautee onion on remaining fat.
Onion caramelization is very important part of cooking of this tomato sauce. On remaining fat from browning meat sautee onion until golden brown and translucent. This part, just like the browning of the meat, makes all the difference between some dish and really delicious and yummy dish.
Mascarpone - at the end add 2 TBS of mascarpone cheese to the sauce. It will thicken the sauce and give wonderful creamy texture. You will see, it will be much more tasty than the regular sauce thickened with flour. Also, this sauce will have smooth texture, all thanks to mascarpone.
Melted mozzarella - when sauce is cooked and meat is tendered, just before turning off the heat, top meat with shredded mozzarella, cover it for a minute or two or until cheese is melted. That melting mozzarella cheese will give delicious final touch to this keto dish. It will look like a pizza and with Mediterranean herbs like oregano and basil it will have a taste that reminds on pizza. But it will be much more nourishing and without all these carbs.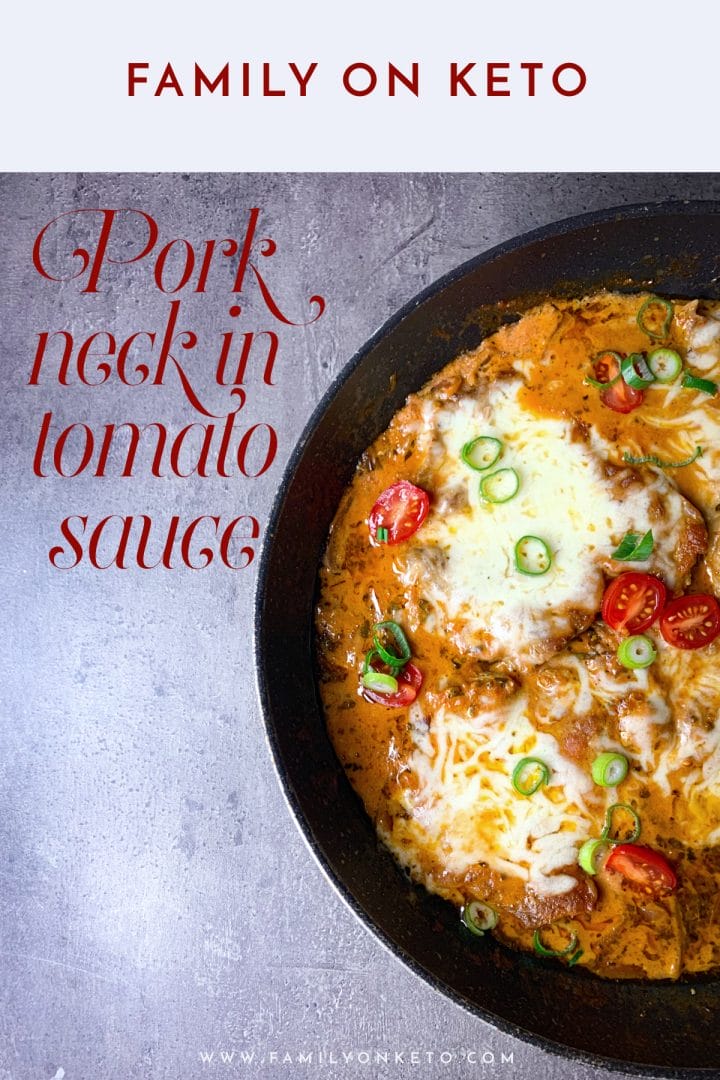 Serving pork neck steak with tomato sauce
You might serve this low carb dish with any side dish you like. If you want to stay keto, serve it with mashed cauliflower or with cooked green beans. I love it with green beans, they are so easy and fast to prepare. Just throw them into boiling water with a pinch of salt for few minutes and drizzle with olive oil or melted butter and you will get fantastic low carb side dish.
Connect with me!
If you like my recipes, leave a comment and share in your favorite social network groups. For daily inspiration connect with me on FACEBOOK, INSTAGRAM and PINTEREST!
Enjoy this healthy and delicious food!
Ines
Pork neck steak with tomato sauce
Pork neck steak with tomato sauce and melted mozzarella is flavorful and nutritious low carb meal. Pork meat falling apart in delicious and aromatic sauce with Mediterranean herbs.
Ingredients
Lard or olive oil 2 TBS
Pork neck steaks 700 g/25 oz
Onion sliced or chopped 70 g/2.5 oz
Sugar free tomato puree 1 cup
Water 1 cup
Mascarpone 2 TBS
Pinch of powdered garlic
Oregano finely chopped dried or fresh 1 tsp
Basil finely chopped fresh or dried 1 tsp
Parsley finely chopped 1 tsp
Shredded mozzarella ½ cup/50 g/1.8 oz
Salt to taste
Pepper to taste
1 chopped spring onion to garnish (optional)
Cherry tomatoes to garnish (optional)
Instructions
Heat 2 TBS of lard or olive oil on a pan or a skillet.
Season the steaks gently with 1 teaspoon of salt and ground pepper to taste.
Cook pork neck steaks on a hot lard for 3-4 minutes on each side or oil until golden brown. When meat brown on each side transfer steaks on a plate.
On remaining fat sautee sliced or chopped onion until golden brown on the edges and translucent.
When onion is translucent pour in tomato puree and water, salt, pepper, parsley, basil, oregano and powdered garlic, stir to combine everything and add 2 TBS of mascarpone cheese. Stir again and put back pork neck steaks and cook covered for 7 - 10 minutes on medium high heat.
When it's cooked sprinkle meat with mozzarella and cover it for 2 minutes or until mozzarella is completely melted.
Serve hot with cauliflower mash or green beans.
Garnish with fresh cherry tomatoes and chopped spring onion (optional).
Enjoy!
Nutrition Information:
Yield:

5
Amount Per Serving:
Calories:

435
Total Fat:

24g
Carbohydrates:

5.23g
Net Carbohydrates:

3.48g
Fiber:

1.84g
Protein:

43g
This is for your information only, please calculate your own macros with ingredients you use.