Breakfast sausage patties are flavorful and juicy. Combination of ground pork and ground beef with seasoning for breakfast sausage, spices and herbs.
Need good keto breakfast?
Craving for a different keto breakfast instead of your favorite eggs and bacon? Great! Because I have flavorful and tasty recipe for breakfast sausage patties.
You might try other delicious breakfast options I have like keto bacon bread. That was one of my most popular recipes in 2019!
If you are more smoothie type, try this delicious keto protein raspberry smoothie.
Meal prepping breakfast
This keto breakfast sausage you can prepare for breakfast or easy keto lunch. If you're meal prepping this recipe might be great for that too. You can cook these keto friendly breakfast sausages and keep them in the fridge for few days. Also, you can freeze them cooked or uncooked.
If you plan to freeze them uncooked, the best way is to prepare patties and wrap each in the wrapping foil. Frozen patties you can keep in the freezer for the whole moth and unfreeze when you desire.
If keeping frozen uncooked patties in the freezer, you don't need to unfreeze them, you can just out them frozen on a hot lard or avocado oil cook just like that.
Keto breakfast sausage seasoning with sun dried tomatoes
Seasoning for breakfast sausage is very simple here. I use freshly ground meat that has a great taste. That's why I don't put so many spices and herbs, simply it's not necessary. Always using combination of ground pork and beef.
Of course, you will need to season the meat. Finely ground pepper, a little bit of ground paprika, just a pinch of powdered garlic and fresh chopped parsley, basil and sun dried tomatoes. It works great with ground meat.
I always have sun dried tomatoes in my fridge. You can keep them in the fridge for months. I like to combine them with pork meat, and here is my family's favorite recipe for pork chops with sun dried tomatoes. That's one you need to try also!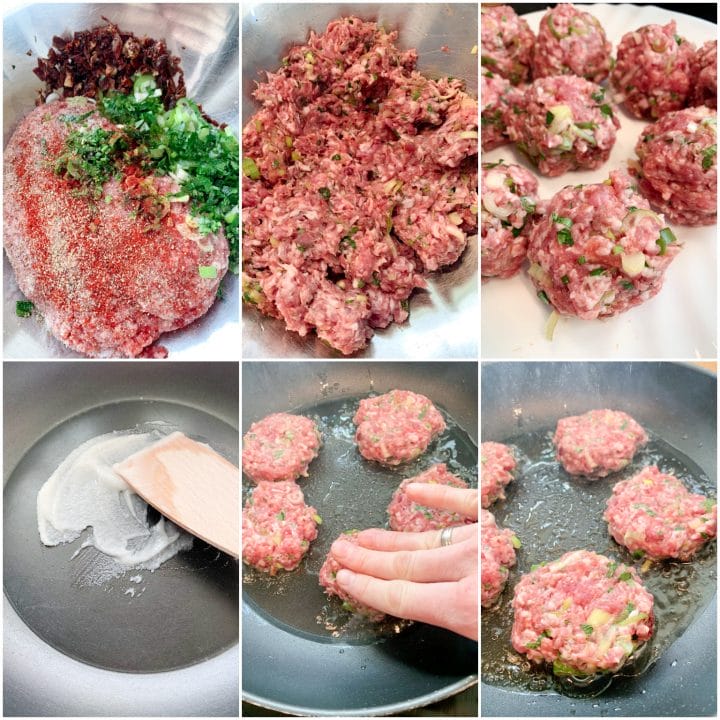 Serving keto breakfast sausage patties
I like to serve these keto meat patties with fresh leafy green salad. Just simple olive oil and apple vinegar dressing on your salad and these patties, and you get fantastic and nutritious breakfast or lunch. Also, patties go great with sour cream, avocado, cherry tomatoes or for linch with cauliflower mash or broccoli mash. If you are on carnivore diet you might serve them with a big bowl of cottage cheese and have a wonderful carnivore breakfast or lunch.

Sharing is caring!
If you like my recipes, please leave a comment and share in your favorite social network groups!
Follow me on FACEBOOK and INSTAGRAM for daily dose of healthy low carb recipes for the whole family!
Enjoy!
Ines <3
Breakfast sausage patties
Breakfast sausage patties are flavorful and juicy. Combination of ground pork and ground beef with seasoning for breakfast sausage, spices and herbs.
Ingredients
Ground meat/minced meat (half pork and half beef) 540 g/19 oz
Salt 1 tsp
Finely ground pepper ½ tsp
Ground red paprika ½ tsp
Finely chopped 1 spring onion
Pinch of powdered garlic
Fresh finely chopped parsley 1 TBS
Fresh finely chopped basil 1 TBS
Sun dried tomatoes finely chopped 20 g/0.70 oz
Lard for frying 2 TBS
Instructions
Mix meat with salt, pepper, powdered garlic, ground paprika, chopped spring onion, parsley, basil and finely chopped sun-dried tomatoes with a spoon or with your hands until all ingredients nicely combined. If using sun dried tomatoes from the oil, be sure to drain them well before chopping and combining with meat.
Form 10 patties and leave them on a plate until the oil or lard is hot on the pan.
Heat lard or avocado oil on a large pan or a skillet and when hot cook patties.
Cook patties until golden brown on the surface and cooked inside. You will need 3 - 4 minutes on each side.
When cooked, serve patties and enjoy.
Nutrition Information:
Yield:

5
Serving Size:

2 patties
Amount Per Serving:
Calories:

400
Total Fat:

36g
Net Carbohydrates:

1.2g
Protein:

15.4g
This is for your information only. Please, calculate your own macros with ingredients you use.