Keto pound cake with strawberries is moist, delicious and so tasty! I enjoy it as my afternoon keto treat with a cup of coffee or tea or as a keto breakfast pound cake. This is gluten free and sugar free, low carb strawberry pound cake recipe!
Keto pound cake is one of my favorite keto desserts. I love these keto pound cakes in general and this one with strawberries is so delicious! Instead of strawberries you can use another keto friendly berries, like blueberries, red currants, and similar low carb berries. Cherries could be great too!
This keto pound cake recipe is so easy to make, literally you just need to combine the ingredients in few minutes, bake it and enjoy it! I love to have a slice of this yummy strawberry pound cake for breakfast, after my standard bacon and eggs or with a cup of coffee or tea in the afternoon. That's my favorite.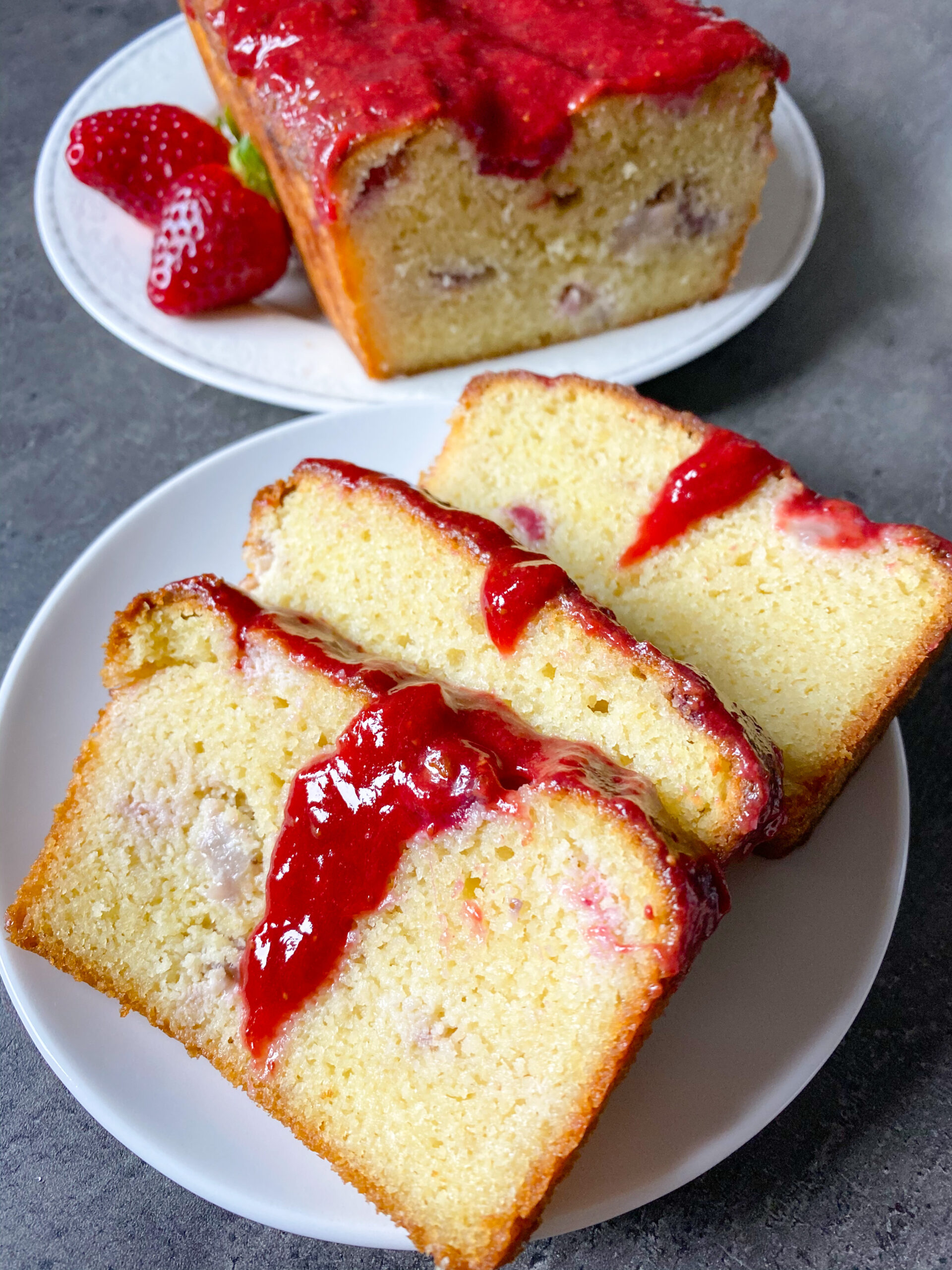 HOW TO MAKE KETO POUND CAKE WITH STRAWBERRIES?
Mix of almond flour and whey protein
This is the recipe for keto pound cake with almond flour and whey protein. Whey protein is great addition to almond flour and in combination you'll get the structure of a real pound cake. Texture of the cake baked like that is amazing, and a taste too. I love using pure, unsweetened or even better unsweetened whey with vanilla flavor. In that case you don't have to add vanilla extract and the smell and taste will be divine.
Strawberry topping
For the topping you can use any keto friendly, sugar free strawberry jam you can find. I love making my own, here is the recipe. It's done really fast with fresh or with frozen strawberries. Just a friendly tip – make at least double batch because you will want to have it for breakfast on a slice of keto 90 second bread too! I love a thick slice of butter and this sugar free strawberry jam on top! So good!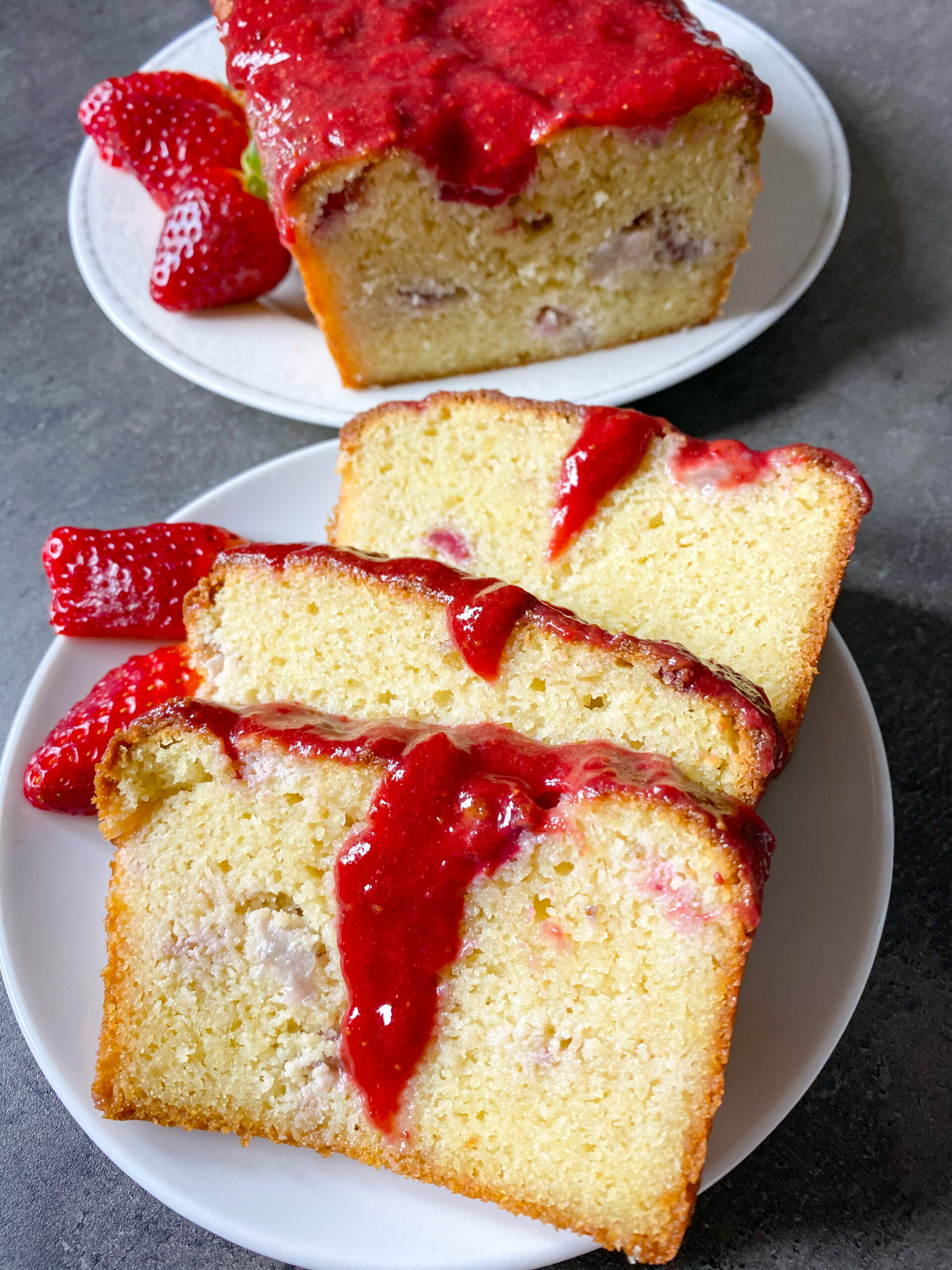 Serving low carb strawberry pound cake
This LCHF pound cake with strawberries is the best when served with a generous layer of keto strawberry jam. It goes perfectly as a keto breakfast cake or as a delicious dessert. You will love it with your afternoon tea or coffee, as well as dinner time snack or a dessert. It goes wonderfully with a spoon of sour cream or Greek yogurt, too!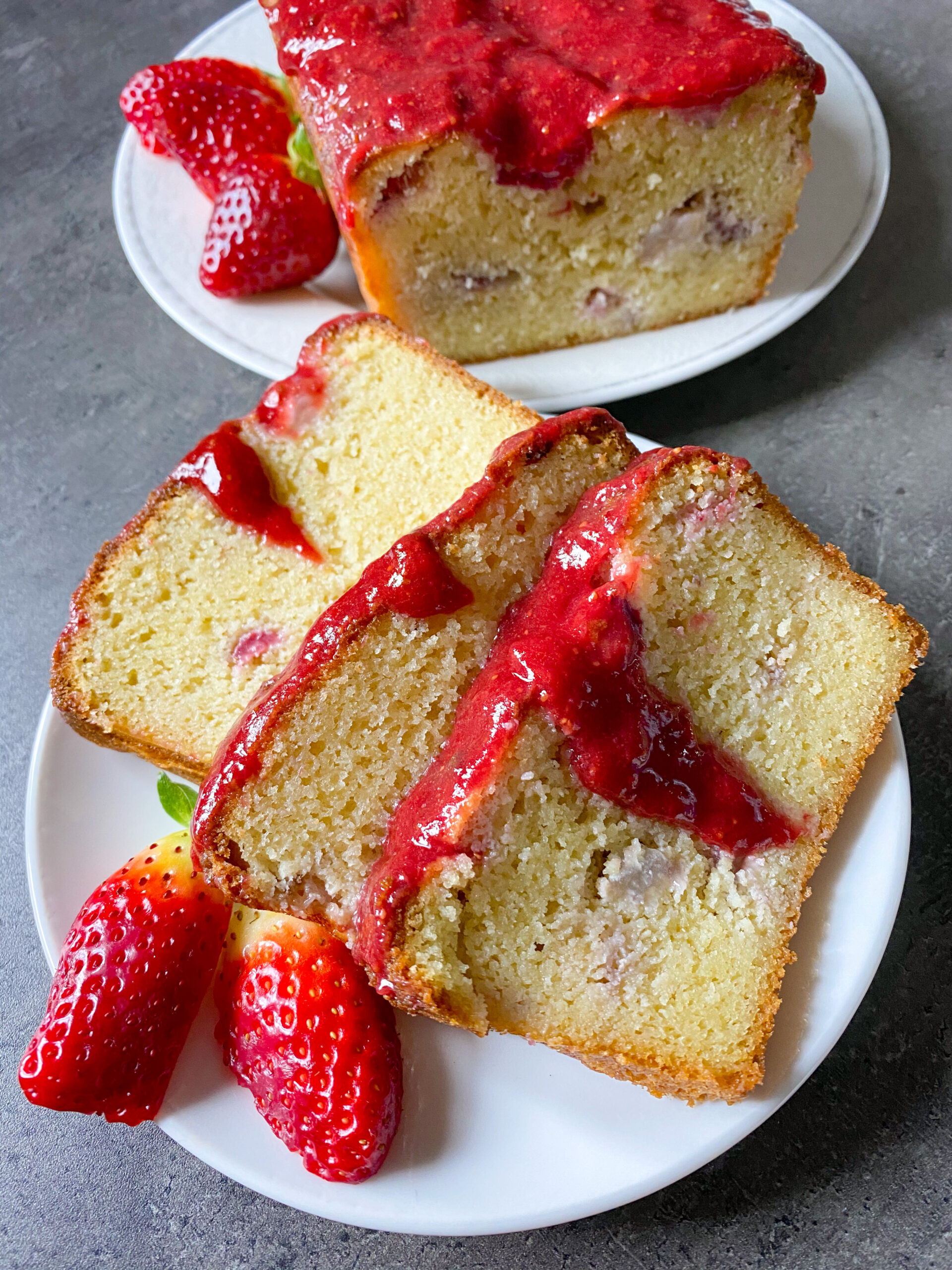 Would you like to try other keto breakfast cakes?
This Sugar free orange cake recipe is wonderful addition to your healthy low carb breakfast. It's with orange and really low in carbs.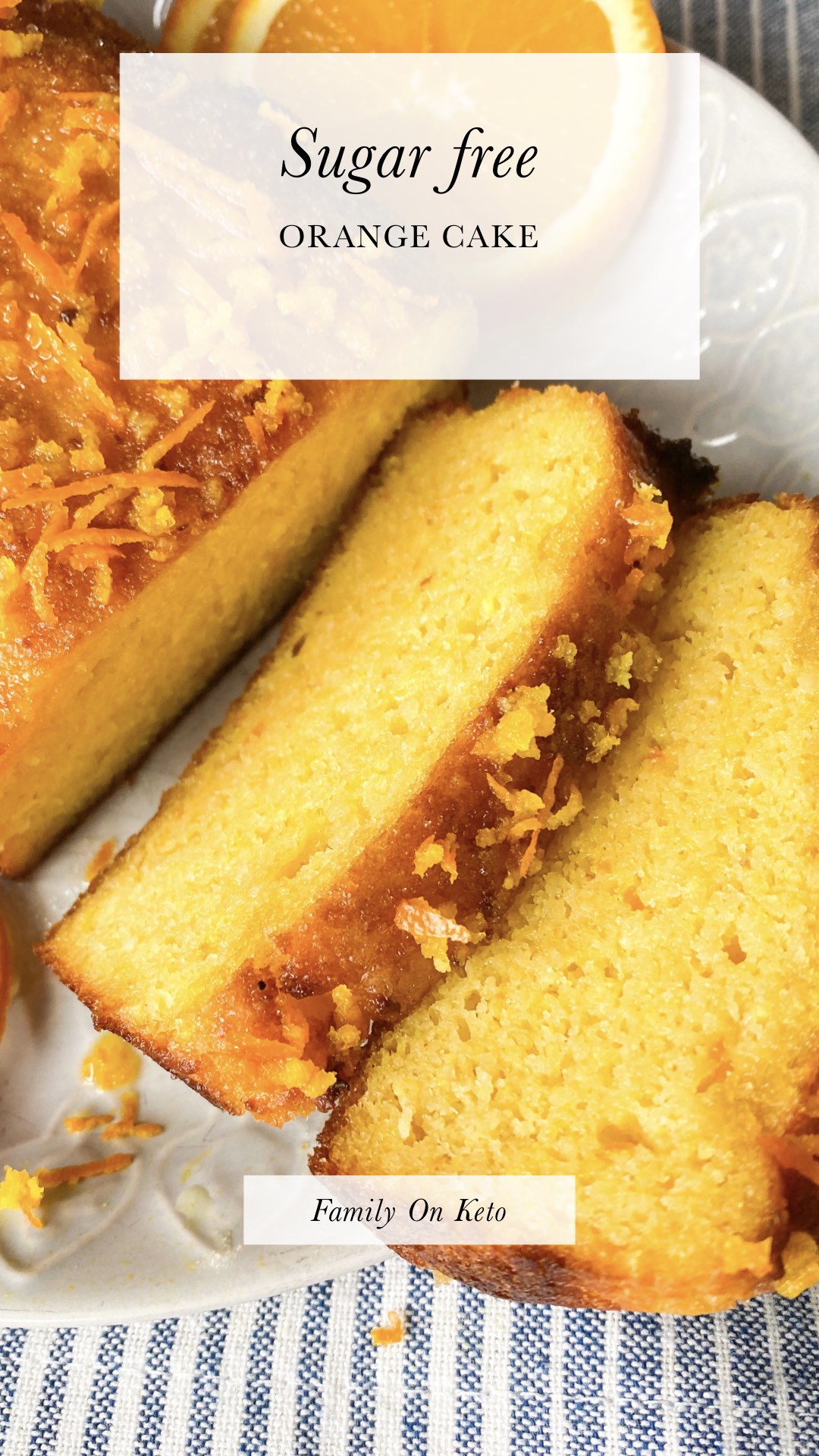 Or this keto butter cake with berries? I'm sure you will love this one too!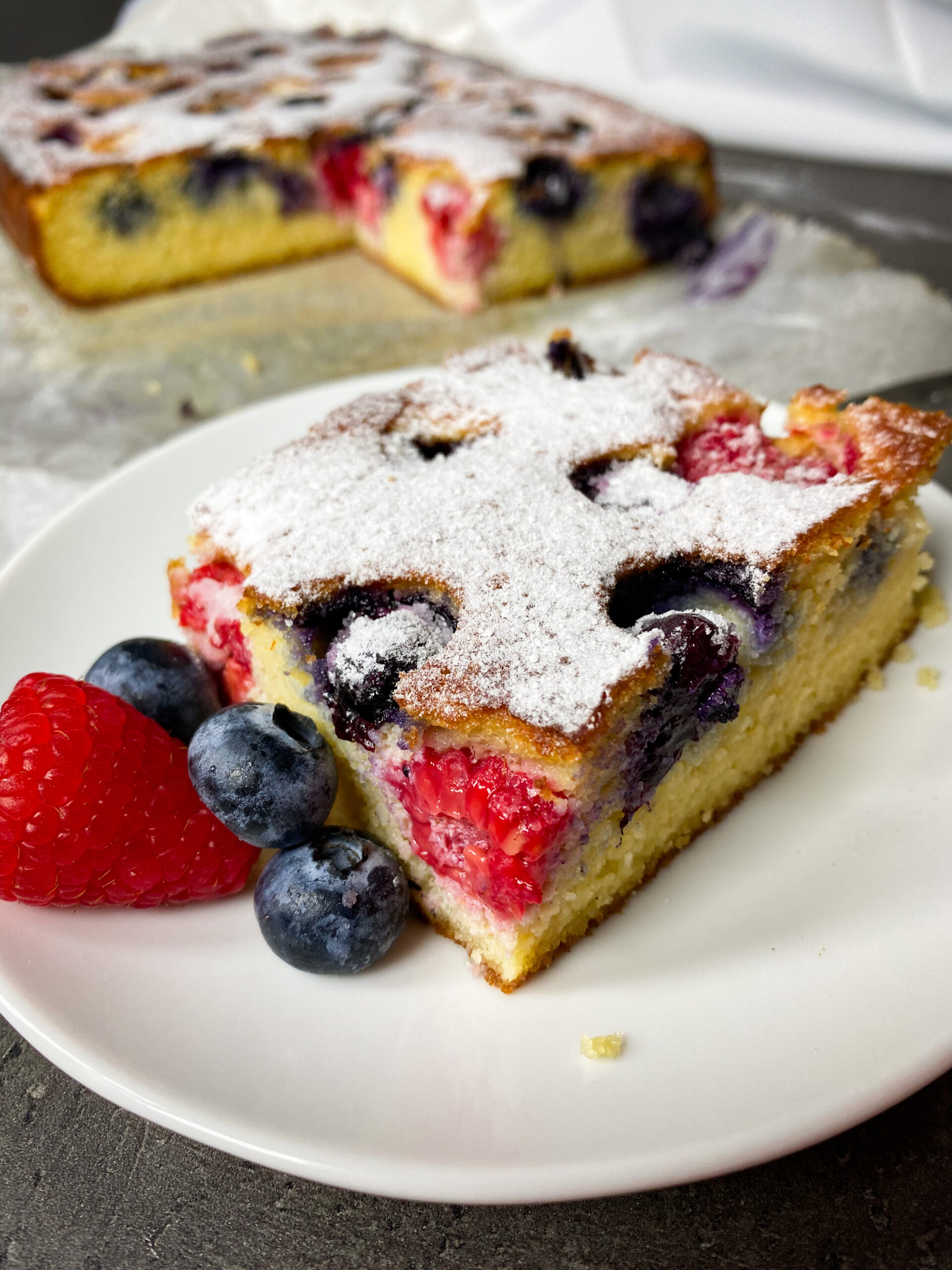 LIKE AND SHARE!
Do you like my recipes? Please leave a comment and share to support my work!
Want to calculate your macros? I have an easy to use, and reliable keto macros calculator! Connect with me on FACEBOOK, INSTAGRAM, PINTEREST and join my TELEGRAM CHANNEL. Scroll down and subscribe to my newsletter to get my recipes to your email!
Enjoy!
Ines
Ingredients
Almond flour or blanched almonds 1.5 cup/150 g/5.3 oz

Unsweetened whey protein pure or vanilla flavored 1/4 cup/25 g/0.88 oz

Low carb sweetener (erythritol) 1/2 cup

Baking powder 1 TBS

Softened butter 60 g/2.12 oz

2 large eggs

Heavy whipping cream 1/4 cup/25 ml

Sliced strawberries 1 cup/130 g/4.6 oz

Vanilla extract 1 TBS (if you don't use vanilla flavored whey)

TOPPING

Few spoons of sugar free strawberry jam
Instructions
1
Prepare small loaf pan 18 cm x 8.5 cm/7 inch x 3.5 inch, layered with a parchment paper.
2
Turn on the oven to 170 C/340 F.
3
Combine all dry ingredients together.
4
Add eggs, butter and heavy whipping cream, whisk or mix until everything nicely combined.
6
Pour the mixture into the layered pan and bake in a preheated oven on 170 C/340 F for 40 to 50 minutes or until baked.
7
You may test it with a toothpick test.
8
When it's done, put some sugar free strawberry jam on top.
Notes
This amount is for a small loaf pan and serves 8. Nutritional value per serving without jam: Cal 218, Fat 19 g, NET Carbs 2.15 g, Protein 8.7 g. This is for your information only, please calculate your own macros with ingredients you use.