Keto pumpkin pie cheesecake with hazelnut crust pie is gluten free, keto pumpkin pie recipe.
It's autumn and finally a pumpkin season! I live in a countryside of Croatia and autumn is definitely my favorite season! I have neighbors and mom who are growing their own veggies and fruits and everything on the ground and on the sun.
Trust me, this organically grown on the ground, in the real earth, veggies and fruits, are so much better tasting than anything you can find in the stores. Here we have a farmer's market where local small producers are selling their products and I love it so much!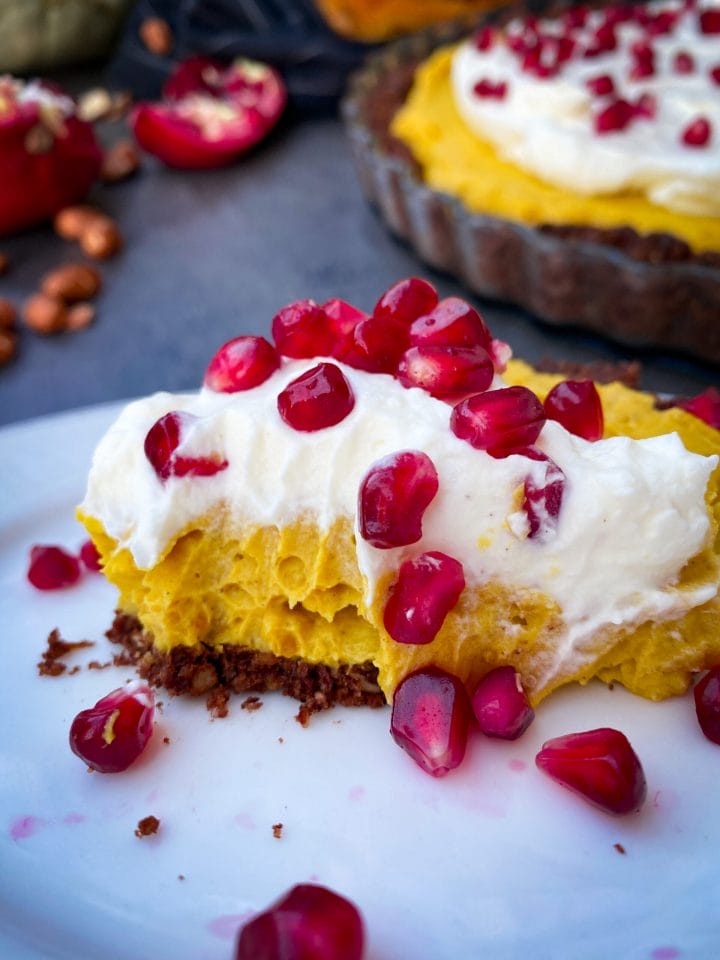 And this weekend everything was full of pumpkins. And nothing is more related to October and autumn, as pumpkins! So, we baked our pumpkin in the oven, eat it with sour cream and sugar free pancakes syrup, and one part I used for this delicious keto friendly pumpkin pie cheesecake.
I enjoy a slice of this low carb pumpkin pie cheesecake with a cup of tea, under the blanket. In my diffuser is combination of Thieves and orange, and it is so cozy and wonderful!
HOW TO MAKE KETO PUMPKIN PIE CHEESECAKE?
Keto pumpkin cheesecake with hazelnut crust
This pumpkin pie cheesecake crust is gluten free, low carb and it's made with combination of toasted ground hazelnuts, coconut flour and unsweetened cocoa or cacao. This combination of nuts is so flavorful and it goes perfectly with pumpkin pie filling.
When you combine toasted hazelnuts with cacao and low carb sweetener, you get a nougat-like flavor that complements pumpkin so good. And smell is divine! Especially when you add some spices like cinnamon and vanilla. You wouldn't believe how great it is!
Instead of toasted hazelnuts, you might make it as a keto pumpkin cheesecake with a walnut crust too. I recommend you to toast them for a better flavor.
For baking you may use pie pan just make sure to grease it generously with butter to be able to take the pie out because it might stick because of hazelnuts. To be completely sure that you will be able to remove it in one beautiful part, use cake tray layered with a parchment paper.
Low carb pumpkin cream filling
This keto pumpkin cheesecake filling is so easy to make. Just mix pumpkin puree with cream cheese, low carb sweetener and heavy whipping cream. Add cinnamon and vanilla, and that's all the magic of this wonderful and so flavorful cream!
On top of the pumpkin cream, just before the serving, put some whipped heavy whipping cream and you'll get delicious low carb pumpkin pie cheesecake with nut crust for your whole family to enjoy!
Decorate this wonderful pie with pomegranate seeds, they go so great in this combination and they are full of vitamins! If you can't find them, you may use some berries you like.
Do you love keto pies?
Keto peanut butter and jelly pie is one of my favorite keto desserts, so creamy and decadent! I would like to recommend you one more creamy pie with peanut butter, Peanut butter cream pie, one of my most popular recipes!
Easy keto lemon cream pie is fantastic for all of the lemon fans and for all of you who likes lighter and fluffy keto desserts.
If you want to extend those summer feelings, just make this yummy and creamy Keto coconut cream pie and enjoy in wonderful coconut flavor!
LIKE AND SHARE!
If you like my recipes, please, leave a comment and share to support my work!
Would you like to calculate your macros? I have an easy to use, and reliable keto macros calculator!
Connect with me on FACEBOOK, INSTAGRAM, PINTEREST and join my TELEGRAM CHANNEL.
Scroll down and subscribe to my newsletter to get my recipes to your email!
Enjoy!
Ines
Keto pumpkin pie cheesecake
Keto pumpkin pie cheesecake with hazelnut crust pie is gluten free, keto pumpkin pie recipe.
Ingredients
KETO HAZELNUT PIE CRUST
Roasted ground hazelnut 1.5 cup/160 g/5.6 oz
Coconut flour 2 TBS/13 g/0.5 oz
Unsweetened cocoa or cacao 1 TBS/4 g/0.14 oz
Erythritol ¼ cup
Softened butter 6 TBS/90 g/3.17 oz
Pinch of salt
Cinnamon 1 tsp
Vanilla extract 1 tsp
PUMPKIN CHEESECAKE FILLING
Pumpkin puree 1.5 cup/340 g/12 oz
Heavy whipping cream ¼ cup/50 ml
Cream cheese 1 cup/200 g/7 oz
Powdered low carb sweetener (erythritol) ½ cup
Vanila extract 1 tsp
Cinnamon ½ tsp
TOPPING
Heavy whipping cream 1.5 cup/300 ml
Powdered low carb sweetener (erythritol or xylitol) 2 TBS
DECORATION (optional)
Pomegranate seeds or berries
Instructions
KETO HAZELNUT PIE CRUST
Preheat the oven to 180 C/350 F.
Combine all ingredients together until you get the dough.
Press in the dough and shape the pie shell into a generously butter greased pie pan or a cake tray layered with a parchment paper. Make sure to grease it well because hazelnut crust could stick to the pan. To make sure that you will be able to remove it whole, bake it in a layered cake tray.
Bake in a preheated oven on 180 C/350 F for 10 to 15 minutes.
When baked it won't be completely firm, it will become firm after at least 15 minutes outside of the oven or when cooled.
KETO PUMPKIN CHEESECAKE FILLING
Mix all ingredients together with a mixer until you get a smooth filling.
Pour the filling on top of the cooled pie crust.
Keep it in the fridge for at least 1 hour.
TOPPING
Mix with a mixer heavy whipping cream with powdered low carb sweetener until firm peaks are formed. Don't over mix it to avoid getting the butter.
Put it on top of the pumpkin cheesecake filling just before serving.
DECORATION (OPTIONAL)
Decorate with pomegranate seeds or berries you like.
Enjoy!
Notes
This amount is for a large pie dish 25 cm/10 inch diameter.
Nutrition Information:
Yield:

12
Serving Size:

1 slice
Amount Per Serving:
Calories:

247
Total Fat:

24g
Carbohydrates:

5.99g
Net Carbohydrates:

4.01g
Fiber:

1.98g
Protein:

4.05g
This is for your information only, calculate your own macros with ingredients you use.