Keto peanut butter and jelly pie with flavorful keto pie crust, peanut butter cheesecake filling and low carb jelly jam!
Peanut butter and jelly pie is a dream come true! It's amazing how peanut butter cheesecake filling goes fantastically with jelly jam. Besides a wonderful flavor, this peanut butter jelly pie is nutritious too.
This peanut butter keto dessert is sugar free and full of wonderful nuts and cream cheese. My whole family loves this dessert and my kids especially.
If you ask me, this is probably one of my favorite keto desserts, but I am not subjective and whatever I decide to publish here on my site has to be delicious.
I treat these recipes seriously and I want my readers to be satisfied when they invest the time in making a dessert. However, to make this low carb peanut butter jelly pie, you don't need a tons of time. It's so quickly done and literally you can't fail, it's so easy to make!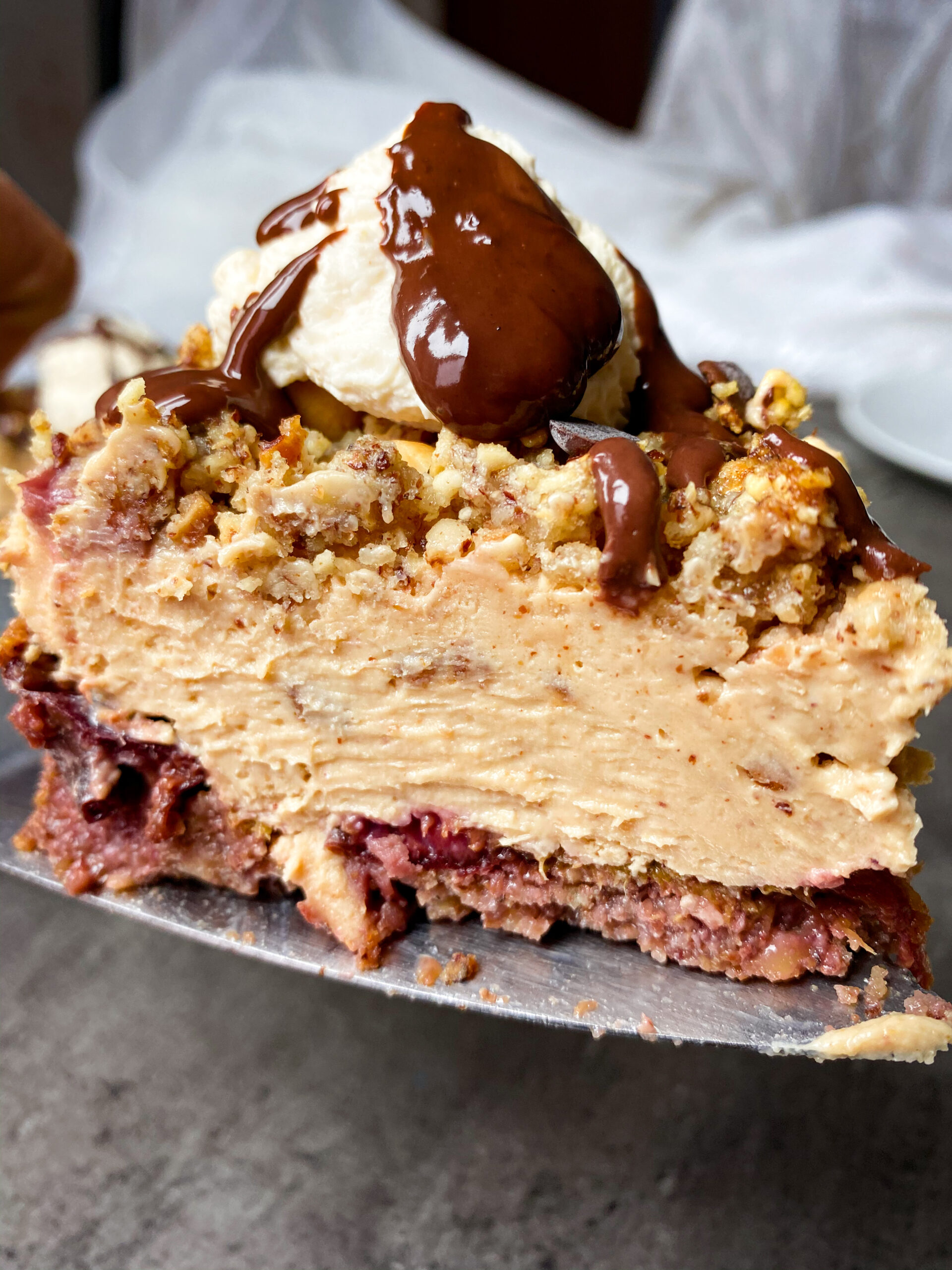 HOW TO MAKE KETO PEANUT BUTTER AND JELLY PIE
Keto pie crust
For a proper pie, you need a flavorful low carb pie crust. This crust is so easy to make. I love to toast my almonds by myself and grind in a food processor together with some peanuts. Of course, to make your life easier, you can just buy ground, toasted almonds and mix them with ground peanuts. You'll save even more time!
When you combine together ground almonds and peanuts, add softened butter and sweetener, press 2/3 of the pie dough into the cake tray layered with a parchment paper.
It's useful to layer a cake tray because it is much easier to transfer the pie on a plate when it's done.
NOTE: you will need to set aside 1/3 of the crust dough for crunchy topping!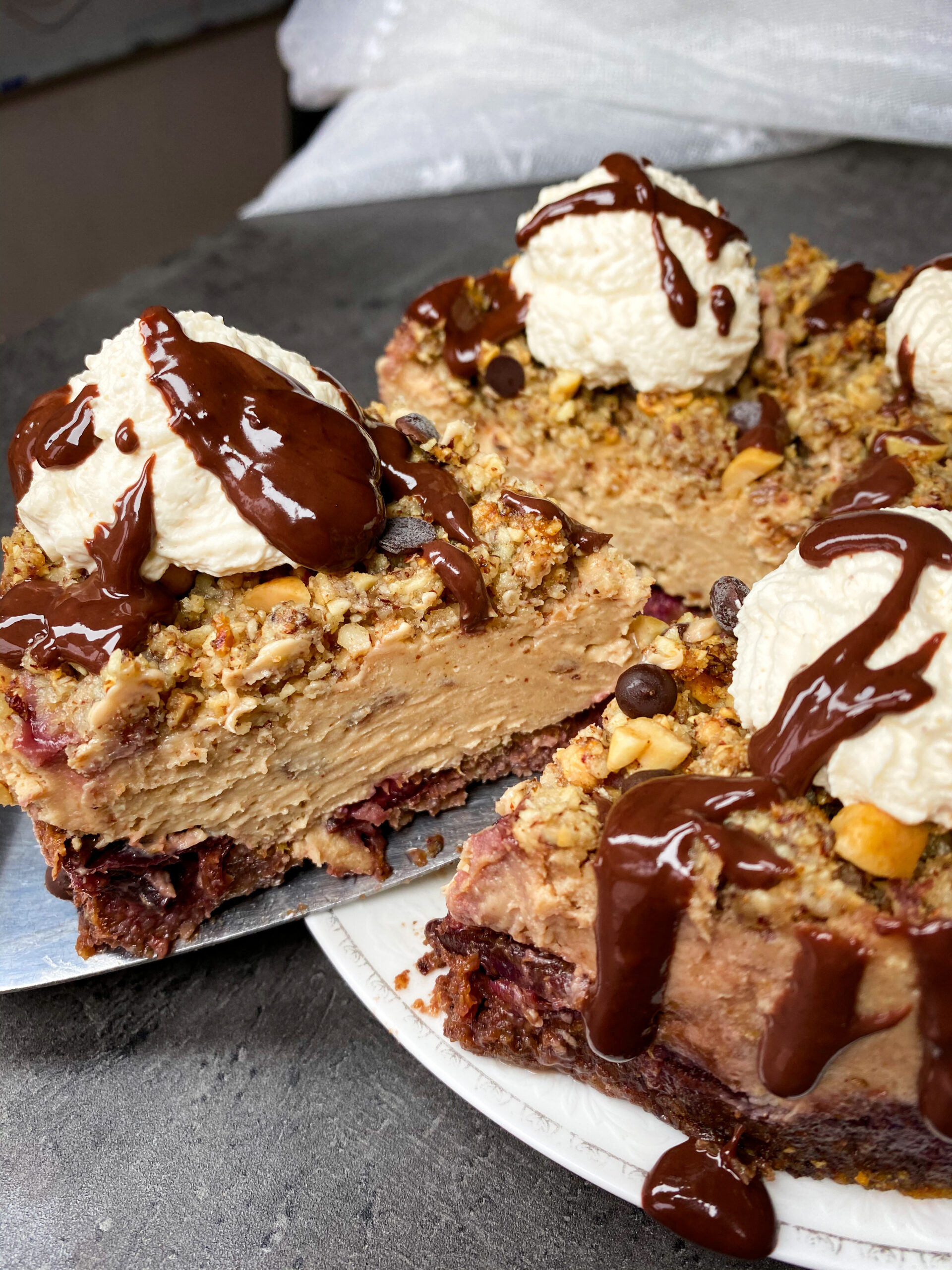 Low carb jelly jam
For this keto peanut butter jelly pie, you can use any strawberry, plum or blueberry jam or jelly you like. I use this keto blueberry jam or this strawberry keto jam, but I tried to use the same recipe to make low carb plum jam and it was wonderful!
The best flavor combination is definitely with strawberry or blueberry jelly. However, if you're not a type of preparing homemade jams, you may buy ready sugar free strawberry or blueberry jam or instant keto jelly.
Whatever jam or jelly you choose, just put it over the baked crust after it's cooled. Don't put it in still warm crust, because this pie crust is not firm when baked. It becomes firm when cooled.
Keto peanut butter cheesecake filling
This keto peanut butter cheesecake feeling is one of my favorite components of this low carb dessert. I was using the same or similar in few of my very popular recipes. Here you can check them.
Peanut butter cookie cheesecake cups
Keto peanut butter cheesecake bars
This easy peanut butter cheesecake filling is so simple to make. Just mix or whisk together cream cheese with peanut butter, heavy whipping cream and sweetener and that's it.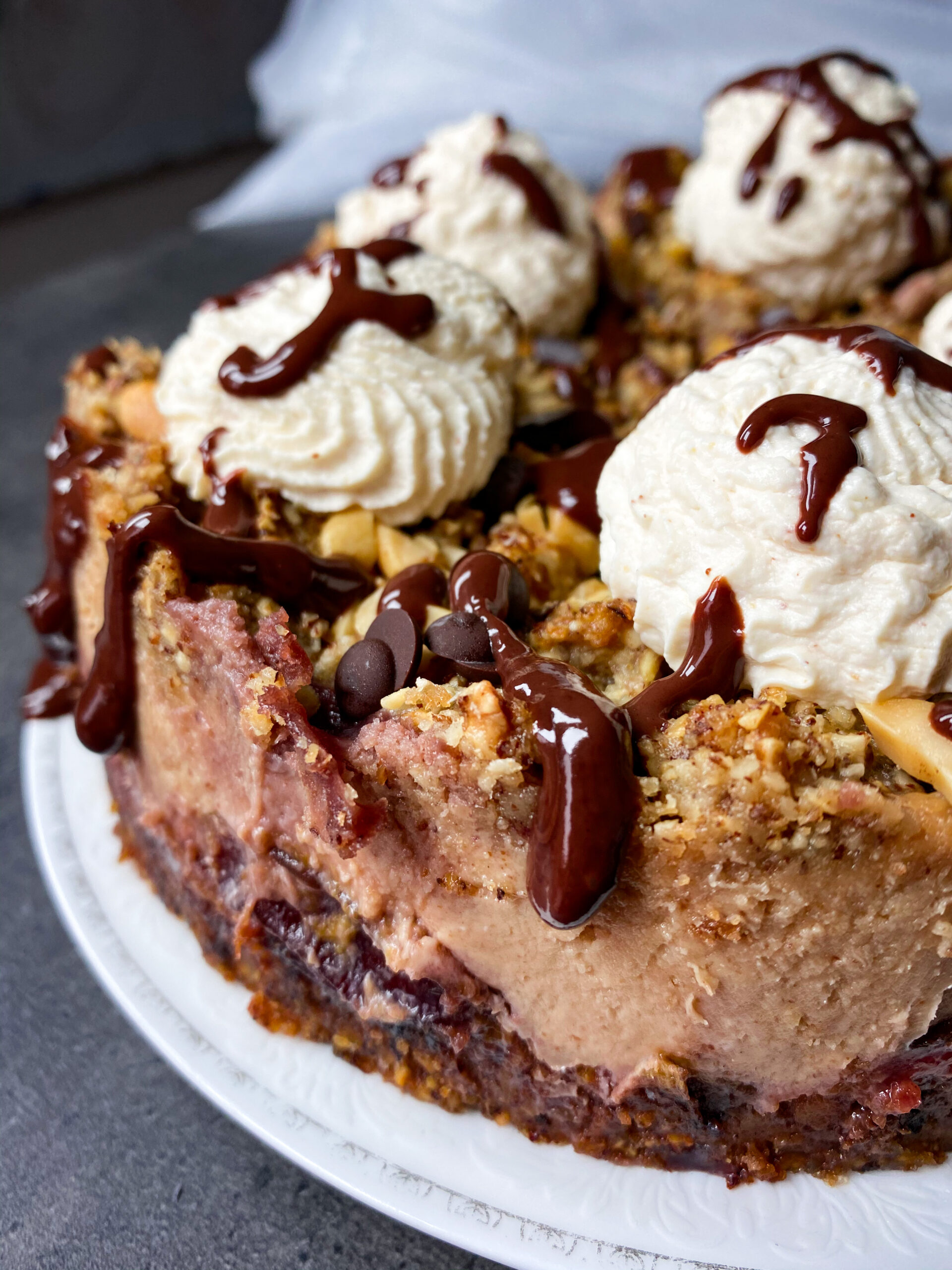 Crunchy topping
1/3 of crust dough that you have set aside, you just need to crumble on top and bake in a preheated oven on 180 C/350 F for 10 to 15 minutes or until it gets nice and golden brown color on top.
When baked, sprinkle with 1 TBS of crushed salted peanuts and 1 TBS of dark chocolate chips and leave it in the fridge for few hours until completely cooled. It's the best to leave it overnight.
Decoration
You may choose to decorate this yummy keto peanut jelly butter pie. It's optional, so you don't have to decorate, but it pays off! It's sensational when you add that flavorful cream with peanut butter on top.
I love to mix together heavy whipping cream with peanut butter and sweetener. Don't over mix it to avoid making butter. Use piping bag to put that cream on top and it will be spectacular!
Melt 1 or 2 TBS of dark chocolate with 1 TBS of heavy whipping cream in microwave and just drizzle with that chocolate the top of the cake. It's gonna be so good!
Want to try my other keto peanut butter recipes?
Keto peanut butter chocolate chip cookies
Peanut butter fat bomb chocolate bar with nuts
LIKE AND SHARE!
If you like my recipes, please, leave a comment and share to support my work!
Would you like to calculate your macros? I have an easy to use, and reliable keto macros calculator!
Connect with me on FACEBOOK, INSTAGRAM, PINTEREST and join my TELEGRAM CHANNEL.
Scroll down and subscribe to my newsletter to get my recipes to your email!
Enjoy!
Ines
Ingredients
KETO PIE CRUST INGREDIENTS

Toasted ground almonds 1 cup/100 g/3.5 oz

Ground peanuts 1/3 cup/33 g/1.16 oz

Low carb sweetener (erythritol) 3 TBS

Softened butter 50 g/1.76 oz

1/3 of the crust dough is for the topping

LOW CARB JAM or JELLY

Keto strawberry jam 1/3 cup/60 g/2.11 oz or
Keto blueberry jam 1/3 cup/60 g/2.11 oz or

Instant sugar free and keto friendly jelly 1/3 cup

PEANUT BUTTER & CREAM CHEESE FILLING

Cream cheese or mascarpone cheese 300 g/10.6 oz

Smooth unsweetened peanut butter 1/2 cup/125 g/4.4 oz

Low carb powdered sweetener (erythritol) 1/4 cup

Heavy whipping cream 1/2 cup/100 ml

TOPPING

1/3 of the crust dough

Chopped salty peanuts 1 TBS

Dark chocolate drops 1 TBS

DECORATION

Heavy whipping cream 1/2 cup/100 ml

Low carb powdered sweetener 1 TBS

Peanut butter unsweetened 1 TBS
Instructions
2
Turn on the oven to 180 C/350 F.
3
Combine all ingredients together to form the dough.
4
Set aside 1/3 of the amount of the dough for the topping.
5
2/3 of the dough press in a deep cake tray 17 cm/7 inch diameter, layered with a parchment paper.
6
Bake in a preheated oven on 180 C/350 F for 10 minutes.
7
When baked, crust won't be firm, just leave it to cool and it will become firm.
9
1/3 of keto jam or keto jelly pour over the cooled pie crust. If using instant jelly, leave it to set aside until becomes firm.
10
PEANUT BUTTER & CREAM CHEESE FILLING
11
Whisk or mix together all ingredients until nice and smooth cream is formed.
12
Pour on top of the jam or jelly.
14
Sprinkle 1/3 of keto pie crust dough on top of the filling in crumbs.
15
Bake in a preheated oven on 180 C/350 F for 10 to 15 minutes or until topping golden brown.
16
Sprinkle chopped salted peanuts and chocolate drops on top.
17
Leave it in the fridge for few hours or over night.
19
Decorate when completely cool just before serving.
20
Mix with a mixer heavy whipping cream with 1 TBS powdered sweetener and 1 TBS unsweetened smooth peanut butter.
21
Decorate with a piping bag.
22
Drizzle with melted chocolate (optional).
Notes
This amount serves 12. Nutritional value per serving: Cal 262, Fat 24 g, NET Carbs 3.42 g, Protein 6.8 g. This is for your information only, please calculate your own macros with ingredients you use. Sugar alcohol is not included in macros.