Keto Salisbury steak with mushroom gravy! Juicy beef patties in creamy and flavorful sauce with mushrooms. Gluten free and low carb comfort food for your whole family!
Do you think about preparing some delicious keto family friendly dinner today? I have a fantastic recipe for you! My family loves this delicious keto Salisbury steak with mushroom gravy. My son is a picky eater and he loves this meal. Always asking for more!
I haven't seen a person that doesn't like this keto comfort food! As I am sure that you will immediately want to go to your kitchen and start cooking, I have some tips for you!
Onion on keto diet
Yes you can have some onion on keto! In keto Salisbury steak you won't put a lot of onion but believe me, you need to put the onion! You need that onion flavor here. It's important only to chop it really fine, you can even grate the onion!
Brown the Salisbury steak!
You need to fry the steak on the pan before putting it into gravy. For frying I use lard, you can use coconut oil, avocado oil or ghee. Just brown it properly. That's bringing more taste!
Big flavor on budget
Keto on budget plus big flavor! You will definitely get all of that with this keto meal. Ground beef is really affordable ingredient, as well as mushrooms, so with this meal you get it all!
How to serve keto Salisbury steak?
This low carb Salisbury steak recipe is wonderful, but you need some keto or low carb side dish to make it complete. I have few delicious keto sides and I am sure you will love it!
Homemade keto cauliflower gnocchi
Whatever you choose from this small list of keto side dishes I am sure you will enjoy!
If you like my recipes, leave the comment and follow me on social networks!
Cheers!
Ines 💕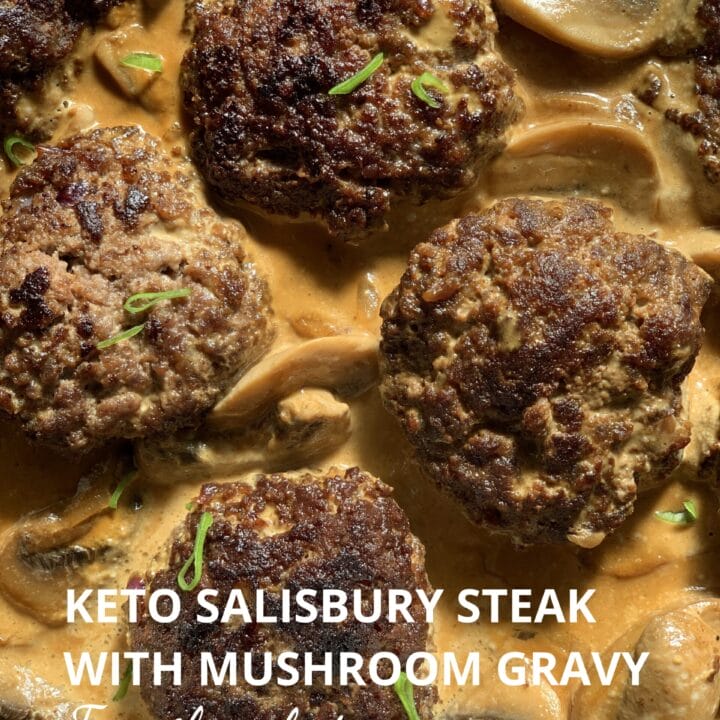 Keto Salisbury steak with mushroom gravy
Keto Salisbury steak with mushroom gravy! Juicy beef patties in creamy and flavorful sauce with mushrooms. Gluten free and low carb comfort food for your whole family!
Ingredients
Ingredients
2 TBS lard, ghee or oil for cooking the steaks
Ingredients for keto Salisbury steak
Ground/minced beef 700 g
1 very small onion/25 g
1 M egg
Sea salt to ½ - 1 tsp
Freshly ground pepper to taste
Pinch of powdered garlic
Worcestershire sauce ½ tsp
Sugar free tomato sauce 2 TBS
Dijon mustard 1 TBS
Blanched almond meal 2 TBS
Ingredient for mushroom gravy
1 small onion 30 g/1.06 oz
Mushrooms 300 g/10.58 oz
Heavy whipping cream 1 cup/220 ml
Water, vegetable or beef broth 1 cup/220 ml
Dijon mustard 1 TBS
Worcestershire sauce 1 TBS
Salt to taste
Freshly ground pepper to taste
Instructions
How to prepare keto Salisbury steak?
Place ground beef in a bowl. Add finely chopped or grated onion, 1 L egg, sea salt, powdered garlic, ground pepper, dijon mustard, Worcestershire sauce, 2 TBS of blanched almond meal and sugar free tomato sauce.
Mix everything with your hands until nicely combined. Don't over mix!
Divide mixture and pat 7 patties.
How to cook and prepare mushroom gravy?
Heat lard, ghee or oil in a skillet over high heat. Add the steaks and cook on each side for few minutes until browned.
When steaks browned put them onto plate.
On remaining lard put chopped onion and garlic, cook until onion is golden brown and translucent.
Add mushrooms and salt and cook 5 minutes more until mushrooms golden brown.
Add heavy whipping cream, water or broth, Dijon mustard and Worcestershire sauce.
Stir everything and reduce the heat to medium. Add freshly ground pepper and stir.
Put steaks with juice from the steaks left on the plate into the gravy and cook 5 - 10 minutes or until gravy is thick.
Serve keto Salisbury steaks topped with mushroom gravy and mashed cauliflower. Sprinkle with parsley or spring onion if you like.
Enjoy!
Nutrition Information:
Yield:

7
Serving Size:

1/7 amount
Amount Per Serving:
Calories:

369
Total Fat:

30.88g
Carbohydrates:

3.98g
Net Carbohydrates:

2.92g
Fiber:

1.06g
Protein:

17.35g
This is for your information only, please, calculate your own macros with ingredients you use.