Green bean soup with beef is rich and tasty keto stew. Beef and green beans in healthy low carb family friendly soup recipe. This is keto recipe for a large family!
My son is a picky eater and I have a lot of challenges with planning our family friendly keto meals. I need to think about all my family members and cook something to cover all our needs with the same low carb cooked meal.
Few days ago my husband asked me to cook something to eat with a spoon, with veggies. Some keto or low carb soup or stew. I was so happy to hear this idea. Always during the spring we have that vegetable soup craving. It's probably the way how our nature is functioning. During the winter we crave for bacon and fatty meat parts, goulash and similar. When spring days come, vegetable time and spring cleaning start!
Spring time food with veggies
So I was thinking of keto soup with veggies. However, I'm busy working mom, I don't have time to cook few meals on the same day. One meal has to nourish our whole family. This green bean soup recipe with beef is a wonderful creation! This is keto meal to make ahead, to cook for the whole week and store in the fridge or even freeze. This is one of these meals that are even better when you reheat them or eat on another day.
I really enjoy making keto and nourishing recipes for family. In this keto soup with green beans and beef there are other veggies like capsicum, little onion and carrot and crushed tomatoes.
It's loaded with vegetables and meat and so tasty so even your little ones will love it.
TIPS FOR MAKING LOW CARB GREEN BEAN SOUP
FRYING ONION is so important step in preparing this type of soups and stews. My advice is to always start with caramelizing onion on olive oil or lard until it's translucent and golden brown. That will give deep and rich flavor.
COOKING IN INSTANT POT
I was cooking this green bean soup in instant pot. I fried onion and browned meat, add other ingredients and cooked everything together in instant pot for 45 minutes.
Of course you can cook classical way. In that case cook covered until meat is softened and after that add green beans and cook for 20 to 30 minutes more.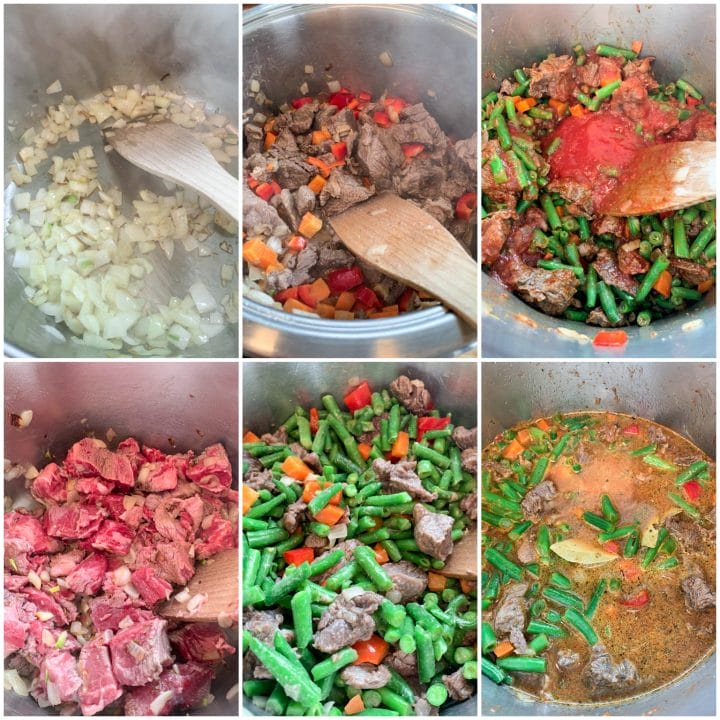 SERVING KETO GREEN BEAN SOUP WITH BEEF
This green bean stew with beef could be served alone or with a slice of keto bread. Here are my recipes for keto bread you could pair with this recipe for green bean soup.
Cheesy keto bread with zucchini
Sharing is caring!
If you like my recipes, leave a comment! Connect with me on FACEBOOK, INSTAGRAM, PINTEREST and join my TELEGRAM CHANNEL. Scroll down and subscribe to my newsletter to get my recipes on your email!
Enjoy!
Ines <3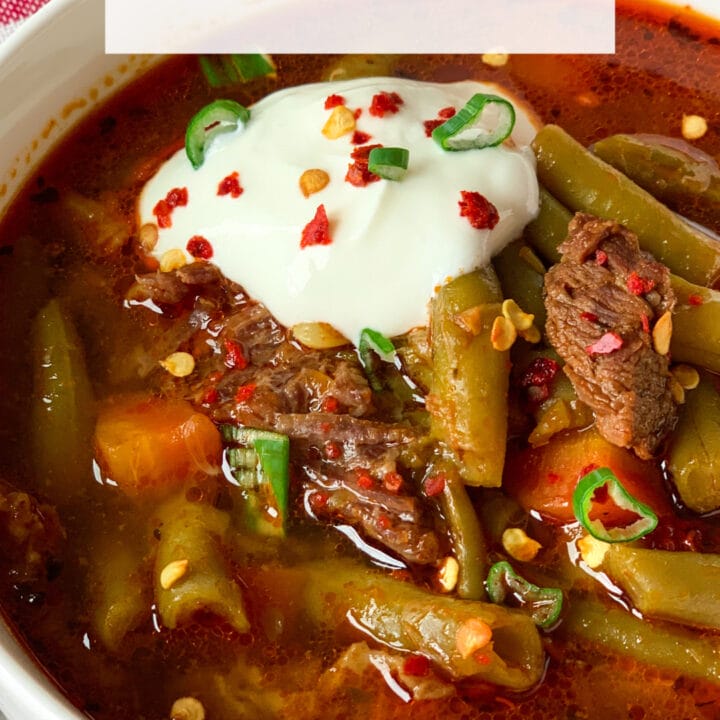 Green bean soup with beef
Green bean soup with beef is rich and tasty keto stew. Beef and green beans in healthy low carb family friendly soup recipe. This is keto recipe for a large family!
Ingredients
Olive oil or lard 2 TBS
1 medium onion chopped 110 g/3.9 oz
1 carrot cut in small cubes 70 g/2.5 oz
1 red pepper/capsicum 50 g/1.7 oz
Beef meat cut in small cubes 900 g/32 oz
Green beans 1000 g/35 oz
Crushed tomatoes 1 cup/200 ml
Water 5 cups/1000 ml
Salt 2 teaspoon or more to taste
Freshly ground pepper to taste
Ground paprika 1 TBS
Powdered garlic 2 tsp
Turmeric 1 tsp
Dried basil ½ TBS
2 bay leaves
Crushed chili to taste (optional)
Sour cream for serving (optional)
Instructions
For this recipe use large cooking pot or instant pot.
Fry onion with occasional stirring on a hot lard or olive oil until translucent and golden brown.
Add meat and continue stirring until meat is browned.
Add carrot and pepper/capsicum cut in small cubes and stir for 5 minutes.
After few minutes add green beans cut in small pieces, crushed tomato, water and spices.
Stir everything and cook in instant pot/pressure pot on high pressure for 30 - 45 minutes.
If cooking on the stove cook covered for 1 hour or until meat is cooked with occasional stirring.
When cooked, serve and enjoy!
Nutrition Information:
Yield:

10
Serving Size:

2 cups
Amount Per Serving:
Calories:

294
Total Fat:

16g
Carbohydrates:

9.9g
Net Carbohydrates:

6.04g
Fiber:

3.86g
Protein:

25g
This is for your information only, please calculate your own macros with ingredients you use.