Keto sheet pan salmon dinner is family friendly low carb dinner made in a sheet pan. Salmon with herbs, asparagus and zucchini is nutritious, delicious and easy to make.
Is salmon healthy?
Salmon is one of the most nutritious food you can get and especially rich in omega-3 fatty acids. I love the fact that salmon has mild and delicious taste so my children love it too. If you have kids on keto, this salmon recipe could be great for them. You can be sure that they eat healthy, nutrient-dense food full of protein, vitamin D, B and other vitamins they need to develop and thrive.
How to make keto sheet pan salmon dinner - survival tips for busy keto parents
This is one of the easiest keto dinners you can imagine. It's so easy to prepare and surprisingly tasty. I am always thrilled when a meal is keto, low carb, full of nutrients, low in calories and easy and fast to prepare.
One sheet pan keto dinner
You really need just one large sheet pan. I love to layer my sheet pan with a parchment paper so I don't have a lot of cleaning after dinner. This is one more busy mom survival trick.
With these keto sheet pan recipes life is so much easier, and I love using this option. I make even my keto pancakes in a sheet pan, just to make some time for other things I love.
Salmon with vegetables
Salmon goes perfectly with asparagus and other low carb veggies. I love using zucchini as a side dish for my salmon. It's great that you can put salmon, asparagus and zucchini in the oven at the same time because they need almost the same time to be baked!
Salmon with herbs topping
Perfect herbs with salmon is a mixture of chopped fresh parsley with Mediterranean herbs blend with dried tomato. I love using this as a salmon topping herbs mixture. Parsley is fresh and in combination with lemon juice, olive oil and Mediterranean herbs with dried tomato has so wonderful flavor and smell is divine.
That Mediterranean blend contains all kinds of dried herbs like basil, thyme, oregano, just a little rosemary, powdered garlic and a lot of dried tomato finely minced. That mixture is actually used for bruschetta topping but it goes fantastically with salmon, and especially taste great as baked salmon herbs.
I recommend you to buy similar spice blend in your local spice or grocery store. If you don't have access you can easily make your own blend by combining these herbs and definitely use dried tomato. It's only important that it's finely minced.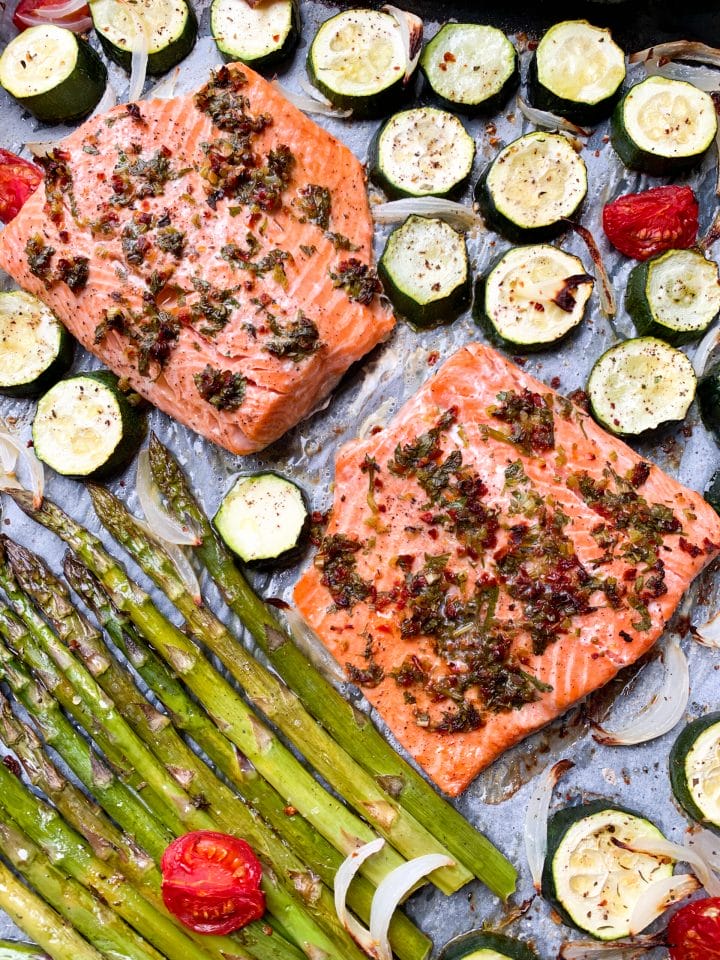 Serving keto salmon with veggies
This keto sheet pan salmon is already baked with veggies, so you don't have to prepare any additional side dish. Of course, if you like you can serve it with garden salad, leafy green salad with tomato or with this delicious cauliflower mash or this avocado and broccoli mash.
Sharing is caring!
If you like my recipes, leave a comment! Would you like to calculate your macros? I have an easy to use and reliable keto macros calculator!
Connect with me on FACEBOOK, INSTAGRAM, PINTEREST and join my TELEGRAM CHANNEL. Scroll down and subscribe to my newsletter to get my recipes on your email!
Enjoy!
Ines
Keto sheet pan salmon dinner
Keto sheet pan salmon dinner is family friendly low carb dinner made in a sheet pan. Salmon with herbs, asparagus and zucchini is nutritious, delicious and easy to make.
Ingredients
Salmon fillets 600 g/21 oz
Asparagus whole and cleaned from hard part 400 g/14 oz
Zucchini cut in small pieces 400 g/14 oz
Small onion cut in slices 30 g/1 oz
4 cherry tomatoes
Olive oil 4 TBS
Butter 2 TBS
Salt to taste
Freshly ground pepper to taste
HERBS BLEND FOR SALMON
Lemon juice of 1 lemon
Pinch of salt
Pepper ¼ tsp
Chopped fresh parsley 2 TBS
Mediterranean herbs blend with dried minced tomato (oregano, basil, thyme, powdered garlic, minced dried tomato)
Instructions
Turn on the oven to 180 C/360 F.
Distribute salmon fillets and vegetables on a sheet pan layered with parchment paper.
Sprinkle salmon and vegetables with salt and pepper to taste and drizzle with 4 TBS of olive oil.
Bake in a preheated oven for 15 minutes.
After 15 minutes put prepared herbs with lemon juice on top of salmon fillets and continue baking for 15 - 20 minutes (depends on your oven).
When baked put on top 2 TBS of melted butter and serve hot.
Enjoy!
Nutrition Information:
Yield:

6
Amount Per Serving:
Calories:

266
Total Fat:

27g
Net Carbohydrates:

3.1g
Protein:

21g
This is for your information only. Please calculate your own macros with ingredients you use.