Keto Oreo magic cookie bars are crispy, flavorful low carb magic cookie bars with keto Oreo cookies and delicious cheesecake topping.
There is something in Oreo cookies what makes them irresistible. And these keto Oreo cookies are not very far from original! Only they are low carb and healthy for you!
I have created this low carb Oreo cookies recipe some time ago to use it for the bottom of my recipe for keto German Chocolate cheesecake. Later I have used it for keto cherry cheesecake and it goes perfectly here too!
The secret of making it really crispy, like a real Oreo is in rolling it very thin. So, when it's baked it's crispy and taste is really authentic Oreo taste and flavor.
How to be happy on keto?
For me, keto is a way of life, it's a lifestyle. I will be on keto, probably forever. Since I discovered keto, few years ago, during my pregnancy I enjoy this lifestyle. I am not on a diet, I just eat healthy keto meals and enjoying fulfilled life. Keto is helping me to keep my energy level really high during the day, even after sleepless night (mother of a small children).
I am just a human, like all other people. Definitely I love to have sweets and desserts. That's why I create all these keto desserts. Keto desserts help me to stay keto for so many years and to feel happy and satisfied. We all have a moments when we need something sweet and comforting, so in those moments I take my keto dessert and feeling great. I hop you can enjoy these keto desserts on the same way!
HOW TO MAKE KETO OREO MAGIC COOKIE BARS
Make keto Oreo cookies first!
Before making other parts of these keto magic cheesecake cookie bars, make low carb Oreo cookies. Just combine all ingredients in a dough, roll it very thin or press it on a parchment paper and bake.
When baked these keto cookies are not crispy, they are actually soft. You need to leave them for at least 10 minutes or more outside of the oven to become crispy.

Keto magic cookie bars
Keto magic cookie bars are probably my favorite keto dessert. I have published few versions of different keto cookie bars, and after you make these keto Oreo cookie bars maybe you wish to try one of these recipes.
Keto magic cookie bars with berries
Keto chocolate cake bars with strawberry jam

Oreo cheesecake and chocolate topping
Topping on these keto magic cookie cheesecake bars is so delicious! There are keto Oreo cookies on top combined with delicious cheesecake filling, chocolate chips and homemade keto condensed milk. This combination is so flavorful! It looks like many steps and parts but it's really fast and super easy to prepare with few ingredients only.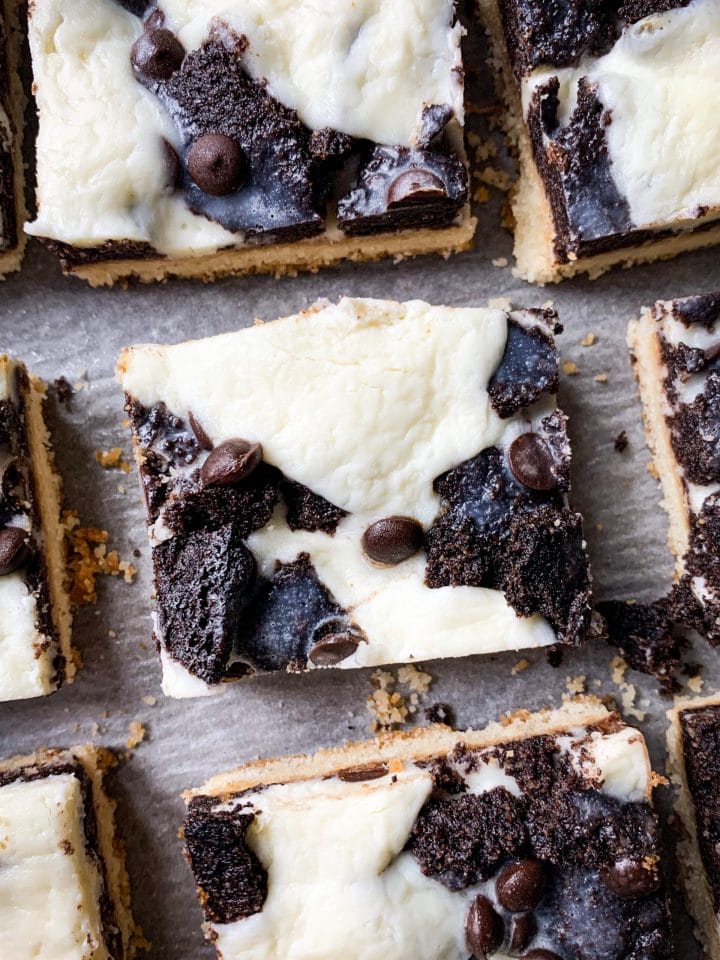 LIKE AND SHARE!
If you like my recipes, leave a comment!
Would you like to calculate your macros? I have an easy to use and reliable keto macros calculator!
Connect with me on FACEBOOK, INSTAGRAM, PINTEREST and join my TELEGRAM CHANNEL. Scroll down and subscribe to my newsletter to get my recipes on your email!
Enjoy!
Ines
Keto Oreo magic cookie bars – how to be happy on keto?
Keto Oreo magic cookie bars are crispy, flavorful low carb magic cookie bars with keto Oreo cookies and delicious cheesecake topping.
Ingredients
OREO COOKIE
Almond meal ½ cup/50 g/1.76 oz
Unsweetened cocoa powder 2 TBS/12 g/0.4 oz
Pinch of salt
Erythritol 2 TBS
Softened butter 30 g/1 oz
MAGIC COOKIE BOTTOM
Blanched almond meal 1 cup/100 g/3.5 oz
Coconut flour 2 TBS/15 g/0.5 oz
Erythritol or another low carb sweetener ½ cup
Pinch of salt
Softened butter 5 TBS/75 g/2.7 oz
TOPPING
Dark chocolate chips 2 TBS
CHEESECAKE TOPPING
Cream cheese or mascarpone cheese 100 g/3.5 oz
Vanilla extract 1 tsp
Powdered sweetener erythritol 1 TBS
KETO CONDENSED MILK
Butter 25 g/0.9 oz
Erythritol 2 TBS
Pinch of salt
Heavy whipping cream ¼ cup/50 ml
Rum extract 1 tsp
Instructions
KETO OREO COOKIES
Preheat the oven to 180 C/350 F.
Combine all ingredients together to make the dough.
Press in the dough into a layered baking tin with a parchment paper. Roll it or press it to be very thin.
Bake for 8 - 15 min (depends on your oven). When baked it will be very soft, it need to stay for 15 minutes outside of the oven to become crispy.
When baked, set it aside to cool and bake cookie bottom.
KETO COOKIE BOTTOM
Combine all ingredients together to make the dough.
Press the dough into 22 cm x 15 cm/8x5 inch layered baking tin.
Bake the dough in a preheated oven on 180 C/350 F for 10 - 15 minutes or until golden brown on the edges and baked.
PREPARING CHEESECAKE FILLING
In a small bowl whisk cream cheese with vanilla and sweetener until smooth.
PREPARE KETO CONDENSED MILK
In a sauce pan on a medium heat melt the butter with erythritol.
When butter and sweetener completely melted, add heavy whipping cream and whisk until nicely combined and start thickening.
When start thickening remove it from the heat and set it aside.
ASSEMBLING KETO MAGIC COOKIE BARS
When bottom is baked put the topping on top of the cookie bottom.
Distribute cheesecake filling in small piles with a spoon on all parts of the cookie bottom.
Break the Oreo cookie in small pieces and distribute on top.
Sprinkle everything with chocolate chips.
Pour keto condensed milk on top of everything.
Put it back in hot oven for 5 - 10 minutes.
When keto Oreo magic cookie bars are done set them to cool.
Serve and enjoy!
Notes
This recipe is for 22 cm x 15 cm/8x5 inch baking tin.
Nutrition Information:
Yield:

15
Amount Per Serving:
Calories:

158
Total Fat:

15g
Net Carbohydrates:

1.3g
Protein:

3.29g
This is for your information only, please calculate your own macros with ingredients you use.