One skillet chicken with lemon sauce and shrimp, sprinkled with fresh dill and asparagus is nutritious keto meal. Chicken with lemon butter sauce is restaurant quality low carb family friendly meal.
Chicken is everyday food, available to majority of people and for majority of budgets. If you're eating chicken meat very often it could be boring. However you can make this recipe for chicken with lemon sauce and have a real feast for your palate.
It's totally incredible how easy you can make such a delicious family meal in literally no time. This chicken with lemon cream sauce with dill is rich in taste and so nutritious. Asparagus goes perfectly with this creamy lemon butter sauce with garlic and fresh dill. Perfection of flavor and taste!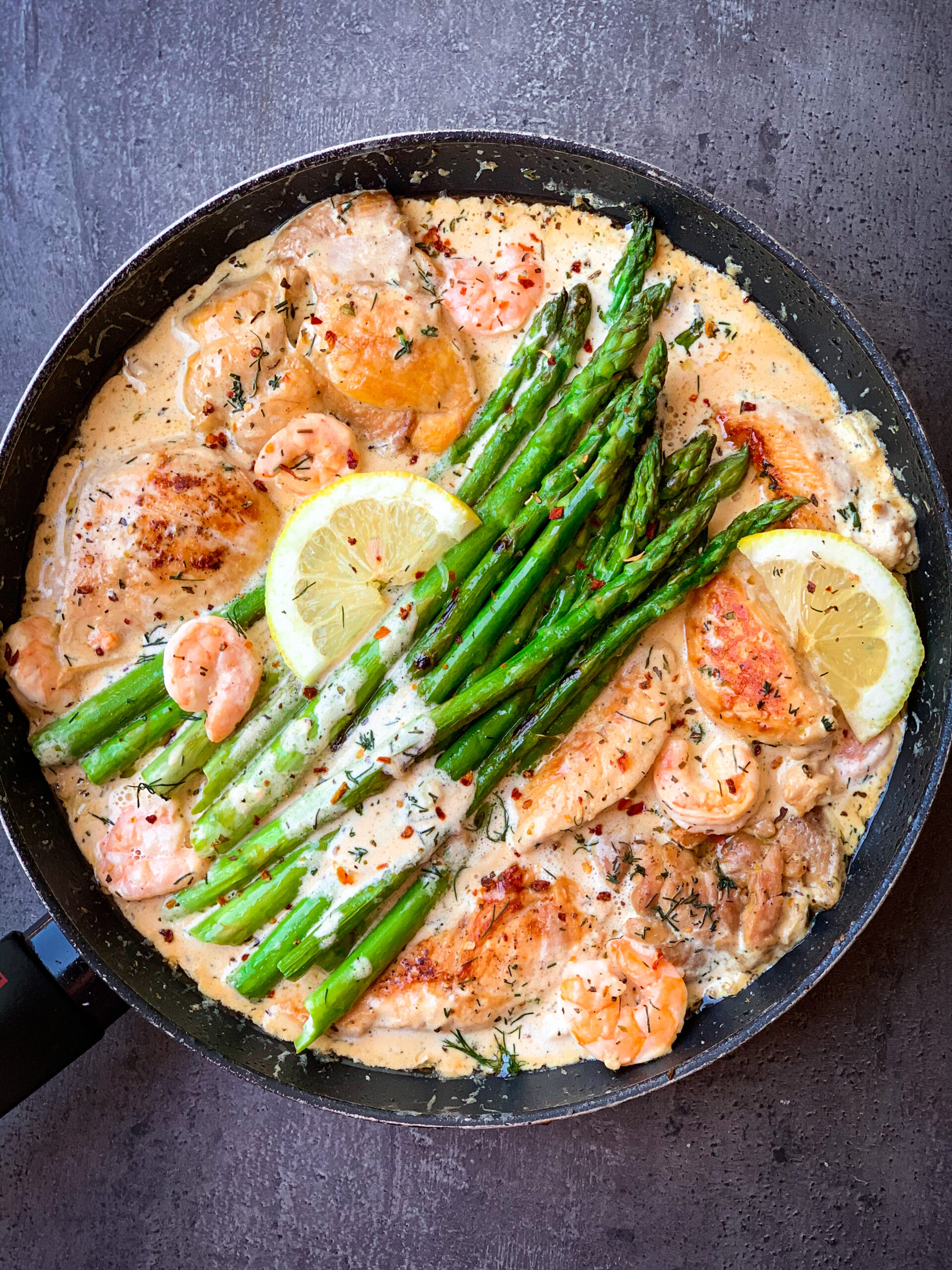 HOW TO MAKE ONE SKILLET CHICKEN WITH LEMON SAUCE AND SHRIMP?
One skillet
You will need just one skillet and a large plate to make this keto meal. I love cooking this way, this is really busy mom cooking style! If you could see me cooking sometimes! It could be hilarious! Trying to cook and being on a conference call at the same time plus children pulling me and bagging me to give them something or asking for something very important. I will have to make a vlog one day just to make you laugh out loud! 🙂
OK, back to cooking! On a hot olive oil just cook asparagus for few minutes until they're done to your liking. Set them on a plate and on the same skillet cook chicken meat. It's great to use chicken breast and chicken thigh. When meat is cooked, set it on a plate and on the remaining oil sauté chopped onion.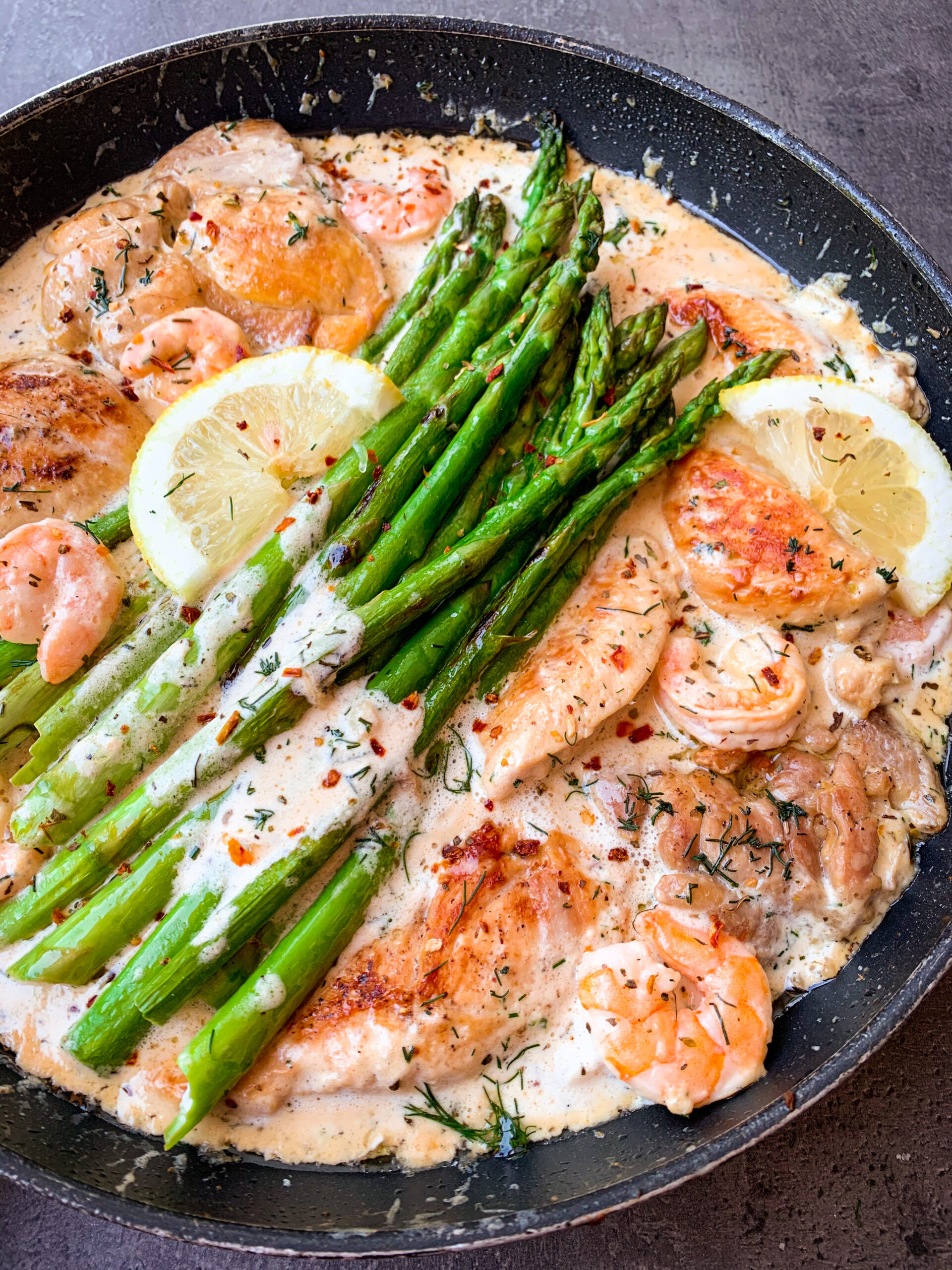 Sauté onion and garlic for rich and flavorful lemon cream sauce
It's great to start the sauce with frying finely chopped onion and garlic. I always fry/sauté onion until translucent and golden brown on the edges. That's caramelization of the onion and it gives wonderful, deep and rich flavor to your lemon sauce.
After the onion is golden brown you just add butter, heavy whipping cream, water or broth, lemon juice and zest, salt, pepper, dried basil. fresh finely chopped dill and grated parmesan cheese to thicken the sauce.
When creamy butter lemon sauce start simmering add shrimps and put back chicken meat and asparagus and cook it altogether for 5 – 10 minutes on a medium low heat.
After 5 to 10 minutes your one skillet chicken with lemon dill sauce is ready!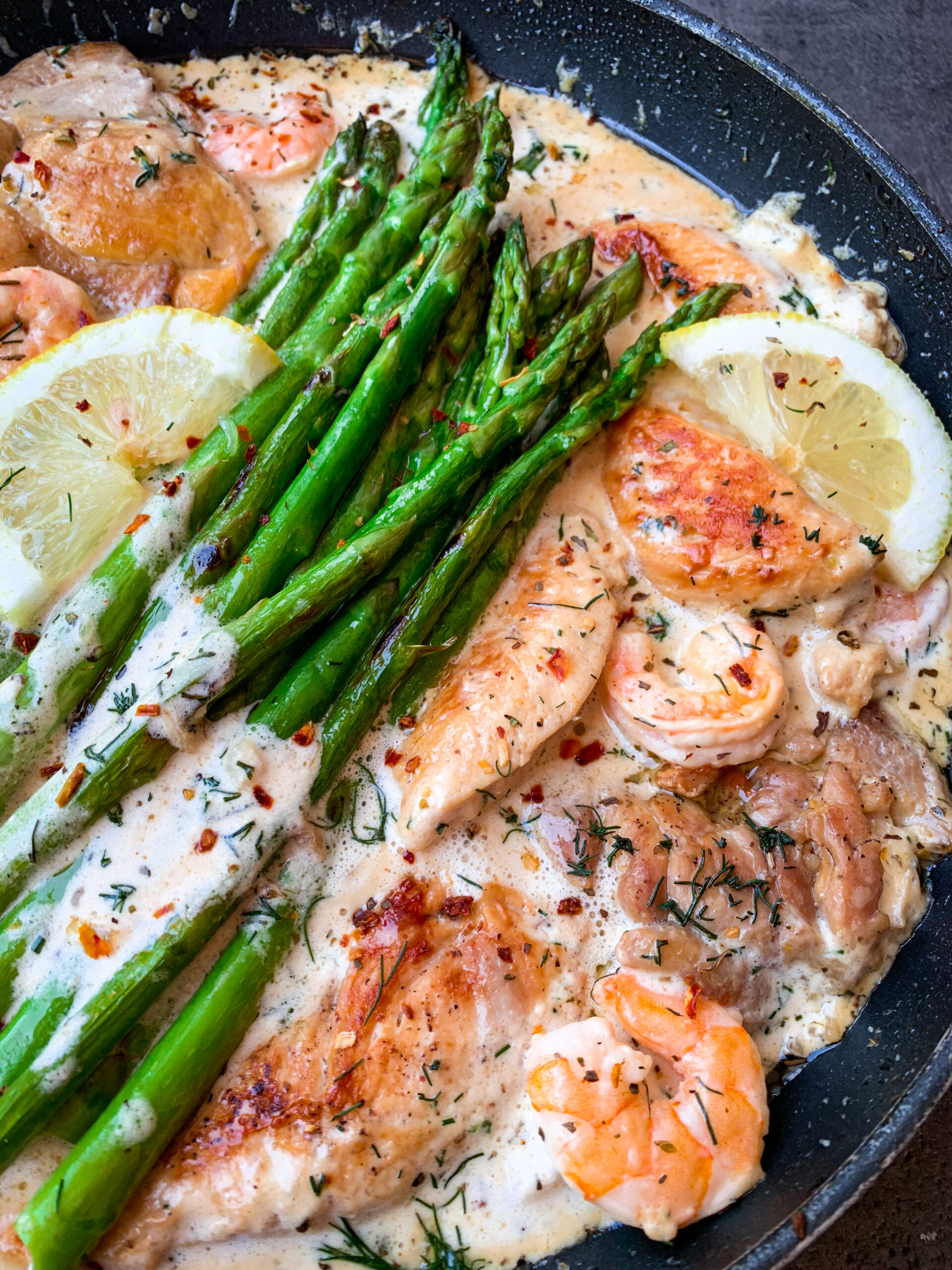 SERVING CHICKEN WITH LEMON BUTTER SAUCE
In this keto chicken recipe with lemon sauce you already have everything! You have chicken and shrimps, you have delicious and flavorful lemon garlic butter dill sauce and there are asparagus. So, you can serve it just like that, there is no special need to prepare some special side dishes.
However, if you want to share this chicken with dill sauce and lemon with more people for bigger family or you want to add more side dishes and vegetables, I recommend you to prepare zoodles or one of these delicious keto sides.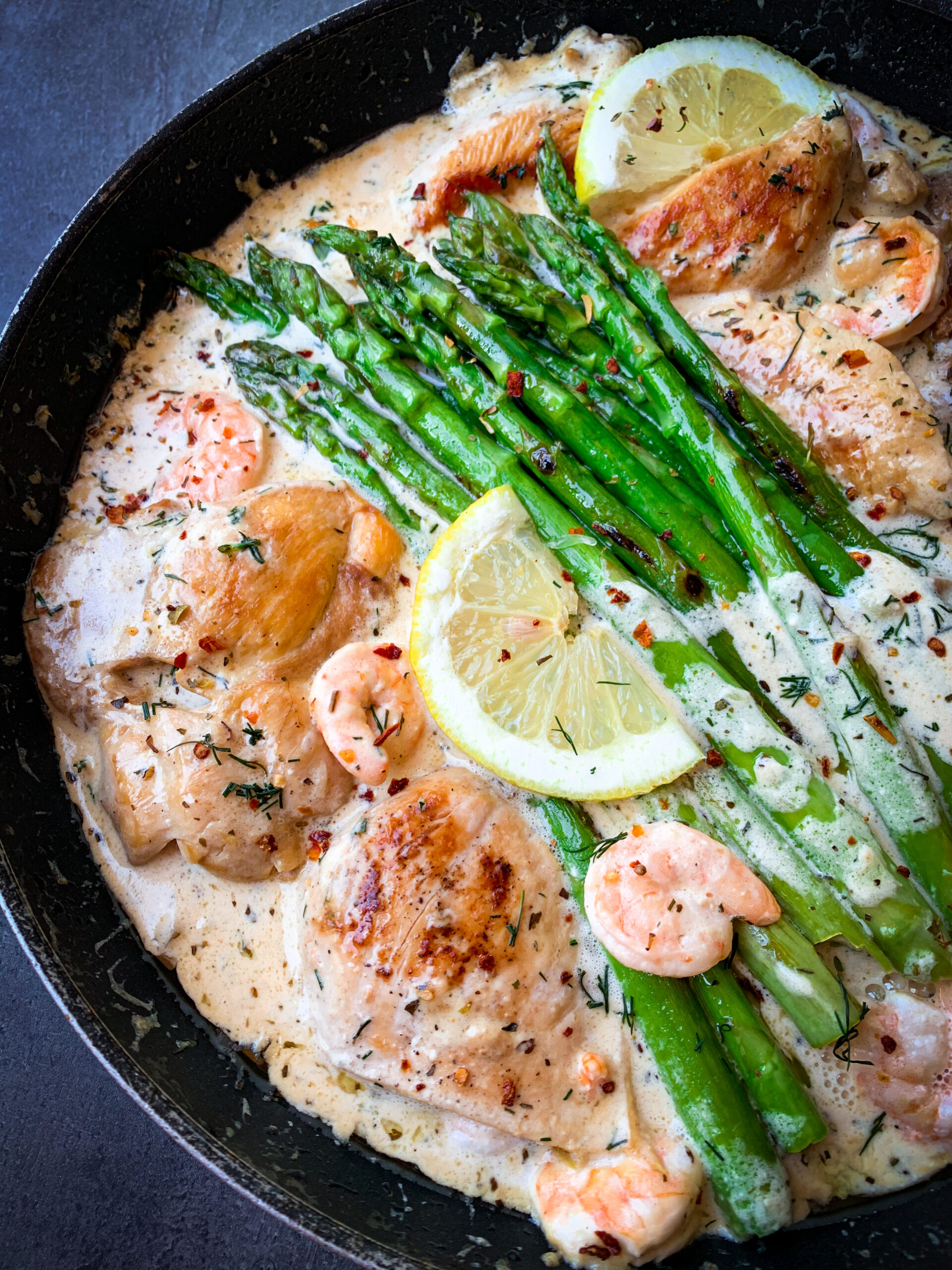 Fried cauliflower rice from this recipe
Sharing is caring!
If you like my recipes, leave a comment! Would you like to calculate your macros? I have an easy to use and reliable keto macros calculator!
Connect with me on FACEBOOK, INSTAGRAM, PINTEREST and join my TELEGRAM CHANNEL. Scroll down and subscribe to my newsletter to get my recipes on your email!
Enjoy!
Ines
One skillet chicken with lemon sauce and shrimps
Print Recipe
Ingredients
FOR ASPARAGUS

Olive oil 1 TBS

Salt to taste

Pepper to taste

Cleaned asparagus 450 g/16 oz

FOR CHICKEN

Olive oil 2 TBS

Chicken breasts and thighs without bones 650 g/23 oz

Salt to taste

Pepper to taste

LEMON SAUCE

Onion finely chopped 70 g/2.5 oz

Garlic 2 cloves

Lemon zest of 1 lemon

Lemon juice of 1 lemon

Butter 1 TBS

Heavy whipping cream 1.5 cup/300 ml

Water or broth 1/2 cup/100 ml

Basil dried 1 tsp

Fresh dill finely chopped 2 TBS

Parmesan cheese 1/4 cup/25 g/0.8 oz

Salt to taste

Freshly ground pepper to taste

Shrimps fresh or frozen 100 g/3.5 oz
Instructions
2
In a large skillet heat 1 TBS of olive oil and toss asparagus on hot oil. Season with a pinch of salt and freshly ground pepper.
3
Cook asparagus for 3 - 5 minutes and remove them from the skillet and set on a plate.
5
Add 2 TBS of olive oil and cook chicken meat seasoned with salt and freshly ground pepper to taste.
6
When meat is cooked, set it on a plate.
8
On a remaining oil add 1 TBS of butter, chopped onion and minced garlic cloves and fry until onion is translucent and golden brown.
9
Add shrimps and cook them for 2 minutes.
10
Add heavy whipping cream, water or broth and grated parmesan cheese. Stir everything and add salt and pepper to taste.
11
Put back chicken and asparagus and leave it so simmer for 5 - 10 minutes.
12
Serve it hot. If you like you can serve it with zucchini noodles/zoodles or with cauliflower mash or other steamed veggies.
Notes
This amount is for 6 servings. Nutritional value per serving: Cal 496, Fat 37 g, NET Carbs 4.1 g, Protein 33 g. This is for your information only. Please calculate your own macros with ingredients you use.