Savoy cabbage soup with beef is keto, gluten free and delicious family friendly recipe. This is delicious low carb and nutritious make ahead meal and my favorite savoy cabbage recipe!
Savoy cabbage is similar to kale but in my opinion has better taste than kale and it's lower in carbs. You can imagine that savoy cabbage is not my children's favorite vegetable. Actually, I don't know anyone who would say – Oh, I love savoy cabbage, it's my favorite vegetable! No, I don't know anyone like that. But I have a few anecdotes about people who used to hate savoy cabbage before they tried this soup.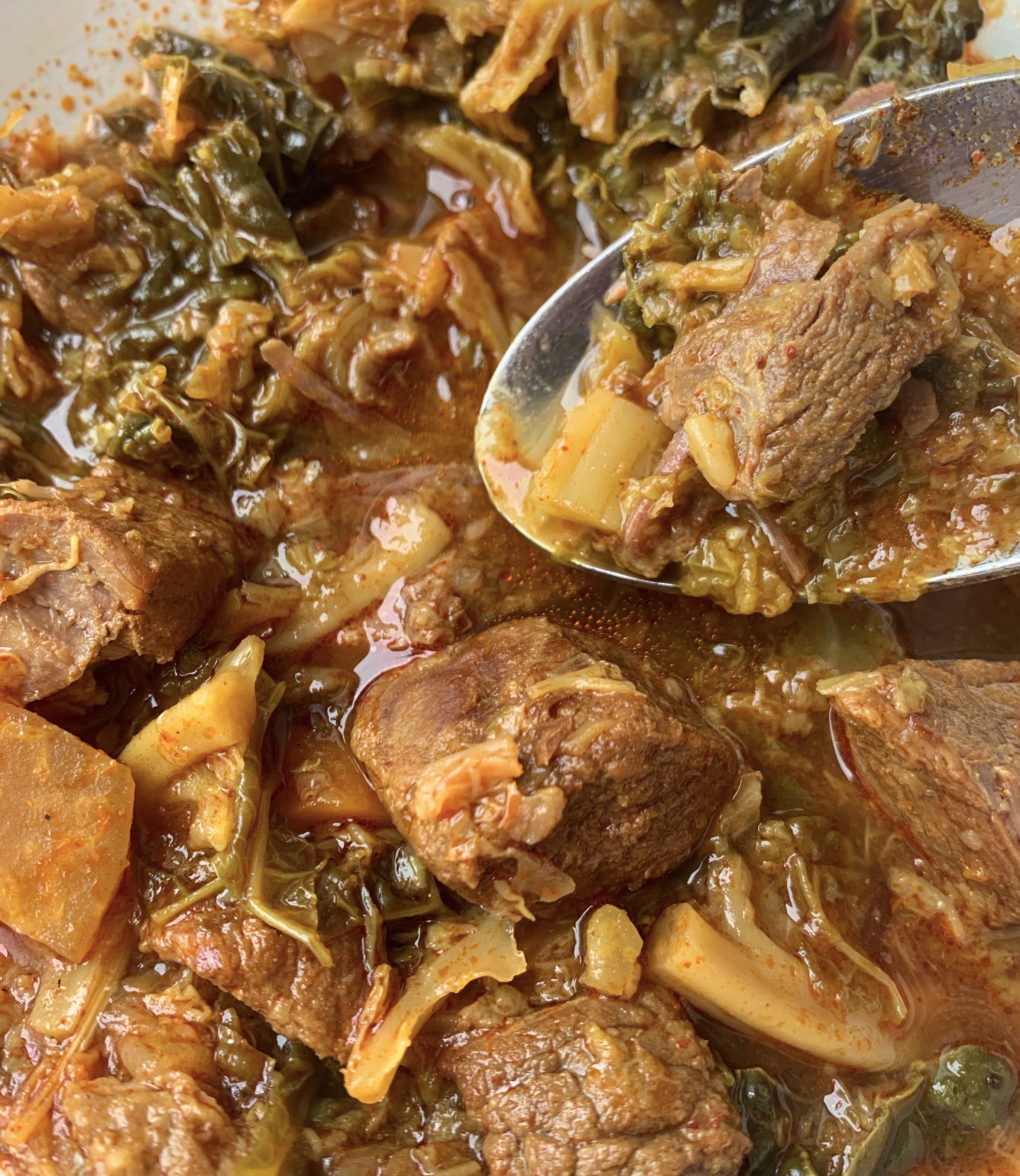 Savoy cabbage in soup with beef anecdote
I make this savoy cabbage in soup with beef very often because this is one of my family favorite dinners. Once, my husband relative came unexpectedly to our house just when we were about to eat our savoy cabbage stew with beef. I offered him a plate. When he realized that we have savoy cabbage he politely refused. But my husband asked if he would like to try. He liked it and asked for more!
Afterward he said that it wasn't savoy cabbage! It was beef soup with savoy cabbage! 😀
So, whatever prejudice you have about this delicious and nutritious leafy green vegetable, you will change your mind after eating this keto savoy cabbage stew.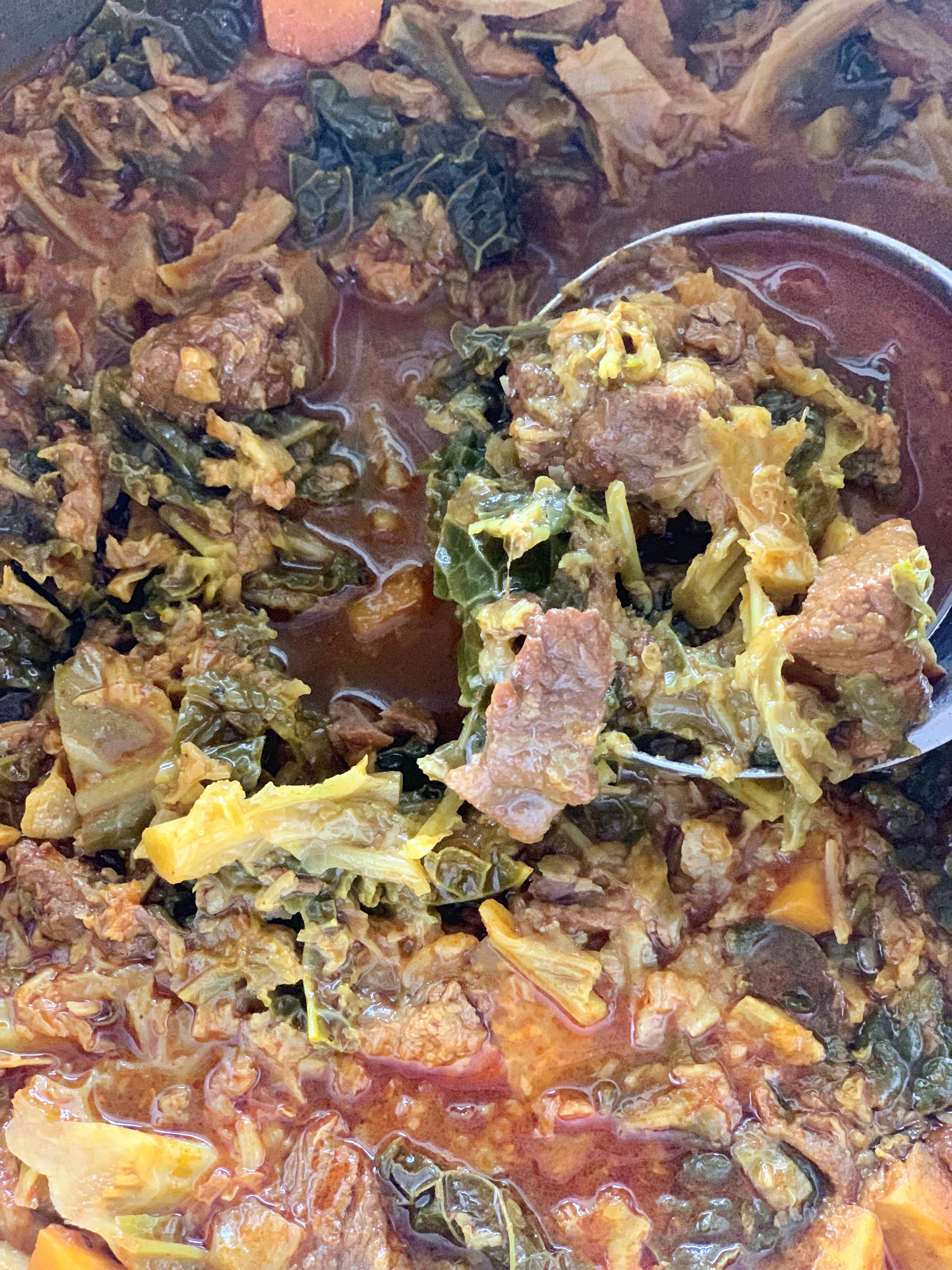 This low carb savoy cabbage beef stew is perfect for your week meal prep. You can keep it in the fridge for 2 – 3 days and reheat. It's even better to freeze it in portions and reheat when you need some keto comfort food.
Tips for making savoy cabbage soup with beef
Sauté onion on lard or olive oil. I like to use lard because it's very available here and traditionally we use it a lot. Sautéed onion will give special smell and caramel taste.
Brown beef after your onion is translucent. Meat has to be browned on the edges. Everything in purpose of great flavor!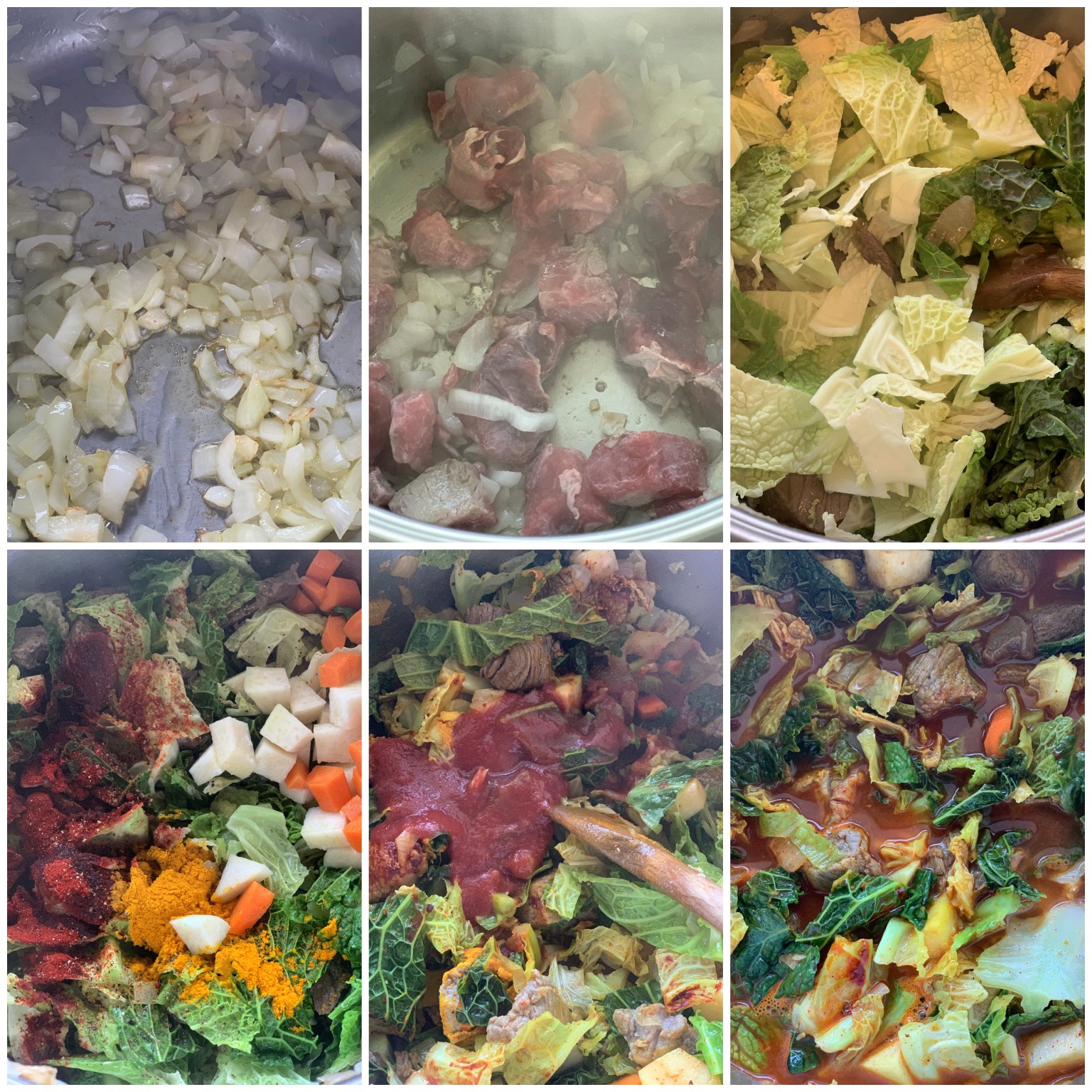 Use your instant pot or slow cooker to prepare this savoy cabbage in stew. You will save the time and you can easily enjoy in delicious savoy cabbage beef stew more often. It's always better to cook it longer because you will get much better taste and falling apart meat! And that's really delicious!
How to serve low carb savoy cabbage beef soup?
Serve this soup alone or with a generous spoon full of sour cream. I like to add sour cream to cool the hot soup so I can eat immediately! 😀
You can eat a slice of keto bread or keto biscuits with this kale soup if you like to dip. I recommend you this keto focaccia or keto cheddar biscuits. Delicious for dipping!
If you think about keto desserts, here are some delicious keto desserts you might try:
If you like my recipe, please leave a comment and share it with your friends on your favorite social network! <3
Follow me on Instagram & Facebook!
See you there!
Ines <3
Ingredients
Lard 2 TBS

Onion chopped 70 g/2.50 oz

Savoy cabbage chopped 550 g/19 0z

Beef cubes 450 g/16 oz

Kohlrabi  cut to cubes 100 g/3.50 oz (optional)

Carrot cut to small cubed 20 g/0.70 oz

Tomato sauce 1/4 cup/50 g/1.80 oz

Turmeric 1/2 TBS

Salt 1 tsp or more to taste

Freshly ground pepper to taste

Ground paprika 1 TBS

Basil pinch

Water or beef broth 2.5 cups
Instructions
1
Melt lard or heat olive oil.
2
Sauté chopped onion until translucent and golden brown.
3
Add beef meat cubes and stir until browned on the edges. This is very important step because it gives flavor.
4
When meat browned add savoy cabbage chopped into small pieces and stir for few minutes until starts to wilt.
5
Add tomato, carrot and turnip cut in small cubes, spices, salt and water or broth.
6
Stir and cook covered for 1.5 h on low to medium heat or in the instant pot for at least 30 - 45 minutes. Longer you cook it's better!
Notes
This amount serves 5. Nutritional value per serving: Cal 313, Fat 14.8 g, Carbs 9.79 g, Fiber 3.76 g, NET Carbs 6.21 g, Protein 7.7 g. This is for your information only, calculate your own macros with ingredients you use.