Keto summer squash casserole is vegetarian keto squash casserole with cheese and eggs. Keto bučnica, as it is called in Croatia.
I went to the farmer's market in my small rural place in the countryside yesterday, and it was full of wonderful homegrown veggies.
Besides all these yummy peppers and tomatoes that my neighbors here in my part of Croatia are traditionally growing, there was a huge choice of different summer squashes.
Yellow summer squash, green summer squash, zucchini or courgette, you could choose what you like, and it was so cheap!
So, I got home with a full huge bag! And immediately when I saw that green summer squash I knew I will try to make keto bučnica.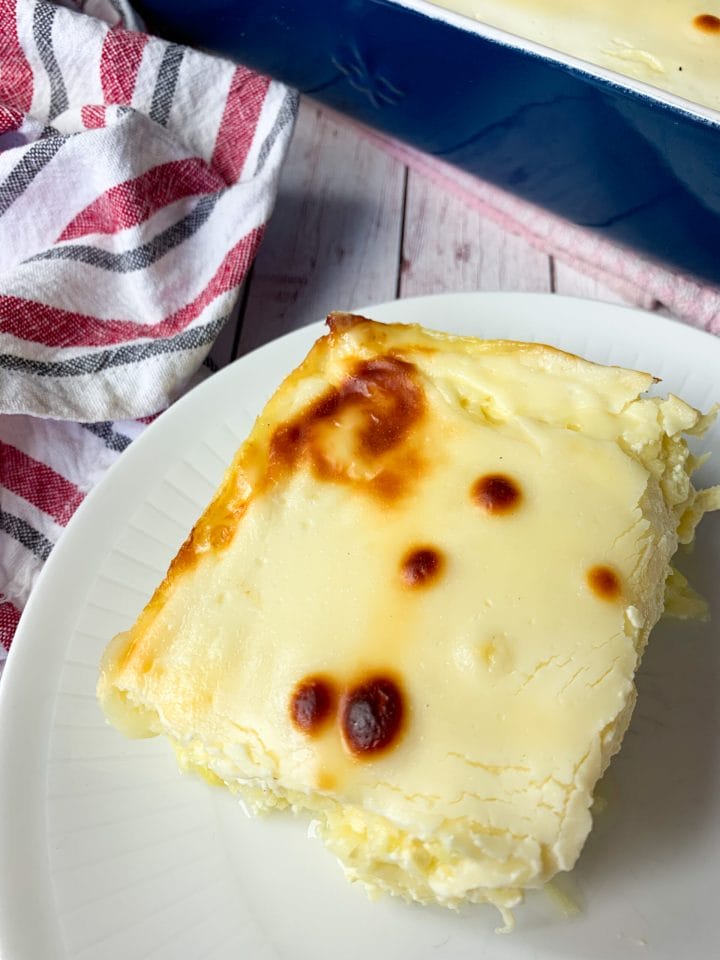 Keto summer squash casserole or keto bučnica
That's actually something like vegetarian keto summer squash casserole with cottage cheese and eggs, seasoned with salt and pepper.
Very simple, old, traditional food of peasants from Hrvatsko Zagorje, region of Croatia. Traditionally they used to make it with very thin stretchy dough. Of course, I make keto bučnica without dough, with cheese slices instead, like I use in my easy keto lasagna and keto vegetarian lasagna with spinach and cheese.
I can tell you, this vegetarian keto summer squash casserole is so delicious! Even my husband who is a real carnivore ate it and enjoyed! It reminds a lot on keto squash mac and cheese!
That's why, use your squashes now when in season and make this! Outside of the season zucchini are available during the whole year so you can use zucchini instead too.
Is summer squash keto friendly?
Be careful because it depends on a squash type. Some of them are higher in carbs and some are lower. However, summer squash, yellow and green is fantastic for keto diet. Summer squash has nice thin skin and contains only 2.3 g NET Carbs in 100 g!
That's incredibly low in carbs, and besides, they are so low in calories. That's why, summer squash dishes could be your holy grail of staying on strict keto and losing weight!
With summer squash you can even make your low carb and keto desserts like this delicious chocolate cake!
How to make low carb summer squash casserole?
This dish is so easy to make! Literally, just peel and shred summer squash, add some salt and leave it to release the water. Squeeze to remove excess water and stir in cheese and eggs, season with some salt and pepper.
For more flavor, layer the dish with edam cheese or gouda cheese slices, put the filling on cheese, cover with more cheese slices and put on top some sour cream with a pinch of salt. Bake until golden brown on top, serve and enjoy! So easy!
Serving vegetarian keto summer squash casserole
This tasty dish is very nice as a low carb vegetarian meal or as a keto side dish to roasted meat or a steak. It goes perfectly with leafy green salad, fresh cucumbers, tomatoes or with pickled cucumbers.
LIKE AND SHARE!
If you like my recipes, please, leave a comment and share to support my work!
Would you like to calculate your macros? I have an easy to use, and reliable keto macros calculator!
Connect with me on FACEBOOK, INSTAGRAM, PINTEREST and join my TELEGRAM CHANNEL. Scroll down and subscribe to my newsletter to get my recipes to your email!
Enjoy!
Ines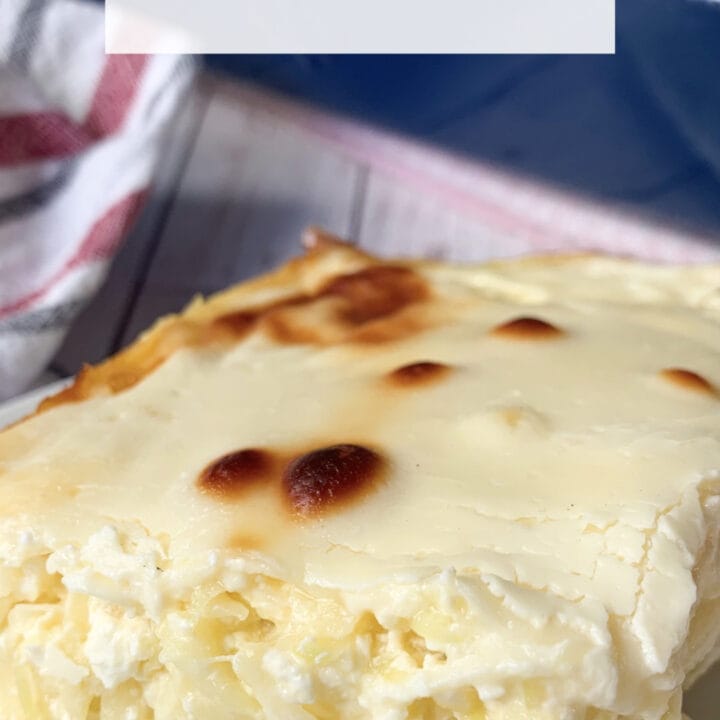 Keto summer squash casserole – vegetarian keto recipe
Keto summer squash casserole is vegetarian keto squash casserole with cheese and eggs. Keto bučnica, as it is called in Croatia.
Ingredients
Peeled and shredded summer squash 1000 g/35 oz
Salt 1.5 tsp
Pepper to taste
Cottage cheese 420 g/15 oz
3 large eggs
Edam or gouda cheese 10 slices/200 g/7 oz
TOPPING
Sour cream 5 TBS
Pinch salt
Instructions
Peel and shred summer squash.
Sprinkle with 1 teaspoon of salt and leave for 10 minutes.
Turn on the oven to 180 C/356 F.
After 10 minutes squeeze the squash with your hands or by using a colander to remove all the excess water.
Place squash in a bowl, add cottage cheese, eggs, ½ teaspoon of salt and freshly ground pepper to taste. Stir everything until nicely combined in a squash filling.
Prepare deep lasagna dish size 16 x 17 x 7 cm/10 x 7 x 3 inch, greased with butter.
Layer lasagna dish with 5 slices of cheese to cover the bottom.
On cheese slices put the summer squash filling.
Cover the filling with remaining cheese slices.
Cover with the sour cream topping (5 TBS of sour cream with a pinch of salt).
Bake in a preheated oven on 180 C/356 F for 20 to 30 minutes (depending on the oven) or until baked and golden brown on top.
Serve warm and enjoy!
Nutrition Information:
Yield:

6
Serving Size:

1 slice
Amount Per Serving:
Calories:

234
Total Fat:

14g
Net Carbohydrates:

5.3g
Protein:

18g
This is for your information only, please calculate your own macros with ingredients you use.