Keto Pad Thai with shirataki noodles is a real thing! Delicious keto Thai stir fry noodles with chicken, shrimp and delicious Pad Thai sauce! Shirataki noodles here actually taste good!
Pad Thai is one of the most popular Thai recipes, and trust me, when you try this keto Pad Thai you won't miss anything! This is a restaurant quality low carb Pad Thai recipe!
Yes, it's made with shirataki noodles, or as they call them, miracle noodles or konnyaku noodles, but they taste really good in this keto Thai combination! Original Pad Thai is made with rice noodles and they don't have some especially uber delicious taste, but who cares, when you have fantastic Pad Thai sauce! That's why, shirataki noodles are really great substitute! Probably, this is one of the best recipes with shirataki noodles!
HOW TO MAKE A REALLY DELICIOUS KETO PAD THAI WITH SHIRATAKI NOODLES?
Chicken and shrimp with pepper and eggs
You can make this popular Thai dish with shrimp or with chicken, but I like to have it all! Make it with chicken and shrimp for a full delicious Thai taste! Fried chicken and shrimp/prawns are great combo, especially when soaked in delicious Pad Thai sauce!
I always start this keto Thai dish with frying chicken on a pan or a skillet on coconut oil, gradually adding red pepper cut in stripes and at the end adding shrimp and spring onion greens. I love to season it just with salt and freshly ground pepper.
When chicken, shrimp, pepper and onion are done, chicken and shrimp are golden brown, just push everything to the side and pour whisked eggs onto the other side and scramble less then a minute. Combine everything and add Pad Thai sauce.
Keto Pad Thai sauce
Every person who reads my blog regularly, already knows that I love peanut butter and peanuts in all combinations. That's why, this is actually keto Pad Thai peanut sauce! Oh, yes! Pad Thai sauce is much better with unsweetened peanut butter and I use it a lot.
To make a really delicious Pad Thai sauce with peanut butter, combine fish sauce and oyster sauce with unsweetened peanut butter. That's delicious combination that will totally elevate noodles, chicken and shrimp.When you combine naturally tasteless shirataki noodles with this peanut sauce, they become really delicious. It doesn't matter if they have a structure like a rubber! 🙂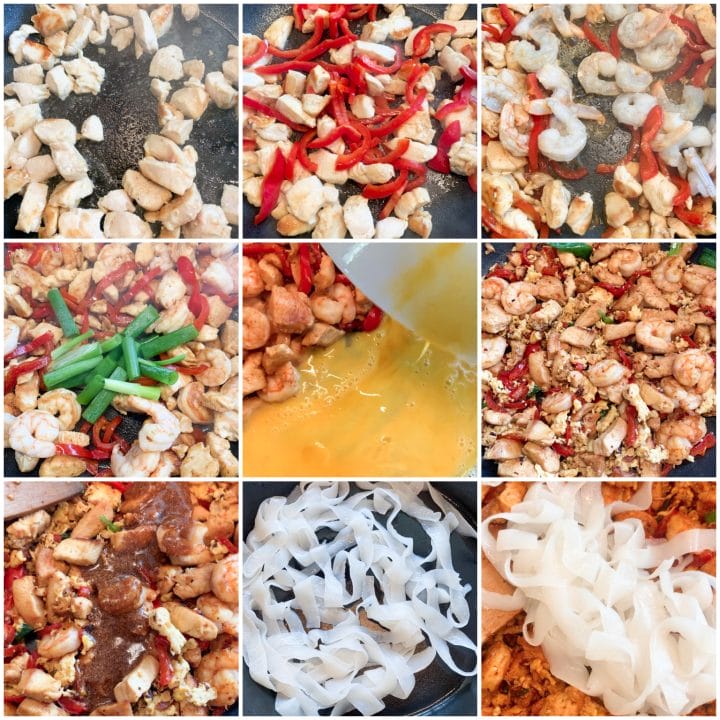 How to cook shirataki noodles to taste good?
Shirataki noodles or miracle noodle fettuccine recipe is actually very easy to prepare. It's the best to rinse them with a plenty of water one or two times and put them into a boiling water with just a pinch of salt for 2 minutes. After that transfer noodles on dry hot pan for just a minute or two and they are ready to make any of your favorite shirataki noodles stir-fry recipes.
Shirataki noodles prepared on this way are without any taste and smell and you can use them in any recipe to replace the noodles. They are quite chewy or better say rubbery so I love them only in keto Thai recipes because these Thai spices, fish sauce and similar, make them really appetizing.

Try more keto Thai recipes!
Thai pork tenderloin with spinach
LIKE AND SHARE!
If you like my recipes, please, leave a comment and share to support my work!
Would you like to calculate your macros? I have an easy to use, and reliable keto macros calculator!
Connect with me on FACEBOOK, INSTAGRAM, PINTEREST and join my TELEGRAM CHANNEL. Scroll down and subscribe to my newsletter to get my recipes to your email!
Enjoy!
Ines
Keto Pad Thai with shirataki noodles
Keto Pad Thai with shirataki noodles is a real thing! Delicious keto Thai stir fry noodles with chicken, shrimp and delicious Pad Thai sauce! Shirataki noodles here actually taste good!
Ingredients
FOR CHICKEN & SHRIMP PAD THAI
Coconut oil 1 TBS
Chicken breasts cut is mall pieces 400 g/14.11 oz
Shrimp 220 g/7.76 oz
Salt ½ tsp
Pepper to taste
Red pepper 100 g/3.5 oz
Spring onion (green parts) 20 g/0.7 oz
2 large eggs
Shirataki noodles prepared by instructions 190 g/
PAD THAI SAUCE
Fish sauce 2 TBS
Oyster sauce 1 TBS
Unsweetened peanut butter 1 TBS
GARNISH & FINAL TOUCH
Fresh cilantro leaves
Spring onion
Fresh lime slices and lime juice
Sesame oil
Roasted crushed peanuts
Instructions
PEPARE SHIRATAKI NOODLES
Prepare a large pot with water and a pinch of salt and bring it to boil.
Rinse noodles with water 1 or 2 times and put in a large pot with boiling water for 2 minutes.
Transfer the noodles into a hot dry pan or skillet for 1 or 2 minutes and set aside.
PREPARE PAD THAI SAUCE
In a small bowl whisk together 2 TBS of fish sauce with 1 TBS of oyster sauce and 1 TBS of peanut butter.
PREPARE PAD THAI
On a large skillet or pan heat the coconut oil.
On a hot oil add chicken meat cut in small pieces and stir. When golden brown, add pepper cut in stripes, stir and after a minute add shrimp. Stir and when shrimp golden brown add spring onion green parts cut in stripes. Season with ½ teaspoon of salt and freshly ground pepper to taste.
Push everything to the side and pour whisked eggs with a pinch of salt onto the other side and scramble less than a minute.
Combine everything and add prepared Pad Thai sauce, stir.
Add prepared shirataki noodles, stir to combine Pad Thai with noodles.
Add lime juice and sesame oil on top and garnish with finely chopped spring onion green parts, crushed roasted peanuts and cilantro leaves.
Enjoy!
Nutrition Information:
Yield:

4
Serving Size:

2 cups
Amount Per Serving:
Calories:

323
Total Fat:

11g
Net Carbohydrates:

3.75g
Protein:

107g
This is for your information only, please calculate your own macros with ingredients you use.