Thai keto fish cakes are nutritious Thai fish and shrimp cakes in keto version. This is one of my family's favorite keto fish recipes and definitely keto kids approved!
My children love these low carb fish cakes. Usually fish is not so popular among kids but my children love fish in this form.
Flavor of these low carb Thai fish and shrimp cakes is wonderful for kids palates and the form of the patties is winning too.
Children generally love when they can have their food in their hands, like a finger food. My children are 3 and 6 but this could be perfect recipe for babies who are starting with solid food, especially for baby led weaning.
Of course adults love these keto Thai fish cakes, too! Who doesn't love Thai street food! Especially keto Thai street food! And fish cakes are one of the stars of versatile Thai street food. All these smells and flavors combined in a savory cake, crispy and golden brown outside and flavorful and tender inside!
If you don't have kids you can make these patties spicy if you like. I love spicy food but my children are not huge fans so I put chili in half of the amount or I just make spicy dipping sauce and enjoy!
HOW TO MAKE THAI KETO FISH CAKES?
Prepare white fish fillets and shrimp
I love this combination of fish and shrimp/prawns. If you have only fish, it will be really good with fish only. However, combination of white fish with shrimp really makes this flavor and smell special. If you like shrimp flavor, of course!
It's fantastic if you have fresh fish fillets, but frozen are equally good, only you need to thaw/defrost fish completely, pat dry and then use.
Combining ingredients in food processor
Combine fish cut in small pieces, shrimp, salt, pepper, red paprika, fresh cilantro, Thai curry powder, dried basil, fish and oyster sauce and egg and mix in a food processor until nicely ground/minced.
Add in almond flour and chopped spring onion and make patties and cook.
Frying Thai keto fish patties
If you like deep frying you can do it. I do it very fast on a pan/skillet and I think pan frying is really convenient and patties taste great when prepared like this. I use lard or coconut oil, more often lard. You can use avocado oil too.
I am used used to fry on lard and that's fat for cooking and frying I use the most. That's something what is actually in my family's tradition here in Croatia. We fry and cook everything on lard and pour our food with a lot of extra virgin olive oil! 🙂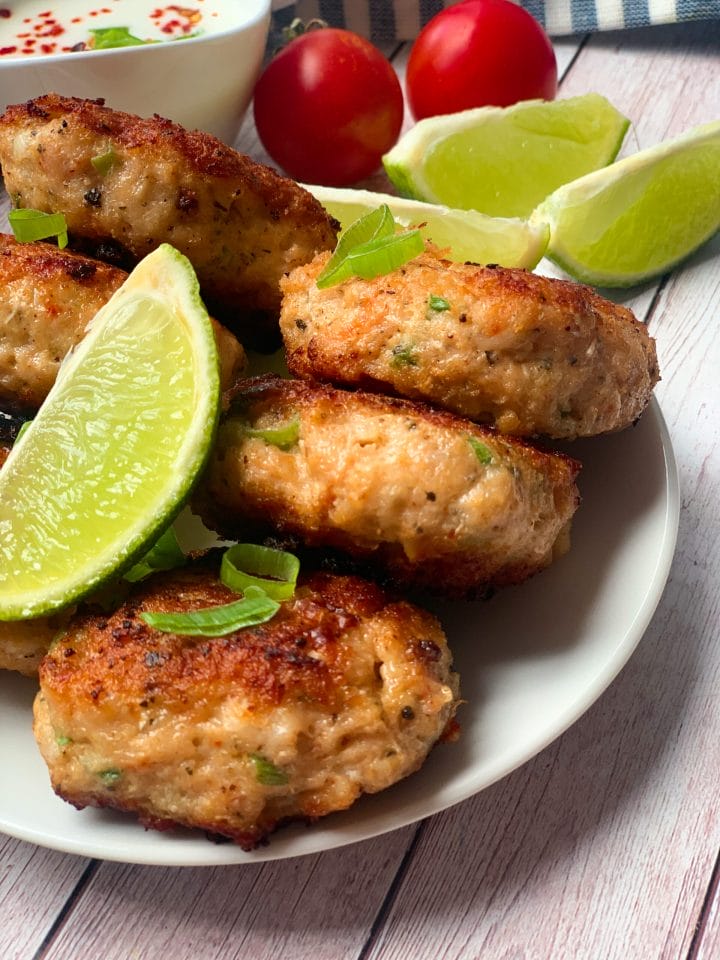 Serving Keto Thai fish cakes
I love serving these with mashed cauliflower or with fried cauliflower rice. It goes perfect with any leafy green salad and with dipping sauce.
I love to prepare just sour cream with salt, pepper and some crushed chili or with pinch of curry powder and dip fish cakes into that dipping sauce. It's so good!
Do you like keto Thai recipes?
Here, I have few really delicious low carb Thai recipes you might try!
Thai pork tenderloin with spinach
Keto chicken with peanut butter sauce
LIKE AND SHARE!
If you like my recipes, please, leave a comment and share to support my work!
Would you like to calculate your macros? I have an easy to use, and reliable keto macros calculator!
Connect with me on FACEBOOK, INSTAGRAM, PINTEREST and join my TELEGRAM CHANNEL. Scroll down and subscribe to my newsletter to get my recipes to your email!
Enjoy!
Ines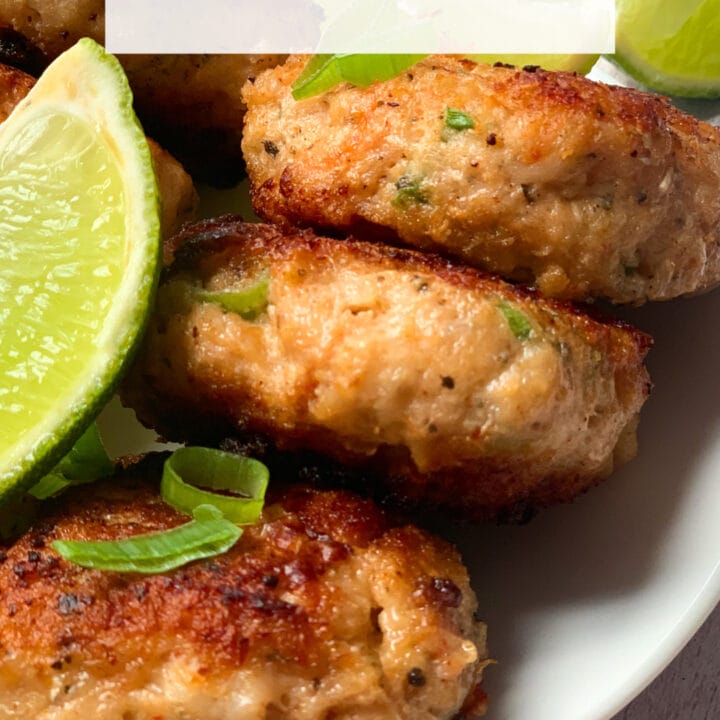 Thai keto fish cakes
Thai keto fish cakes are nutritious Thai fish and shrimp cakes in keto version. This is one of my family's favorite keto fish recipes and definitely keto kids approved!
Ingredients
White fish fillets of snapper, tilapia, John Dory, monkfish or cod (skinless and pin boned, cut into small pieces) 500 g/17.6 oz
Shrimp 200 g/7 oz
1 egg
Salt 1 tsp
Freshly ground pepper to taste
Red ground paprika ½ tsp
Thai curry powder ½ tsp
Fish sauce 2 TBS
Dried basil 1 tsp
Fresh cilantro 1 TBS
Lime juice 1 TBS
Almond flour ¼ cup/25 g/0.88 oz
1 spring onion finely chopped
Coconut oil or lard for frying 6 TBS
GARNISH
Fresh lime slices
Fresh cilantro leaves
Instructions
Cut fish into smaller chunks and combine in a food processor with shrimp, egg, salt, pepper, paprika, curry powder, fish sauce, basil, cilantro and lime juice.
If using frozen fish, thaw completely and pat dry before cutting into a smaller chunks and putting in a food processor.
When all nicely ground/minced and combined, transfer into a large bowl and add almond flour and chopped spring onion, stir until combined and form patties with your hands. You will get 10 patties.
Heat the oil or lard in a pan, over a medium high heat to cover the base.
Place patties in oil, cook from 2 to 3 minutes on each side until golden brown. When cooked, transfer to paper towel on a plate.
Garnish with cilantro leaves and fresh lime slices.
Serve with your favorite sauce or salad.
Enjoy!
Nutrition Information:
Yield:

10 patties
Amount Per Serving:
Calories:

109
Total Fat:

5.2g
Net Carbohydrates:

1.4g
Protein:

14g
This is for your information only, please calculate your own macros with ingredients you use.