Keto vegetarian lasagna with spinach, cheese and rich tomato sauce is tasty and flavorful.
I am sure you will love this keto veggie lasagna with sauce, even if you're not a vegetarian! I have a wonderful keto lasagna recipe with standard meat sauce, and recipe is great! I was always receiving rave reviews. Here you can check the recipe.
However, last week we had a barbecue in our garden, so we ate grilled meat for all our meals two days in a row. Third day I just wanted to skip the meat. So, I created this delicious keto vegetarian lasagna without noodles.
Yes, you understood it right, this is a recipe for vegetable lasagna without pasta sheets, so no need to waist your time and make noodles! So, how we do it? It's so simple, we do it with cheese! With delicious cheese slices! And cheese is so keto!
HOW TO MAKE KETO VEGETARIAN LASAGNA WITH SPINACH AND CHEESE
What cheese to use for keto lasagna without noodles?
Edam cheese is my first choice, and here in Europe that's one of the most affordable cheeses. It's available in every grocery store in a block or sliced and that's so convenient.
I know that actually majority of my people here live in USA and it's a problem to find Edam cheese there sometimes. No worries, you may use gouda cheese or Monterey Jack instead. It will be also quite good!
Rich keto tomato sauce
Tomato sauce I use for this keto lasagna recipe is so flavorful and extremely rich! And I put a lot of this sauce because this lasagna is without standard bechamel sauce. That's why tomato sauce has to be very rich and there should be a lot of sauce!
Start this sauce with frying onion and garlic on olive oil, in a large pot. Onion needs caramelization, to become golden brown and release the caramel flavor. In that moment you add tomato purée or passata and water. Just have in mind to always use sugar free, or better say passata without added sugar.
Bring everything to simmer and cook for 10 to 15 minutes until it is reduced for ⅓ and onion completely soft.
When cooked, remove from the heat and mix with a hand/immersion mixer until smooth like thick tomato soup.
Prepare spinach with cheese filling
You may use fresh or frozen spinach. If using fresh, cut it in small pieces and put it in a boiling water for 2 or 3 minutes or until spinach is wilted. Squeeze out all excess water.
If using frozen, just use thawed and squeeze out all excess water as much as possible, with your hands or press through colander.
Combine prepared spinach with salt, pepper, nutmeg, shredded mozzarella, parmesan, cottage cheese and egg.
I love using full fat cottage cheese. You may use ricotta instead, but cottage cheese is more flavorful and I love it more in this combination with spinach and eggs.
Serving low carb lasagna with cheese and spinach
I love having these lasagna with fresh garden salad. Whatever leafy greens are in season you can make a salad out of them. Green lettuce, baby spinach, arugula with parmesan shavings, mixed leafy greens, tomato or cucumbers... Everything goes perfectly and you won't make mistake by adding more veggies into your diet, especially when it comes to leafy green salads. Leafy green salads are so low in carbs and full of all king of vitamins and nutrients.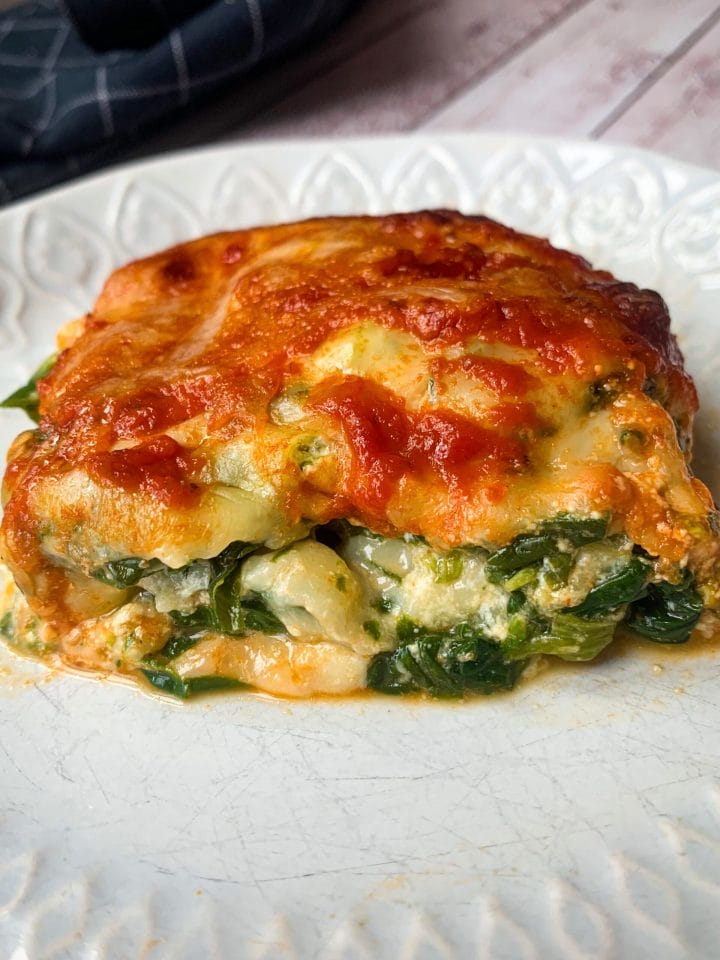 LIKE AND SHARE!
If you like my recipes, please, leave a comment and share to support my work!
After delicious slice of lasagna, maybe you wish to try one of my keto chocolate desserts, here is my recommendation.
Low carb zucchini chocolate cake
Would you like to calculate your macros? I have an easy to use, and reliable keto macros calculator!
Connect with me on FACEBOOK, INSTAGRAM, PINTEREST and join my TELEGRAM CHANNEL. Scroll down and subscribe to my newsletter to get my recipes on your email!
Enjoy!
Ines
Keto vegetarian lasagna with spinach and cheese
Keto vegetarian lasagna with spinach, cheese and rich tomato sauce is tasty and flavorful.
Ingredients
Edam cheese 9 big slices/300 g/10.5 oz
TOMATO SAUCE
Olive oil 1 TBS
1 small onion finely chopped 58 g/2 oz
2 garlic cloves
Tomato passata or tomato puree without added sugar 2 cups/400 ml
Water 1 cup/200 ml
Oregano 2 tsp
Basil 2 tsp
Salt 1 tsp
Freshly ground pepper to taste
SPINACH & CHEESE FILLING
Spinach frozen or fresh cut in small pieces 450 g/16 oz
Salt 1 tsp
Pepper to taste
Nutmeg freshly grated ¼ tsp
Oregano 1 tsp
Shredded mozzarella 1 cup/100 g/3.5 oz
Cottage full fat cheese 1 cup/250 g/8.8 oz
Parmesan cheese grated ¼ cup/25 g/0.8 oz
1 large egg
TOPPING
Shredded mozzarella ½ cup/50 g/1.8 oz
Parmesan ¼ cup/25 g/0.8 oz
Instructions
PREPARE TOMATO SAUCE
In a large pot heat 1 TBS of olive oil.
Add finely chopped onion and minced garlic, stir until onion is caramelized and golden brown.
When onion is caramelized, add tomato puree and water, salt pepper, oregano, basil, stir everything and bring it to simmer.
Keep it simmering for 10 to 15 minutes or until reduced for ⅓ and onion completely soft.
When cooked, remove from the heat and mix in a blender or with an immersion blender until nice and smooth sauce is made.
PREPARE SPINACH & CHEESE FILLING
If using fresh spinach, heat the water with a pinch of salt in a large pot and bring water to boil. Put spinach cut into a smaller pieces into the boiling water and keep it for 2 to 3 minutes or until spinach is wilted. When spinach is wilted, remove it from the boiling water and put it into the icy water, and squeeze out excess water, or press through colander.
If using frozen spinach, just thaw the spinach and squeeze excess water or press through colander.
In a large bowl combine prepared spinach with cottage cheese, egg, shredded mozzarella, parmesan, salt, pepper, oregano and nutmeg, until everything nicely combined.
ASSEMBLING
Preheat the oven to 180 C/350 F.
Cover the bottom of deep lasagna dish with a layer of tomato sauce. Approximately 1 cup of tomato sauce.
Put 3 slices of edam cheese on tomato sauce.
Add half of spinach filling on top of cheese.
Top the filling with 3 slices of edam cheese.
Add 1 cup of tomato sauce on cheese and top with the rest of spinach filling.
Top the filling with the rest of the cheese slices, put remaining tomato sauce on top and sprinkle with shredded mozzarella and spinach.
Bake in a preheated oven for 20 minutes or until firm cheese crust is formed on top.
Serve with salad and enjoy!
Notes
This recipe is for deep lasagna dish size 26 x 17 x 7 cm/10 x 7 x 3 inch.
Nutrition Information:
Yield:

6
Serving Size:

1 slice
Amount Per Serving:
Calories:

128
Total Fat:

19g
Net Carbohydrates:

5.7g
Protein:

28g
This is for your information only. Please calculate your own macros with ingredients you use.