Keto tahini mousse cake is light low carb tahini cake. Mascarpone, heavy whipping cream and tahini whipped in mousse on top of delicious keto chocolate pie crust for amazing taste of keto tahini cake.
Can you eat tahini on keto diet?
Tahini is actually paste made of sesame seeds. Sesame seeds are rich in healthy oils and very low in carbs. Thanks to that, tahini is great ingredient for keto cooking and baking.
Tahini and sesame contain some anti-inflammatory compounds, that's why I love it even more!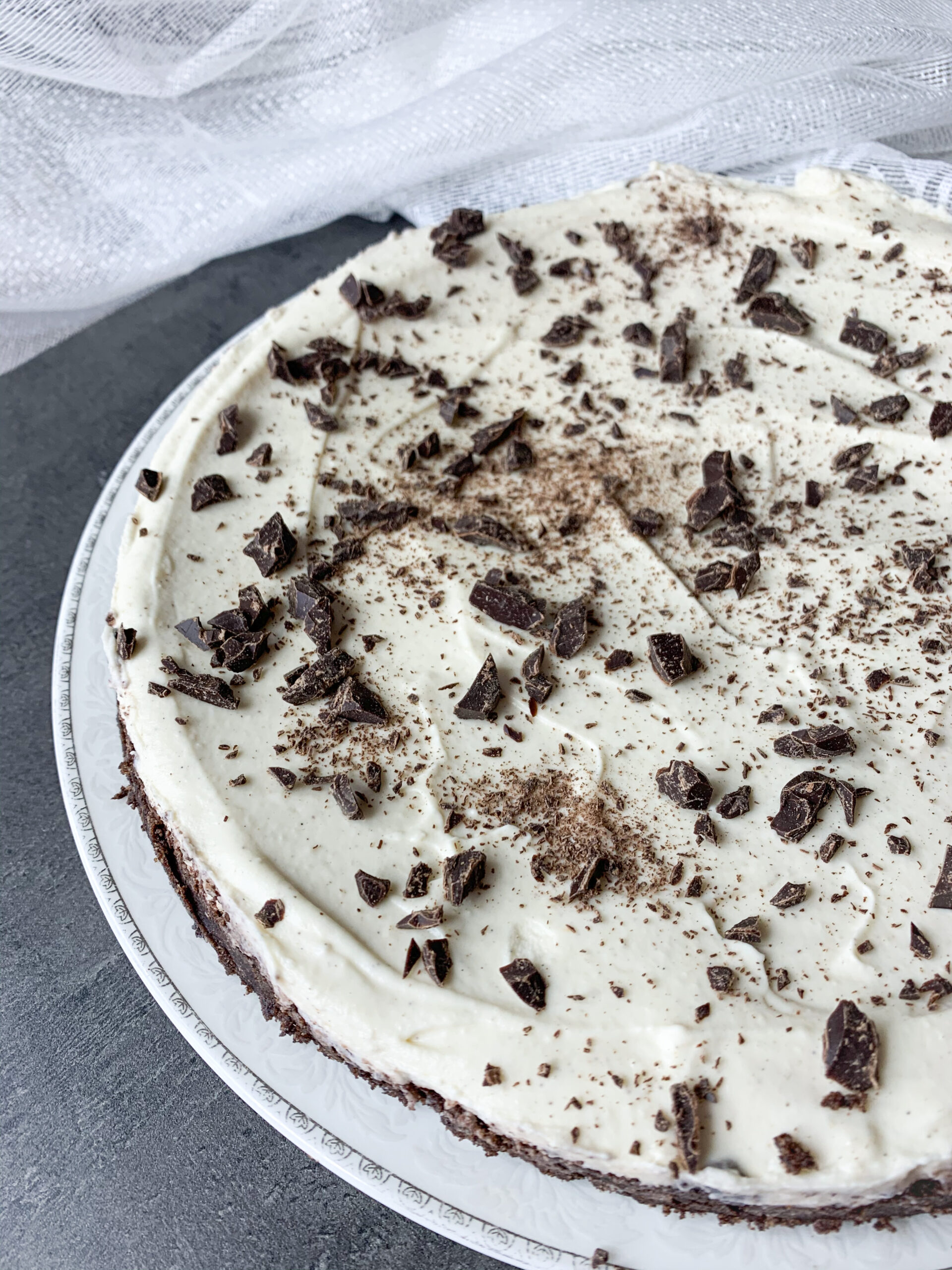 Keto tahini recipes are wonderful and I love to bake my keto food with tahini as well as with sesame seeds and sesame flour.
On my blog you can find few recipes with sesame flour you might try.
Cheddar biscuits with coconut flour and sesame flour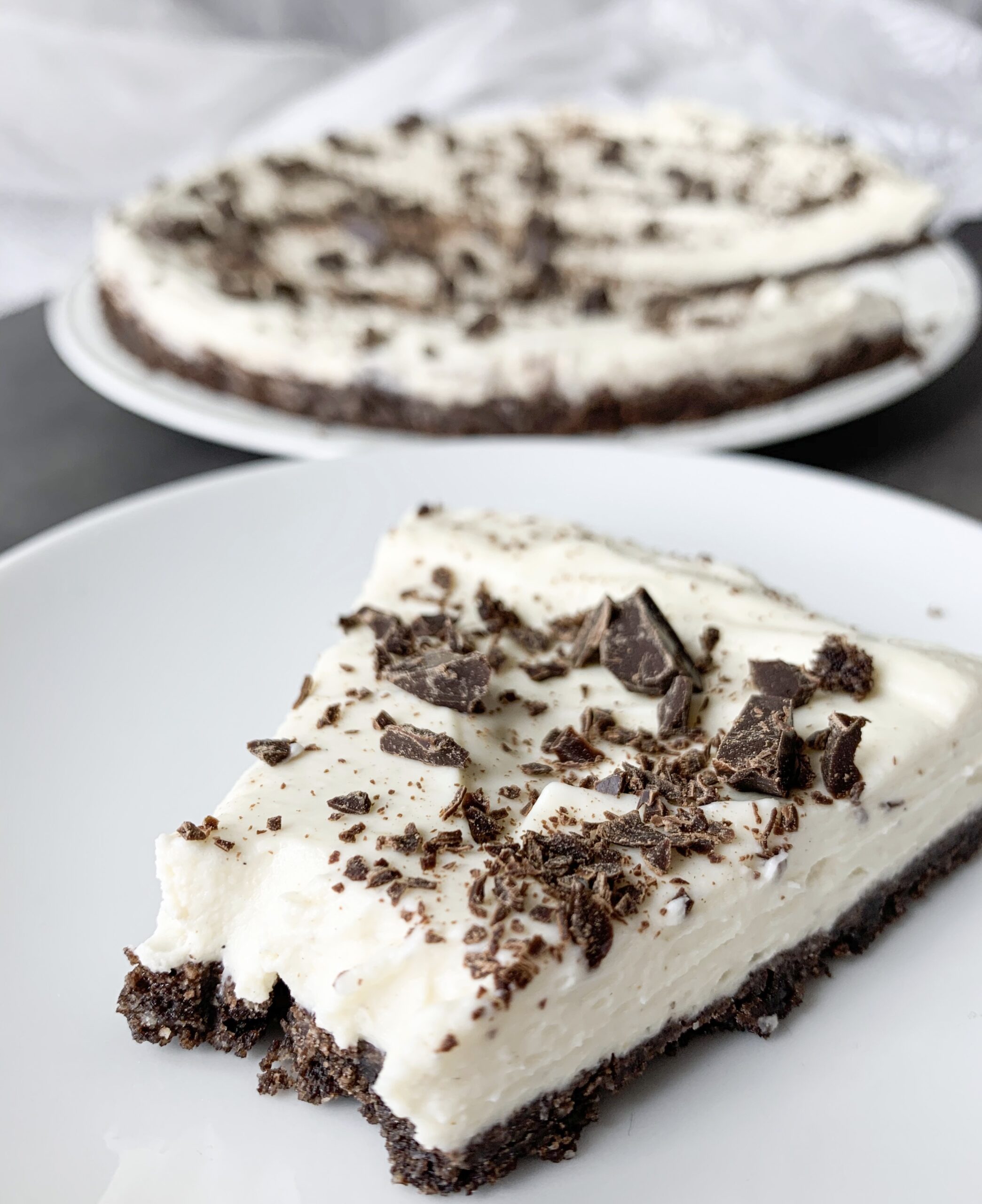 Tahini has unique flavor. Actually, my first time to try tahini was 15 years ago when I was traveling to Dubai and to the Middle East for the first time. I tried tahini there in so many dishes like in baba ganoush, sauces, cakes and hummus.
OMG, I fell in love! Since that time I love tahini and I use it really often in my recipes. My keto tahini recipes are definitely my specialty and I am surprised how I still haven't published any on my blog. So, this keto tahini cake will be my first keto tahini recipe on my blog.
However, I promise there will be many low carb tahini recipes on this blog in the future! Just stay tuned!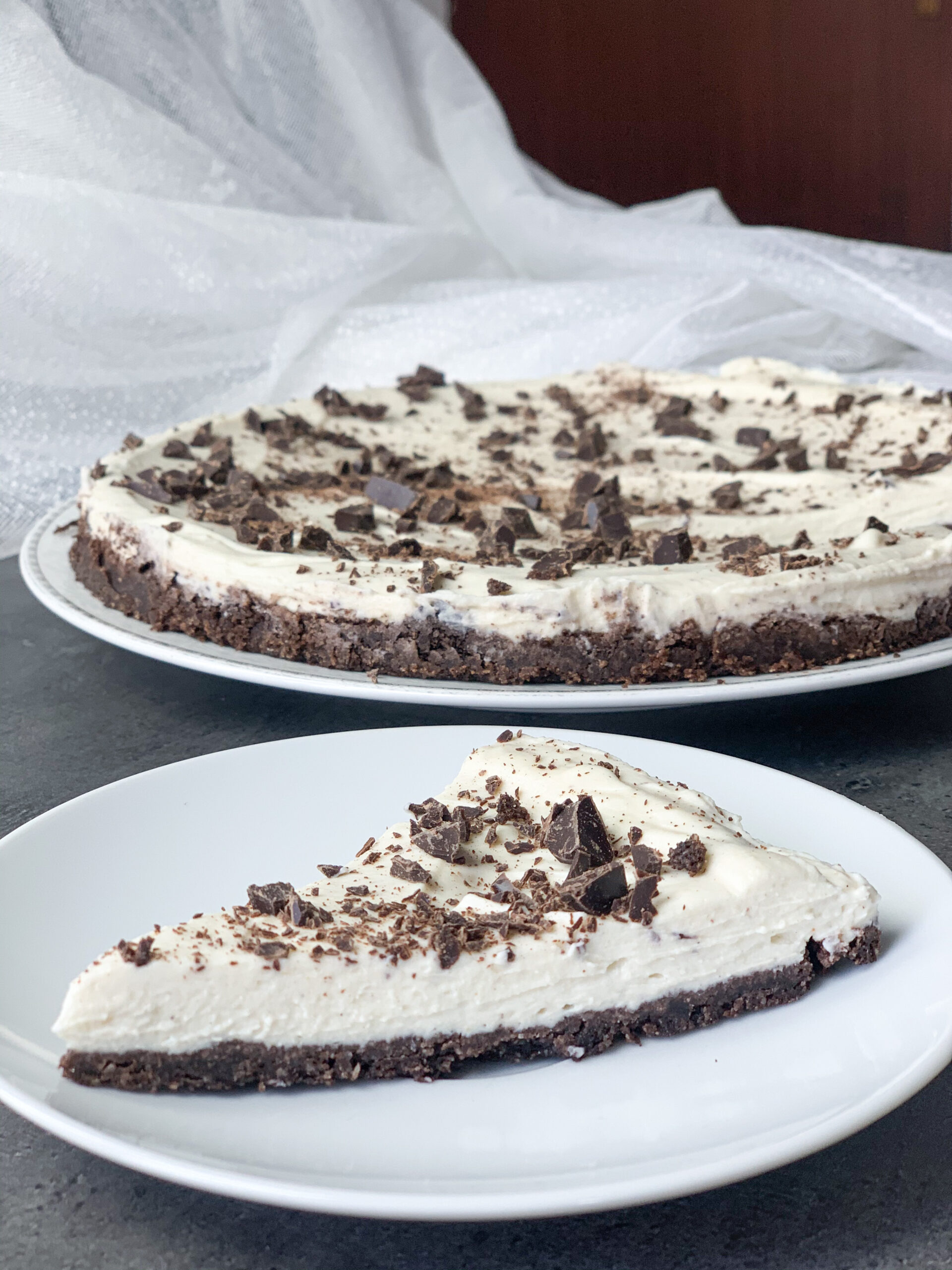 How to make keto tahini mousse cake
Keto cake chocolate crust
For this keto tahini mousse pie you will need to bake keto pie crust first. This keto crust is really easy to make, just combine ingredients and you bake it in 8 – 10 minutes. It will not be firm when baked, it becomes firm after it's cooled. So, you will need to leave it in the fridge for 10 – 15 minutes before you can put the keto tahini mousse on top.
You will be surprised how great taste this pie crust has. It reminds on keto oreo crust or another chocolate cookie cake bottom but in keto version, of course!
Keto tahini mousse
This keto tahini mousse is so easy to make. Literally you need to whip everything or mix with a mixer. Mix heavy whipping cream and separately mix mascarpone and low carb sweetener and then combine everything together. And you have your tahini cake! So easy!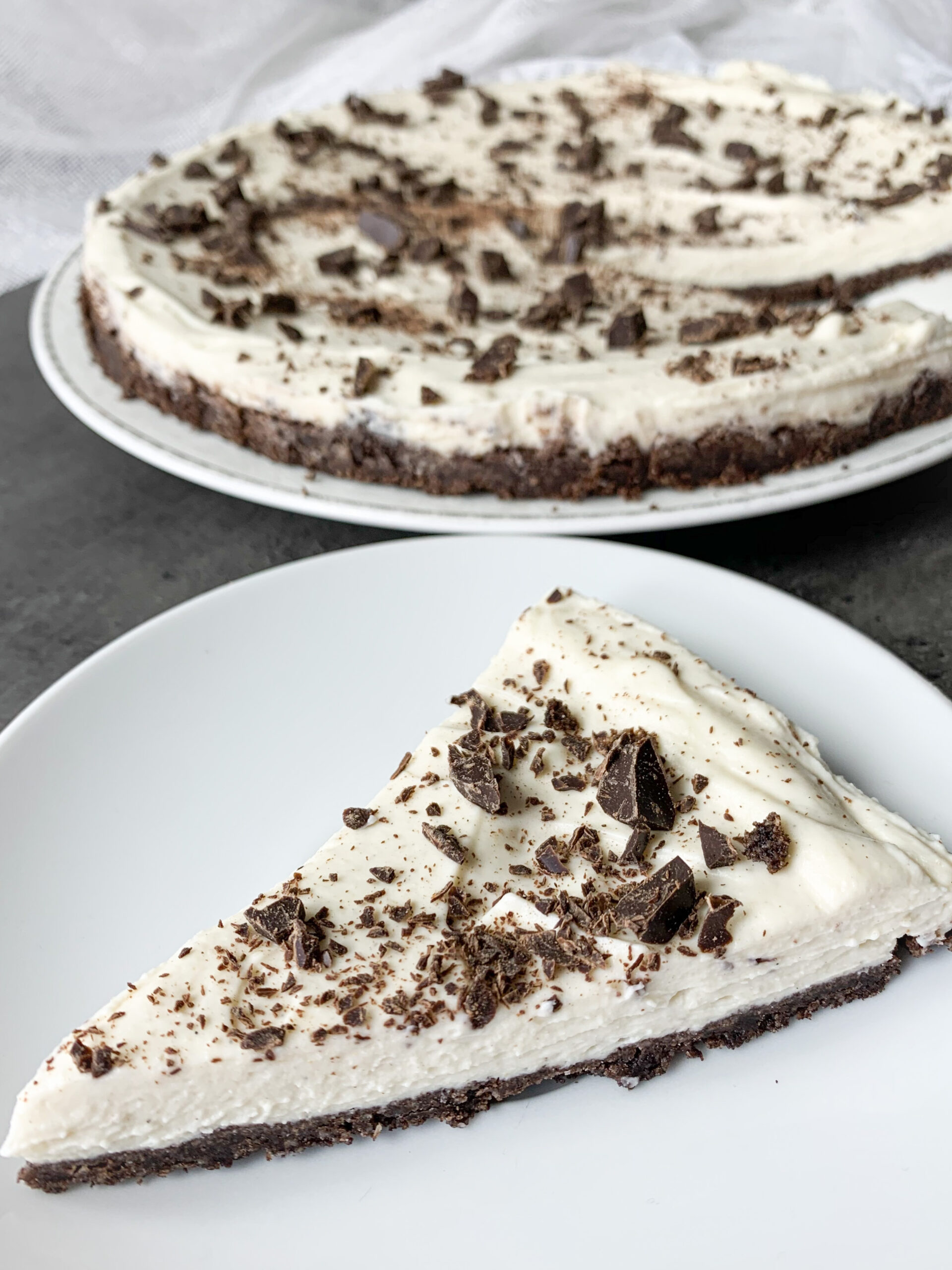 Serving keto tahini cake
After making this cake you will need to leave it in the fridge overnight of for few hours. The best is to leave it overnight. And, I believe that is the hardest part in making this keto dessert. To wait until is firm enough to eat! 🙂
Before serving I sprinkled this tahini mousse pie with some finely chopped dark chocolate on top of the cake. It looks nicer and it gives more of the flavor to cake. Chocolate and tahini are really good combination.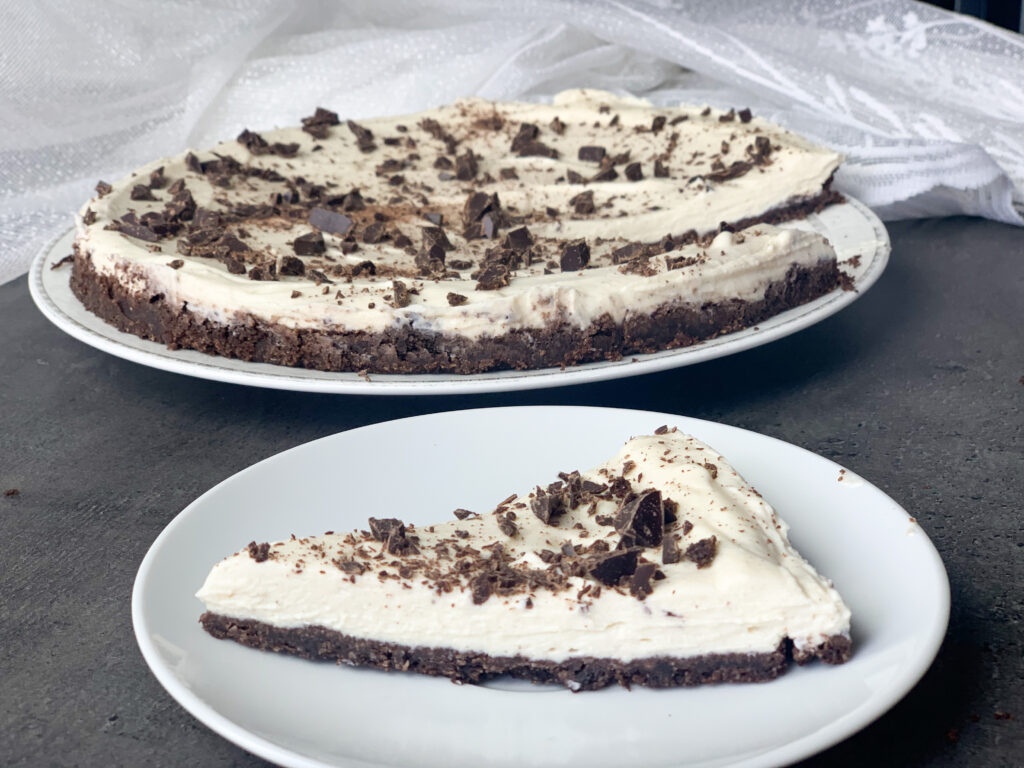 Sharing is caring!
If you like my recipes, leave a comment! Connect with me on FACEBOOK, INSTAGRAM, PINTEREST and join my TELEGRAM CHANNEL. Scroll down and subscribe to my newsletter to get my recipes on your email!
Ingredients
KETO PIE CRUST INGREDIENTS

Blanched almond meal 1 cup/100 g/3.5 oz

Unsweetened cocoa powder or cacao 1 TBS/12 g/0.4 0z

Low carb sweetener (erythritol) 5 TBS

Pinch of salt

Powdered ginger 1/2 tsp

Cinnamon 1/2 tsp

Melted butter 60 g/2.11 oz

KETO TAHINI MOUSSE INGREDIENTS

Mascarpone cheese 1 cup/250 g/8.82 oz

Tahini paste smooth unsweetened 4 TBS/60 g/2.11 oz

Heavy whipping cream 1 cup/200 ml

Low carb powdered sweetener 1/4 - 1/3 cup

Vanila extract 1 tsp

Powdered ginger 1/2 tsp

GARNISH (optional)

Dark chocolate 10g/0.35 oz
Instructions
2
Preheat the oven to 180 C/350 F.
3
Combine all ingredients together until you get the mixture similar to wet sand.
4
Press the dough in a 23 cm/9 inch diameter cake tray layered with a parchment paper and bake for 8 - 10 minutes in a preheated oven on 180 C/350 F.
5
After baking the crust won't be firm, you will need to leave it to cool in the fridge for 15 minutes to become firm enough to put the mousse on top.
7
Mix heavy whipping cream with powdered sweetener until firm peaks are formed.
8
In a separate bowl whisk mascarpone with tahini, ginger and vanilla until smooth cream is formed.
9
Gently combine mascarpone and tahini cream with mixed heavy whipping cream to get the mousse.
10
Pour the mousse on top of the baked and cooled keto crust.
11
Leave it in the fridge for 8 hours or overnight.
12
Before serving you can garnish with finely chopped chocolate or chocolate shavings (optional).
Notes
This cake is for 23 cm/9 inch diameter cake tray and served 16. Nutritional value per serving: Cal 189, Fat 14 g, NET Carbs 1.63 g, Protein 3.5 g. This is for your information only, please calculate your own macros with ingredients you use.