Keto bread with ham and cheese is favorite keto breakfast to my keto kids! Delicious keto almond bread with rich ham and cheese bread filling.
I made this keto ham and cheese bread few days ago and it was gone in a second! My keto children ate it with yogurt and I was dipping it in my favorite sour cream dip. There is probably no better smell in the world than a loaf of freshly baked almond flour keto bread with ham and cheese! When you cut it still hot, cheese is melted and stretching wonderfully...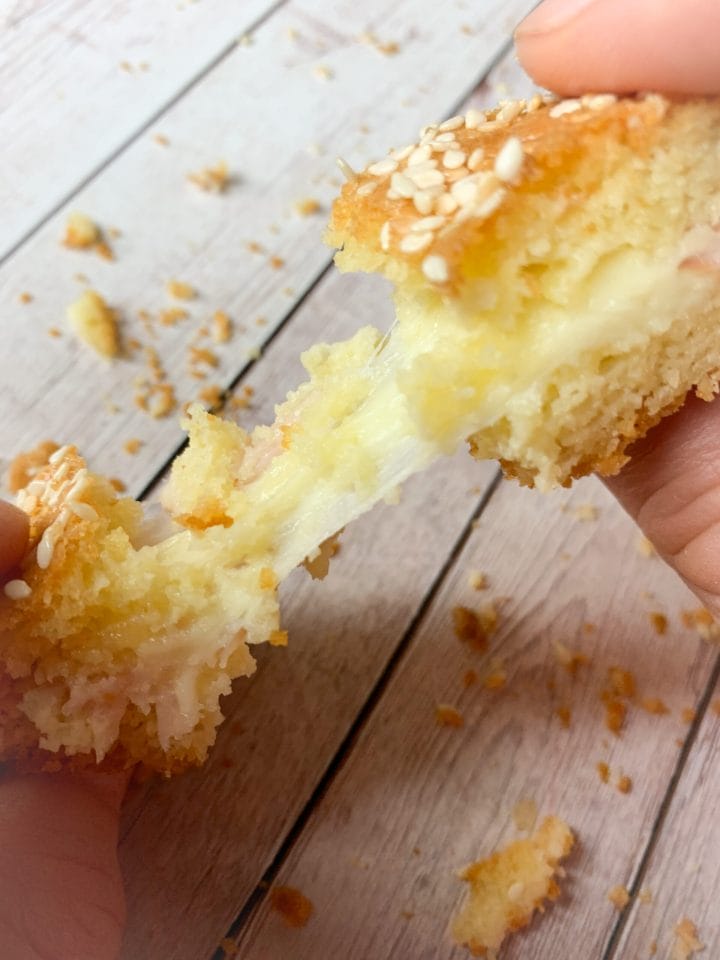 Keto baker
I am on keto lifestyle for many years already. It started as a necessity to control my blood glucose with keto diet during my second pregnancy and became a way of life. I had so many great side effects of keto, like better focus, great energy level throughout the whole day, no bloating, no pain in my joints, no acne, better skin... and many other keto benefits I don't even think about.
I have never missed anything on keto. However, from time to time I love to eat a nice slice of warm keto bread that looks and smells like a real bread. That's why I created a few fantastic baking recipes for bread and waffles, and here I list a few of them for you to try!
90 second keto bread without eggy taste
If you're avoiding nuts or you have allergy to nuts, you can try to put this layer of cheese and ham into my coconut flour bread mixture. It will also work fantastically!
TIPS TO MAKE KETO BREAD WITH HAM AND CHEESE
PREPARE ALMOND FLOUR KETO BREAD MIXTURE
Keto bread almond flour mixture is really easy to prepare. Literally you just mix all ingredients together and leave them to rest for few minutes until you prepare cheese and ham filling. You will notice that the mixture for this almond flour keto bread is not like a dough, it's quite runny. That's normal consistency, it should be like that.
If you want you can add to this mixture some additions like diced spring onion, chili flakes, garlic powder. I don't add any of these because I bake keto for children so I always try to bake something that children will love to eat and actually enjoy.
HAM AND CHEESE
For keto ham and cheese filling you will need to prepare ham and cheese, of course. I use regular ham or turkey ham and I always cut it in small pieces. The best type of cheese for this keto bread with ham is shredded cheese for pizza. Be careful when choosing the cheese because sometimes they put bigger quantity of starch inside.
Great cheese option is also shredded mozzarella. Pizza cheese and shredded mozzarella will melt during the baking and it will be stretchy. Oh, I love that! Yummy!
SERVING KETO HAM AND CHEESE BREAD
I love serving this keto bread for breakfast, snack or dinner with sour cream dip. It's wonderful dipped in sour cream or greek yogurt. My children are drinking yogurt with this keto bread. If you want to lose the weight, I don'r recommend you to drink yogurt.
Sharing is caring!
If you like my recipes, leave a comment! Connect with me on FACEBOOK, INSTAGRAM, PINTEREST and join my TELEGRAM CHANNEL. Scroll down and subscribe to my newsletter to get my recipes on your email!
Keto bread with ham and cheese
Keto bread with ham and cheese is favorite keto breakfast to my keto kids! Delicious keto almond bread with rich ham and cheese bread filling. 
Ingredients
BREAD INGREDIENTS
Blanched almond meal or flour 1 cup/100 g/3.5
Baking powder 1 tsp
Pinch of salt
Olive oil ¼ cup/50 ml
2 medium eggs
Cream cheese 2 TBS/38 g/1.34 oz
HAM AND CHEESE FILLING
Shredded pizza cheese or shredded mozzarella cheese ½ cup/50 g/1.8 oz
Ham or turkey ham cut in small pieces 50 g/ 1.8 oz
Sesame seeds 1 TBS
Optional seasoning for bread mixture
Powdered garlic 1 pinch
Chilli flakes to taste
Spring onion finely chopped
Instructions
Preheat the oven to 180 C/350 F.
Prepare loaf pan layered with a parchment paper.
Combine all ingredients for almond bread and whisk until all nicely combined.
Set it aside for 5 minutes until you prepare filling.
For filling prepare shredded cheese and shredded ham or ham cut in small pieces.
Pour half of the bread mixture in the loaf pan layered with a parchment paper. Put the layer of cheese and ham and pour the rest of the bread mixture on top to cover cheese and ham completely.
Sprinkle the top with sesame seeds.
Bake in a preheated oven on 180 C/350 F for 30 minutes or until baked.
Enjoy!
Nutrition Information:
Yield:

6
Serving Size:

1 slice
Amount Per Serving:
Calories:

258
Total Fat:

22g
Net Carbohydrates:

1.49g
Protein:

8.5g
This is for your information only. Calculate your own macros with ingredients you use.