Thai pork tenderloin with spinach is high nutrient packed low carb dish you can prepare in 20 minutes. Tasty keto meal for the whole family.
This low carb meal is really easy to prepare and and that's why I prepare it very often. As a busy mom I am always in a hurry but I try to prepare fresh meals whenever possible.
Pork tenderloin is a great piece of meat. It's very lean but also very versatile. You can prepare it in so many ways. That's why I buy it very often during my weekly shopping. I use it on a days when not having so much ideas and time for cooking.
That part of meat is lean and rich in protein. There is nothing better than nicely prepared pork tenderloin fo keto dinner after exhausting exercise.
I started exercising actively and regularly from December. I try to exercise 3 times per week. When I come home sometimes I drink high protein keto smoothie, like this one. However, I like more some richer meat keto dinner than smoothies.
How to prepare keto Thai pork tenderloin with spinach
Pork tenderloin is fantastic piece of meat. You can bake it on a pan, roast in the oven or cook in wok or skillet, as I do it in this recipe. That's just a great meat to cook with.
Baby spinach has very mild taste and goes great with tender and not so dominant meat as pork loin.
Herb you can definitely use here is fresh basil. Fresh basil is aromatic and complement to pork meat and spinach. There is also a Thai basil that's even better and more authentic so you can definitely use it if you can find it in the grocery store or on the market.
Coconut aminos - usually for Thai dishes you would use soy sauce. Because we are eating keto food, here is recommended to use coconut aminos. Taste is very similar to soy sauce. If you don't avoid soy sauce you can use it.
Oyster sauce is a little bit higher in carbs but to make this as much as Thai as possible I use 2 TBS of oyster sauce. It's really yummy.
Sesame oil is one of these oils that are good for you. There are articles (here you can read if you are interested into science) where they prove some antioxidant and anti-inflammatory properties of sesame oil. That's why I like to drizzle my Thai food after cooking with sesame oil. I really love its smell. Nutty smell and flavor goes so well with this keto meal.
Fried cauliflower rice
I like to serve my keto meals like this one with fried cauliflower rice. I make it on a very easy way. Just frying on a dry pan, seasoning with a pinch of salt and pepper and I add one egg at the end and fry together with rice. At the end I drizzle everything with sesame oil. That's my favorite keto side dish to any Thai style keto food.
What keto food to try?
Would you like to try some of my other keto recipes? I can recommend you my Thai cauliflower rice, or maybe you would like to try something sweet? I have some amazing keto desserts, my latest delicious recipe is Keto coconut cream pie, you need to try it!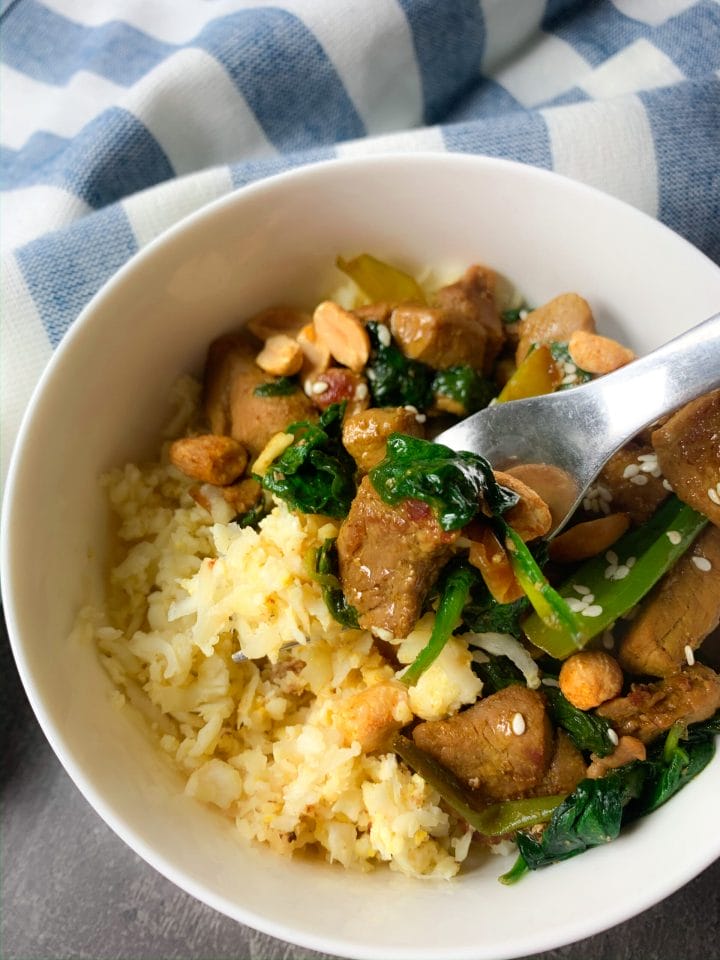 Connect with me!
If you like my recipes, comment and share in your favorite social networks! For daily keto meals inspiration connect with me on FACEBOOK, PINTEREST and INSTAGRAM!
Thai pork tenderloin with spinach
Thai pork tenderloin with spinach is high nutrient packed low carb dish you can prepare in 20 minutes. Tasty keto meal for the whole family.
Ingredients
INGREDIENTS FOR THAI PORK TENDERLOIN
Coconut oil or avocado oil 2 TBS
Pork tenderloin 600 g/21 oz
Baby spinach 100 g/3.5 oz
2 spring onions
Oyster sauce 2 TBS
Coconut aminos or soy sauce 2 TBS
Salt to taste
Pepper to taste
Pinch of powdered garlic or 1 small clove crushed
Pinch of powdered ginger or grated fresh ginger
Pinch of dried chili
Optional ingredients
Toasted sesame seeds 1 TBS
Toasted peanuts 1 TBS
Sesame oil 1 TBS
INGREDIENTS FOR CAULIFLOWER RICE
Riced cauliflower 400 g/14 oz
1 large egg
Pinch of salt
Pinch of pepper
Optional ingredients
Sesame oil 1 TBS
Coconut aminos or soy sauce 1 TBS
Instructions
THAI PORK TENDERLOIN PROCEDURE
Heat oil in wok, pan or skillet over high heat.
Add pork meat cut in small cubes and cook for 5 - 8 minutes or until golden brown and cooked.
Add coconut aminos or soy sauce and oyster sauce, salt (be careful with salt because oyster sauce and aminos are salty), pepper, chili, garlic and ginger and stir well.
Add spring onion cut into 3 - 4 longer parts and baby spinach and stir until spinach wilted.
Serve immediately with fried cauliflower rice.
Drizzle with sesame oil and sprinkle with crushed toasted peanuts and toasted sesame seeds.
FRIED CAULIFLOWER RICE PROCEDURE
Heat the pan and add drained riced cauliflower on a hot pan.
Stir until the water from cauliflower is gone.
Stir 1 large egg into the cauliflower until combined and fried with cauliflower.
Add pinch of salt and pepper and optional 1 TBS of soy sauce or coconut aminos and sesame oil.
Enjoy!
Nutrition Information:
Yield:

4
Serving Size:

1 cup
Amount Per Serving:
Calories:

387
Total Fat:

20g
Carbohydrates:

6.46g
Net Carbohydrates:

3.86g
Fiber:

2.6g
Protein:

43g
This is for your information only, please calculate your own macros with ingredients you use.