Keto peanut butter chocolate chip cookies are irresistible! Low carb and totally flourless crispy and delicious, perfect keto peanut butter cookies for dipping in milk!
Who loves peanut butter!? I need to admit that my affection to peanut butter started just few years ago when I started with keto lifestyle. Since I discovered how peanut butter could be powerful ingredient in keto baking, I just use it all the time!
Keto peanut butter recipes
Before I didn't have any special thoughts about peanut butter, it was just one ingredient some people use. Just nothing special... Now I just can't live without peanut butter. On my blog, besides this recipe for low carb peanut butter cookies, you can find more yummy family friendly keto peanut butter recipes.
Chicken with peanut butter sauce
Keto peanut butter cheesecake bars
Peanut butter fat bomb chocolate bars with nuts
How to make perfect keto peanut butter chocolate chip cookies
Smooth and crunchy peanut butter
Combination of smooth and crunchy unsweetened peanut butter is amazing when making keto peanut butter cookies. That crunchy peanut butter is giving a special touch and these crunchy peanut butter cookies are even more crunchy!
Crunchy peanut butter is actually peanut butter that's not totally smooth but having small pieces of peanuts in it. It's perfect to use in this recipe. OK, probably it's great to eat with a spoon, but it's even better use as ingredient for these yummy keto cookies. Trust me! 🙂
Granulated low carb sweetener & dark chocolate
These keto peanut butter cookies are sweetened with granulated erythritol and I use dark chocolate chip sweetened with stevia and erythritol. I put ½ cup of erythritol. If you use pure dark chocolate or you like it sweeter, you might add more erythritol.
Almond flour
Keto peanut butter cookies with almond flour are more crispy and they have a real crisp keto cookie structure. This makes them really perfect for dipping into some keto friendly milk, like almond milk or coconut milk. I love it with coconut milk, that's so comforting combination, ideal when you need some quiet time with yourself and your blanket. 🙂
Serving keto peanut butter cookies
As I mentioned before, these cookies are wonderful when served with a glass of nut milk like almond milk, or with coconut milk. Dipping of these keto crispy cookies with peanut butter and chocolate chip is great experience. At least for me and my kids! 🙂
Last week I made these peanut cookies with chocolate and bring them to share with my mom and sister during our afternoon coffee time. They loved them!
Sharing is caring!
If you like my recipes, leave a comment! Connect with me on FACEBOOK, INSTAGRAM, PINTEREST and join my TELEGRAM CHANNEL. Scroll down and subscribe to my newsletter to get my recipes on your email!
Enjoy!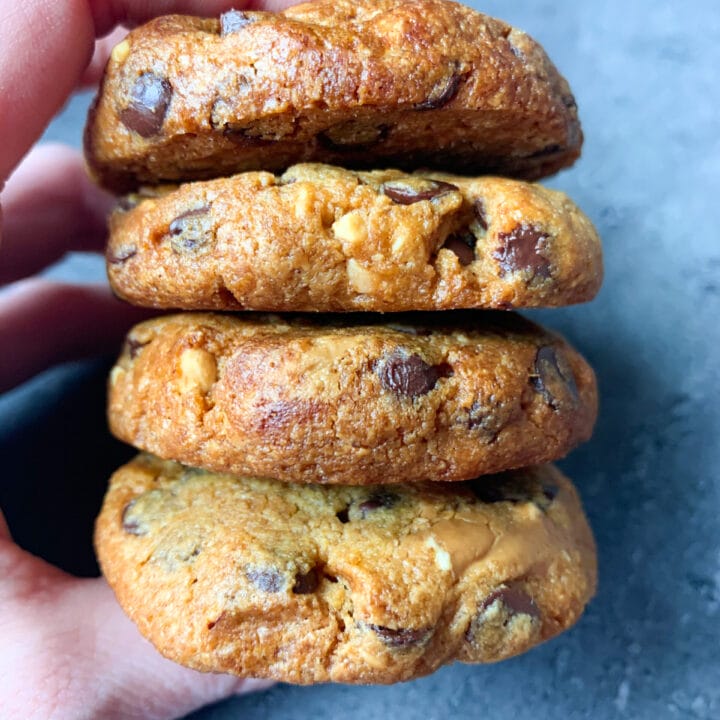 Keto peanut butter chocolate chip cookies
Keto peanut butter chocolate chip cookies are irresistible! Low carb and totally flourless crispy and delicious, perfect keto peanut butter cookies for dipping in milk!
Ingredients
Unsweetened peanut butter smooth ½ cup/125 g/4.4 oz
Unsweetened peanut butter crunchy ½ cup/125 g/4.4 oz
Dark chocolate chips/drops (sugar free) ½ cup/80 g/2.8 oz
1 large egg
Blanched almond meal 2 TBS/10 g/0.35 oz
Low carb sweetener/erythritol ½ cup - ⅔ cup
Instructions
Preheat the oven to 180 C/350 F.
Prepare baking tray layered with a parchment paper.
Combine all ingredients with a spoon or spatula into a dough.
Make 14 small balls with your hands.
Put the balls of dough on a parchment paper and press with your fingers in the middle to form the shape of a cookie.
Bake on 180 C/350 F for 10 - 20 minutes or until baked (depends on your oven).
Immediately after baking cookies are soft. Leave them outside of the oven for at least 15 minutes to become crispy.
Serve cookies and enjoy!
Nutrition Information:
Yield:

14
Serving Size:

1 cookie
Amount Per Serving:
Calories:

142
Total Fat:

11g
Net Carbohydrates:

1.42g
Protein:

5.6g
This is for your information only, please calculate your own macros with ingredients you use.