Keto chicken schnitzel is crispy and flavorful outside and tender and juicy on the inside. Nicely flavored keto seasoning and even better keto schnitzel coating.
Keto chicken schnitzel is favorite lunch and dinner of my keto children. I have to admit, I am not a person who likes to stand few hours cooking on the stove. That's why, when I make these low carb schnitzels I make double or a triple batch.
These are fantastic when reheated. I even eat them cold the other day because this keto schnitzel coating is so delicious even when it's cold!
It's crispy and really flavorful! How it couldn't be when it's made of delicious whole food ingredients.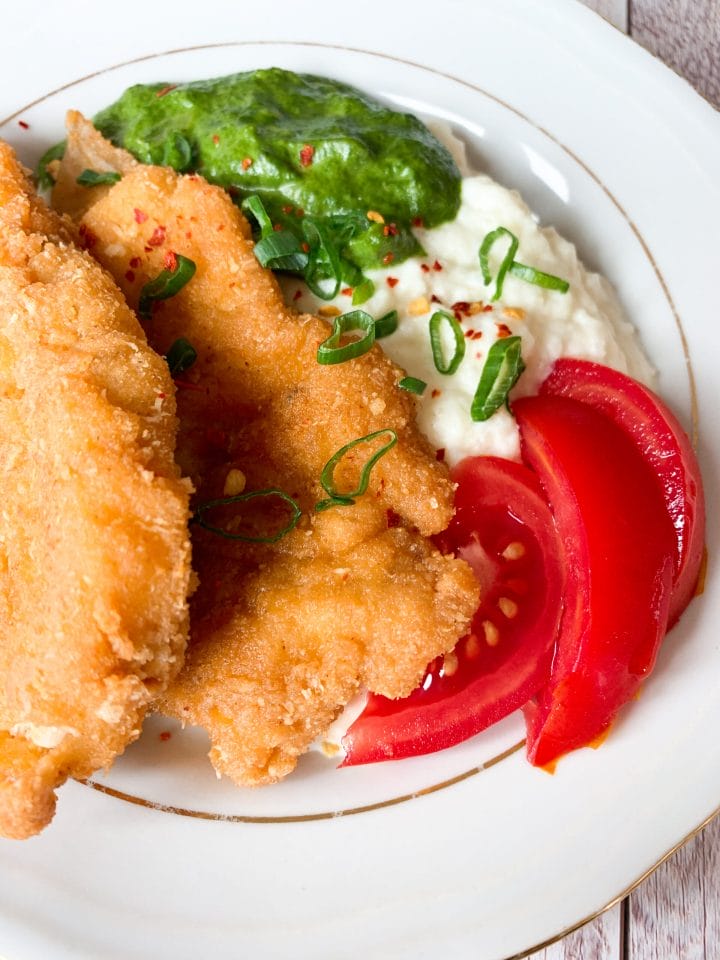 Keto meat seasoning
When I prepare meat for frying I love to sprinkle keto schnitzels with my home made low carb seasoning. That's how I am sure that only real and approved ingredients are inside. Usually, I prepare this seasoning and use it if I want to just quickly cook any meat on the pan or in a sheet pan. I just sprinkle the meat and it's prepared to be cooked or baked.
In my seasoning spices mixture I put salt, usually sea salt, pepper, powdered garlic and ground paprika. This seasoning is low carb and perfectly flavorful. Any meat is so tasty when you sprinkle with this mixture before cooking or baking.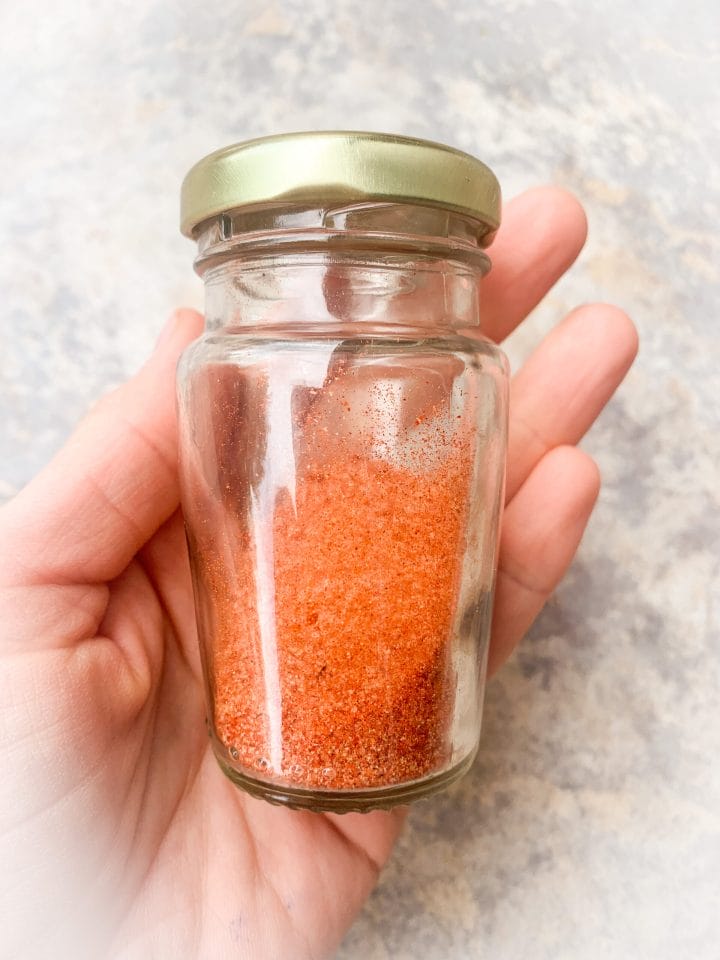 Ingredients for keto chicken schnitzel coating
Peanut flour
Have you ever used peanut flour in your keto kitchen? When I say peanut flour, I think peanut flour defatted. I love using defatted peanut flour in my low carb cooking. It's actually very versatile keto ingredient and there is a lot of good peanut flour recipes out there. So, if you still haven't tried peanut flour, now it's your chance!
I love using peanut flour for schnitzel coating. It has a great flour consistency that is soaking the eggs but there is also a wonderful flavor. Very mild peanut flavor.
If you ask me, this is much better than classical schnitzel bread crumbs coating. Plus, it's low carb and gluten free schnitzel coating!
Blanched almond meal
Blanched almond meal is one of the staples of keto kitchen. I think every person on keto lifestyle has it in keto pantry. I use it in all kinds of keto baking endeavors.
Grated parmesan cheese
Grated parmesan cheese has fantastic flavor and it's especially tasty when fried. Frying process is elevating parmesan flavor and in combination with chicken meat is fantastic. Chicken schnitzel with parmesan coating gets character. Because, I need to admit, chicken breasts are not very exciting by itself. 😆
When you mix blanched almond meal with parmesan and peanut flour you get the most delicious keto coating for frying the meat ever. When fried it becomes crispy and golden on the outside. Meat stays juicy and tender. Just perfect!
SERVING KETO CHICKEN SCHNITZEL
I love my keto chicken schnitzel served with keto cauliflower mash. This recipe is really unusual but delicious! You will be surprised when you see ingredients!
With keto schnitzel and mash goes wonderfully this keto creamed spinach. OMG, this spinach and mash with schnitzel is keto meal from heaven!
Also, all kind of salads are perfect to serve with low carb chicken schnitzel, like this roasted pumpkin salad!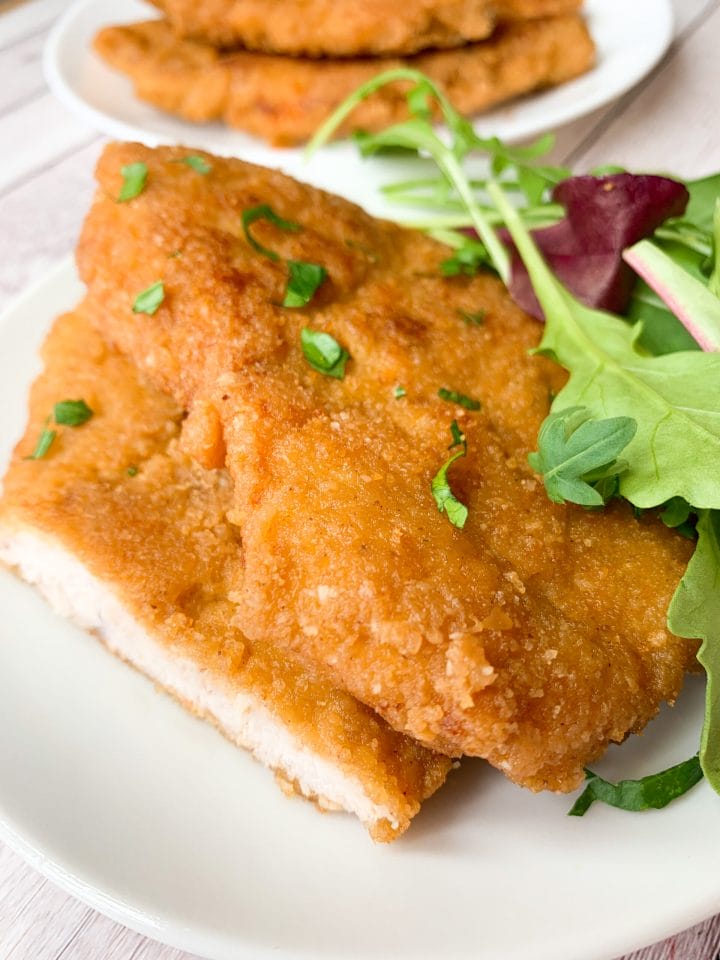 Sharing is caring!
If you like my recipes, leave a comment! Connect with me on FACEBOOK, INSTAGRAM, PINTEREST and join my TELEGRAM CHANNEL. Scroll down and subscribe to my newsletter to get my recipes on your email!
Keto chicken schnitzel
Keto chicken schnitzel is crispy and flavorful outside and tender and juicy on the inside. Nicely flavored keto seasoning and even better keto schnitzel coating.
Ingredients
Lard or avocado oil for frying ⅔ cup/120 g/4.3 oz
Chicken breast cut into schnitzels 500 g/17.7 oz
3 eggs beaten
KETO MEAT SEASONING MIXTURE
Salt 2 tsp
Freshly ground pepper ¼ tsp
Powdered garlic ½ tsp
Ground paprika 1 tsp
KETO SCHNITZEL COATING MIXTURE
Peanut flour defatted ½ cup/40 g/1.4 oz
Almond flour or blanched almond meal ¼ cup/25 g/0.9 oz
Grated parmesan cheese or Grana Padano 1 cup/100 g/3.5 oz
OPTIONAL FOR SERVING
Slices of lemon, chopped parsley or spring onion
Instructions
Prepare seasoning mixture. In a small bowl or in a small jar combine all the spices for seasoning.
Prepare whisked eggs in one bowl. Add a pinch of salt in eggs mixture.
Prepare coating/breading mixture in second plate.
Season the meat. Sprinkle each schnitzel from both sides with seasoning mixture to taste.
Each schnitzel dip into coating/breading mixture, coating both sides.
Next dip into the egg mixture coating both sides.
Then dip again into coating mixture to coat both sides with coating mixture.
Heat the lard or other healthy frying fat/oil and when start boiling on a medium high temperature (165 C/330 F) fry schnitzel for 2 - 3 minutes on each side until they become deep golden brown. Transfer to a plate lined with a paper towel.
Serve immediately with salad, slices of fresh lemon, cauliflower mash or with creamed spinach.
Enjoy!
Nutrition Information:
Yield:

5
Serving Size:

1 schnitzel/100 g
Amount Per Serving:
Calories:

367
Total Fat:

19g
Net Carbohydrates:

3.2g
Protein:

46g
This is for your information only. Please calculate your own macros with ingredients you use.