Keto bread with almond flour is easy gluten free, flourless low carb bread. This keto bread made with almond flour is not eggy at all!
After almost 4 years on keto, I can say that this keto bread almond flour is one of my favorite keto bread recipes I have created until now.
This keto bread made with almond flour is delicious, structure is like a real bread and this is no eggy keto bread!
Almond keto bread is fantastic if you're not a fan of coconut bread. I have to say that this keto almond flour bread is not sweet like a cake and it's definitely not eggy at all.
For me that's a huge dislike if the taste is eggy, so from the beginning of my keto journey I was on a quest of finding the best keto bread recipe with delicious smell and taste. I have few great keto bread recipes besides this one, you might love. Other people love them, so here you can check them.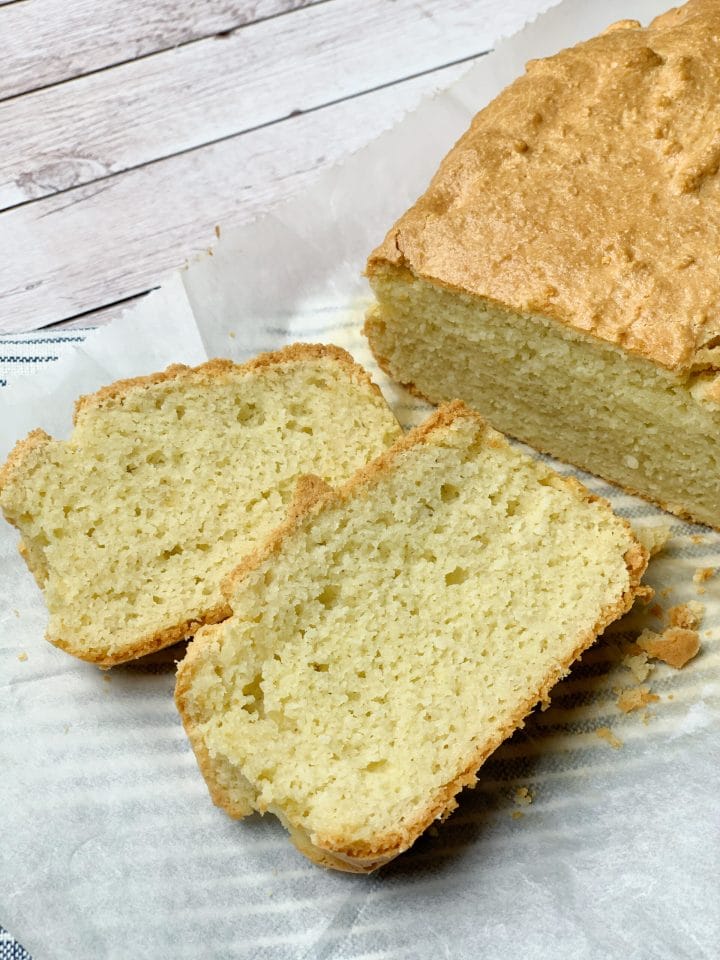 HOW TO MAKE KETO BREAD WITH ALMOND FLOUR?
As I am trying to be a practical minimalist in life, I am transferring this into my cooking and baking. That's why, when you're making this low carb bread, you literally need to whisk all ingredients together and bake.
No need for having a fancy mixer, crazy loaf pans... You just need some good will to try to bake and a normal functional oven. Good vibes are also nice to have. However, if I am in a bad mood or having a low vibe, cooking always help me to improve!
HOW DO I STORE MY KETO BREAD?
This keto bread can stay on a kitchen counter for 2 days. It stays fresh and delicious for a quite long time. It's even better if you keep it closed tight in a plastic container in the fridge.
WHAT TO SERVE WITH KETO BREAD?
I can live without bread and I don't need to have it every day, not even every week. However, there is nothing better than dipping a nice thick slice of freshly baked keto bread into the runny egg yolk. Oh, that's my favorite use of low carb bread. Here is delicious recipe for eggs with spinach for dipping!
Another fantastic use of bread is dipping into the soup or chili. Here is my recommendation of soups and chili you might try.
My keto kids love this bread with a thick layer of butter and a full tablespoon of keto jam or keto pate! Here are my favorite keto spreads you might put on your low carb bread.
Sharing is caring!
If you like my recipes, leave a comment! Connect with me on FACEBOOK, INSTAGRAM, PINTEREST and join my TELEGRAM CHANNEL. Scroll down and subscribe to my newsletter to get my recipes on your email!
Keto bread with almond flour
Keto bread with almond flour is easy gluten free, flourless low carb bread. This keto bread made with almond flour is not eggy at all! 
Ingredients
Almond flour or blanched almond meal 1 ¼ cup/125 g/4.4 oz
Pinch of salt
Baking powder 1 tsp
Olive oil ¼ cup/45 g/1.6 oz
Cream cheese 2 TBS/36 g/1.27 oz
2 eggs
Instructions
Turn on the oven to 180 C/350F.
Prepare a small/mini loaf pan 14 x 8 cm/5.5 x 3 inch layered with a parchment paper.
In a large bowl whisk all ingredients together until all nicely combined. Please, weight almond flour/meal, there could be a big difference in amount that depends on a brand of almond meal. When combined, mixture will be runny, that's normal.
Pour mixture in a layered loaf pan and bake for 30 minutes or until baked (do the toothpick test).
When baked enjoy!
Nutrition Information:
Yield:

6
Serving Size:

1 slice
Amount Per Serving:
Calories:

223
Total Fat:

72g
Net Carbohydrates:

1.46g
Protein:

38g
This is for your information only. Please calculate your own macros with ingredients you use.