Are you looking for a delicious and healthy keto-friendly meal option, and asking yourself if chicken shawarma is keto-friendly? I can tell you a big YES! Look no further than this homemade keto chicken shawarma recipe! You will definitely enjoy it.
With flavorful spices and tender chicken, this Mediterranean-style dish will definitely satisfy your cravings without derailing your low-carb diet. Plus, it's easy to make and perfect for meal prep! You can marinade and keep it in the fridge for 2 to 3 days before cooking it, or you can cook it and keep it for 2 to 3 days. Of course, always closed in a clean, plastic container.
I love it for my keto meal prepping! Just take a piece of this healthy chicken shawarma from the fridge and combine it with a salad, keto tortilla chips, or cauliflower rice. It works in all possible combinations, and you'll get a completely different and delicious lunch each time.
HOW TO MAKE KETO CHICKEN SHAWARMA
For this recipe, it is best to use chicken thigh fillets without bones and skin. However, you can use chicken breasts too, in case you cannot find thighs.
To get the real and authentic Mediterranean flavor, use olive oil, lemon juice, powdered garlic, cumin, paprika, coriander, cardamom, black pepper, and some salt, of course.
You can marinade the meat and keep it in the fridge for 30 minutes or overnight, but it is not necessary. If you want to make it faster, you can coat the meat in marinade and immediately cook it. It will be great like that too.
When cooked leave it to rest for 5 minutes covered with the foil, slice it and serve it. You can serve it with salads, a keto tortilla, cauliflower rice, and with some sour cream sauce. The full recipe with the amounts and procedure is below. And you can even print it!
Enjoy delicious Mediterranean-style keto meals!
This keto chicken shawarma recipe is not only healthy and delicious, but it's also customizable to fit your dietary needs. It's gluten-free, dairy-free, and paleo-friendly, making it a versatile option for anyone who loves Mediterranean and Middle Eastern cuisine.
Try this easy recipe today and enjoy a flavorful and satisfying meal that won't throw you off your low-carb diet!
If you like more recipes, here are some recommendations!
LIKE AND SHARE!
Do you like my recipes? Please leave a comment and share to support my work!
Want to calculate your macros? I have an easy-to-use, and reliable KETO MACROS CALCULATOR!
Connect with me on FACEBOOK, INSTAGRAM, and PINTEREST, and join my TELEGRAM CHANNEL. Scroll down and subscribe to my newsletter to get my recipes to your email!
Enjoy!
Ines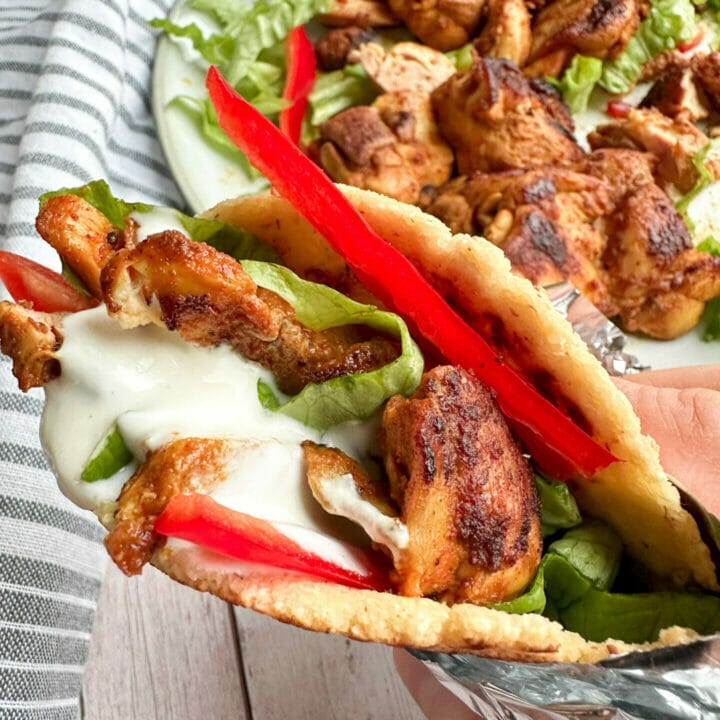 Keto Chicken Shawarma
Is chicken shawarma keto-friendly? I can tell you a big YES!  Look no further than this homemade keto chicken shawarma recipe with delicious low-carb shawarma marinade. Flavorful and delicious Mediterranean keto recipe.
Ingredients
Chicken thigh fillets, skinless & boneless 520 g/18.34 oz
FOR MARINADE
Olive oil 1.5 TBS
Lemon juice 2 TBS
Powdered garlic ½ tsp
Cumin ½ tsp
Paprika 1 tsp
Coriander 1 tsp
Cardamon1 tsp
Black pepper to taste
Salt 1.5 teaspoon or more to taste
SAUCE (optional)
Sour cream 1 cup
Powdered garlic ¼ tsp
Cumin ½ tsp
Lemon juice 1 TBS
Pepper to taste
Salt to taste
FOR SPICY OPTION
Crushed chili pepper or cayenne to taste
FOR COOKING
Olive oil 3 TBS
Instructions
1. Put the chicken thigh fillets in a large bowl.

2. In a small bowl mix together dry spices, pepper and salt and sprinkle on top of the meat.

2. Add olive oil and lemon juice, and stir everything to coat the meat well. Cover and marinate in the refrigerator for at least 30 minutes (or up to overnight). For the fast version, just skip this step of waiting.

3. Preheat your grill pan or skillet to medium-high heat and add olive oil.

4. Cook the first side of the meat for 4 to 8 minutes. Turn and cook the other side for 4 to 5 minutes (second side takes less time to cook).

5. Remove chicken from the grill pan or the skillet and cover with foul. Set aside to rest for 5 minutes.

6. Slice the chicken and seve with your favorite salads, keto tortilla, keto flatbread or cauliflower rice and add on top few tablespoons of the white sauce.

7. Serve and enjoy!
Nutrition Information:
Yield:

4
Serving Size:

⅓rd
Amount Per Serving:
Calories:

270
Total Fat:

16g
Net Carbohydrates:

1.1g
Protein:

32g
This calculation is for your information only, please calculate your own macros with the ingredients you use. The calculation is without toppings, salads, sauces, etc. Only for chicken shawarma.