Keto chicken stew with vegetables is nutritious, tasty and rich, comforting family friendly low carb chicken keto stew.
My family loves soups. I cook beef broth or chicken broth twice per week in a huge pot. My children always ask for the soup, and very often I give them a cup of broth to drink in the morning while I'm enjoying my first morning coffee, and we enjoy it together in the evening before we go to bed.
We are probably addicted to broth and all kinds of soups. It's incredible how low number of keto soup recipes I have on my blog, when you take in consideration what we eat in a day.
In my family, soups, stews, chowders and similar foods are on the menu everyday. That's why I was a little bit disconnected from the reality of others, and I really thought that soups are self-explanatory and so common that practically you don't have to write and publish it as a recipe. But on my Instagram account I have a big community of true soup lovers who ask for my low carb soup recipes every time when I publish a photo in the story.
So, I decided to correct my mistake, and I will definitely publish my keto soup recipes more often, especially now when colder days are here and we all need something comforting and nourishing.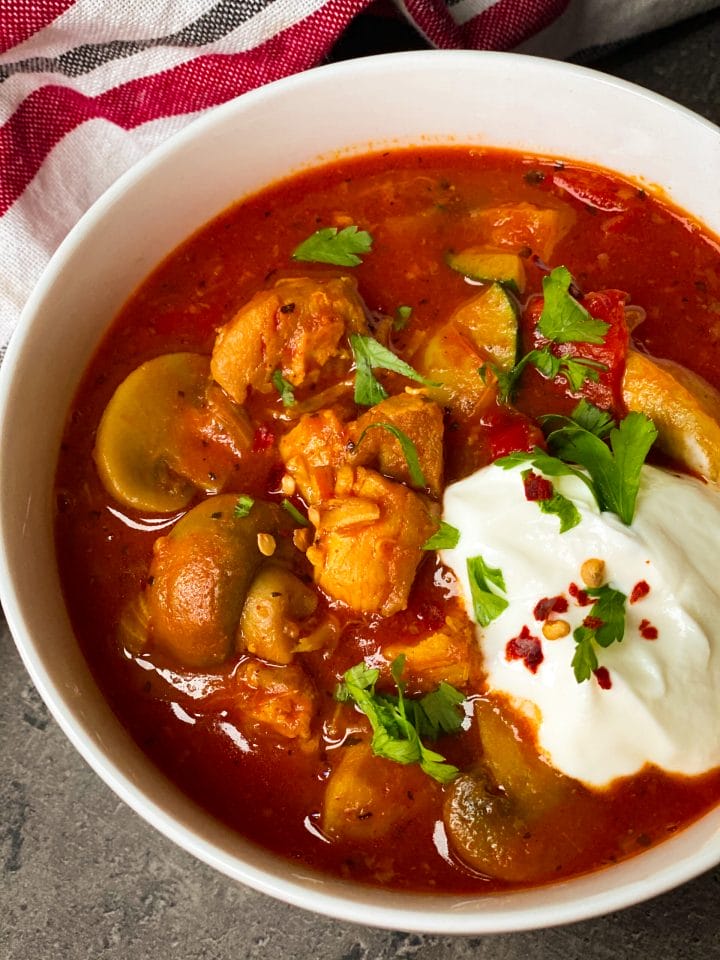 Ingredients for an easy keto chicken stew
Chicken meat
For this stew I use chicken wings, deboned drumsticks, deboned chicken thighs and chicken breasts, all cut in small bite-sized pieces. Leave the skin on the pieces of chicken and keep the bones!
When all the meat is cut in small pieces, heat the lard or olive oil and put the meat with the skin down and leftover chicken bones on hot oil or lard and cook until all the chicken skins are golden brown. Turn the meat on another side and cook for 2-3 minutes more.
When all the meat is done, set it aside on a plate.
Caramelized onion
Caramelized onion is a base. This type of soup you need to start with onion caramelization. Even the smallest onion, properly caramelized will do the job and create that deep and rich taste. Just caramelize the onion on the remaining fat from browning the meat to keep all that wonderful meat flavor.
Vegetables for keto stew
I use different kind of veggies with lower amount of carbs for this easy keto stew. So, I added fresh peppers cut in a very small pieces, celery stalk and mushrooms. Mushrooms are fried with already caramelized onion until they start to get golden brown color. I added zucchini when stew was already cooked, in last 10 minutes of cooking.
Tomato
Tomato pure or crashed tomatoes are very convenient to use. However, all kinds of canned tomato without added sugar will work great.
Broth
Broth is ingredient that makes a huge difference. You may use beef or chicken broth, whatever you have. I always make my homemade broth but you may use any good quality broth you can find. I make homemade broth twice per week, that's so nourishing and tasty!
Want to try my other keto soups and stews?
Cream of cauliflower soup with chicken
LIKE AND SHARE!
If you like my recipes, please, leave a comment and share to support my work!
Would you like to calculate your macros? I have an easy to use, and reliable keto macros calculator!
Connect with me on FACEBOOK, INSTAGRAM, PINTEREST and join my TELEGRAM CHANNEL.
Scroll down and subscribe to my newsletter to get my recipes to your email!
Enjoy!
Ines
Keto chicken stew
Keto chicken stew with vegetables is nutritious, tasty and rich, comforting family friendly low carb chicken keto stew.
Ingredients
Olive oil or lard 1 TBS
Chicken wings, breasts, thighs and drumsticks, deboned, with skin on + bones 1000 g/ 35 oz
Finely diced onion 115 g/ 4 oz
Pepper/capsicum cut in small pieces 320 g/11 oz
Mushrooms cut in small bite/sized pieces 250 g/8.8 oz
Celery stalk 10 g/0.35 oz
Zucchini 1 medium/160 g/5.6 oz
Tomato puree 1.5 cup/300 ml
Chicken broth or beef broth 3 cups/600 ml
Water 1 cup/200 ml
Salt to taste
Freshly ground pepper to taste
Turmeric 1 tsp
Ground paprika 1 TBS
Powdered garlic ½ tsp
Dried basil 1 tsp
Fresh diced parsley 2 tsp
Instructions
Heat the lard or oil in a large and deep cooking pot.
Put the bones and meat cut in small bite-sized pieces on hot oil or lard, with skin down and cook until skins are golden brown. Turn on the other side and cook for next 2-3 minutes more.
When meat is done, take it out and put it on a plate.
On the remaining fat put finely diced onion and fry until golden brown and caramelized. If sticking at the bottom, just add 1 or 2 TBS of water to collect all the goodies from the bottom and stir well with caramelized onion.
When onion is golden brown and caramelized, add all the veggies cut in small pieces, except zucchini, and cook for 3-5 minutes with occasional stirring or until it's golden brown on the edges.
Add tomato puree, broth and water, salt, pepper and other spices and herbs, stir and put the meat back in the pot.
Cook covered for 10 minutes. After 10 minutes add zucchini cut into small pieces and cook for 10 minutes more until everything is cooked.
Serve & enjoy!
Nutrition Information:
Yield:

6
Serving Size:

2 cups
Amount Per Serving:
Calories:

353
Total Fat:

14g
Net Carbohydrates:

7g
Protein:

28g
This is for your information only, please, calculate your own macros with ingredients you use.