Flavorful keto hot gin cocktail will warm you up and make you and your friends happy. Low carb mulled wine with gin is fantastic keto cocktail!
Last week I was on a Christmas market in Zagreb, and hot gin was a huge hit there. They serve it in few places and it's really popular. I took unsweetened one and it was really good.
Sugar free cocktail!
But to make it proper it should be a little bit sweeter. That's why I decided to prepare my own keto hot gin cocktail.
And, I made it! And repeated and did it again! It's cold outside, Christmas is coming, everything smells of winter and I have some cough. So, low carb cocktail with gin is a huge relief for my lungs. 😁
My friends and family now expect me to prepare it every evening! That's why I decided to share this with you as my special holiday gift for you and your families. ✨
Alcohol on keto
When keto is your lifestyle you can have a glass or two of alcoholic drinks on a special occasions. For holidays, birthdays, anniversaries and similar special occasions you wish to relax, have fun and stay keto? Yes, you can you can have a glass of wine, alcoholic hard liquor like vodka, rum or gin, or one of keto cocktails.
It's very important to have alcohol in moderation and to have low carb drinks. Dry red wine will have approximately 2 g NET Carbs in 100 ml or 4 -5 g in a glass. Gin has 0 Carbs! However, to stay healthy, avoid bigger consumption of alcohol.
How to make keto hot gin cocktail 🍹
Low carb mulled wine
To prepare this keto friendly cocktail you need to make low carb mulled wine first. Cooking wine with water, orange and spices will make your place smells pleasant and cozy.
Mulling spices
Spices for mulled wine are warm spices and smell great! All warm spices are actually good for mulled wine but cinnamon and cloves are the base. You can make it if you have only cinnamon and cloves. Everything else, like star anise, ginger and vanilla is nice addition and elevate the flavor even more.
Low carb sweetener
I use erythritol in combination with some stevia. I use that combination very often because it's great for my keto on budget. If you have access to Swerve or Sukrin, you can use those.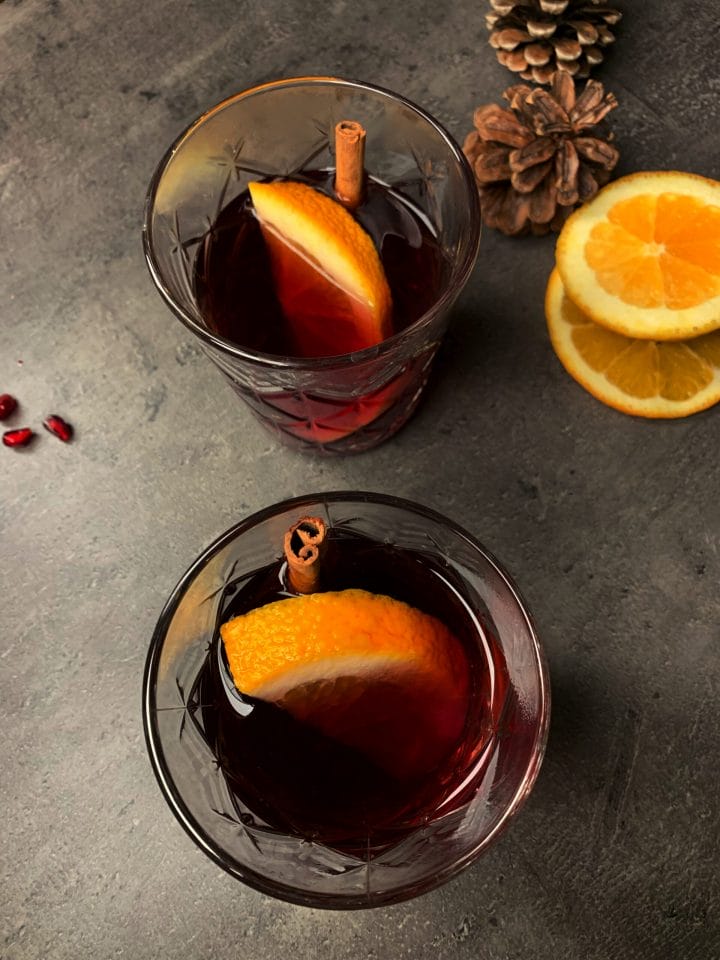 For more festive recipes, check my low carb cakes
Stay in touch! Connect with me on Facebook and Instagram!
Enjoy happy and healthy life!
Ines
Keto hot gin cocktail
Flavorful keto hot gin cocktail will warm you up and make you and your friends happy. Low carb mulled wine with gin is fantastic keto cocktail!
Ingredients
Dry red wine 500 ml/17 oz
Cold water 500 ml/17 oz
Low carb sweetener Erythritol 3 TBS + Stevia 5 drops or Swerve 3 TBS
Gin 150 ml/5 oz
Spices
Orange 1 slice for cooking + few slices for serving
Vanilla 1 bean
Anise or star anise ½ TBS
Cloves ½ TBS
Ginger 1 slice
Cardamom whole ½ TBS
Juniper ½ TBS
Cinnamon 1 stick for cooking + sticks for serving
Instructions
Pour the wine and water in a large sauce pan with erythritol, stevia, cinnamon, slice of orange, ginger, vanilla, cloves, and other spices and keep on high heat until start boiling.
When start boiling reduce the heat and simmer on low heat for 15 - 20 minutes.
After 20 minutes, remove mulled wine from the heat and strain to remove spices from the mixture.
Pour hot mixture into a large pot and add gin. Stir everything and serve.
Serve with slices of orange and cinnamon sticks.
Enjoy!
Notes
NET Carbs per glass depends on wine you use.
Nutrition Information:
Yield:

5
Serving Size:

1 cup
Amount Per Serving:
Net Carbohydrates:

4g
This is for your information only, calculate macros with ingredients you use.