Delicious and crispy keto crackers without eggs with low carb fathead keto dough. These crackers are low carb, gluten free cheese crackers for dipping or snacking.
Few days ago, I baked Camembert cheese in the oven and we were dipping these fathead crackers into the melted cheese. It was so good!
My daughter is a huge fan of avocado so I often make avocado spread and avocado dip for serving with these low carb crackers.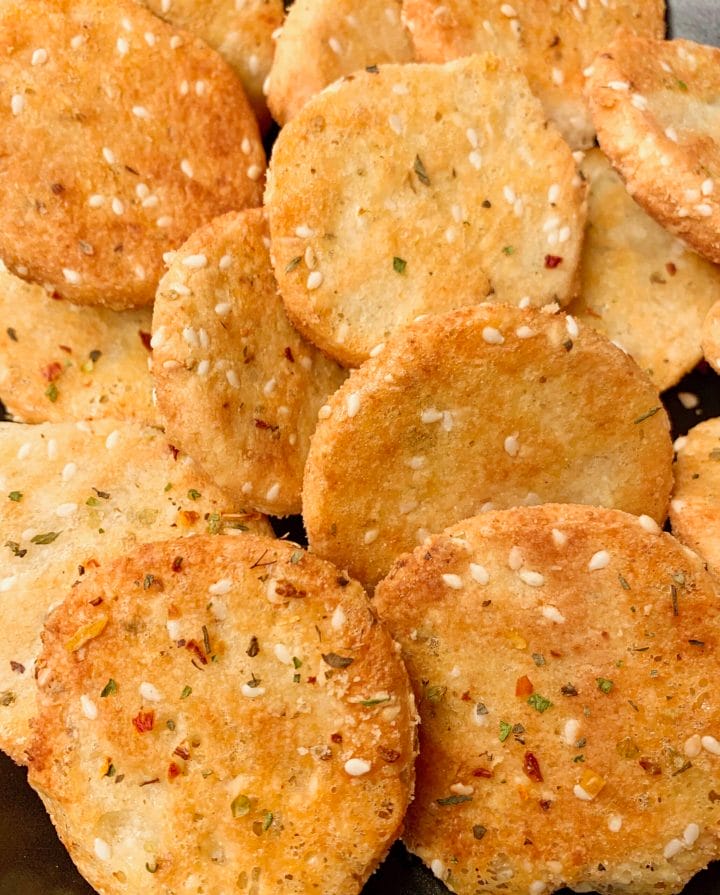 How to make keto crackers without eggs
Keto crackers recipe is super easy. Just melt some cheese like Mozzarella or gouda in the microwave with butter and low carb flour. Add few spices and herbs, sesame seeds and you can bake delicious snack.
I like to make these crackers the day before we travel somewhere or as a low carb picnic food to take with us. Outdoor activities are much better when you have some keto snacks with you.
Healthy homemade cheese crackers
When I see my kids eating these crackers I feel no guilt. Definitely I know that they eat healthy fats and nutritious food. Plus if they eat crackers with yogurt or avocado, my heart is smiling. 🙂
One more plus for this gluten free and egg free crackers recipe is easiness to prepare. You can make them so fast. Fathead dough you can make really quickly, especially if you use microwave.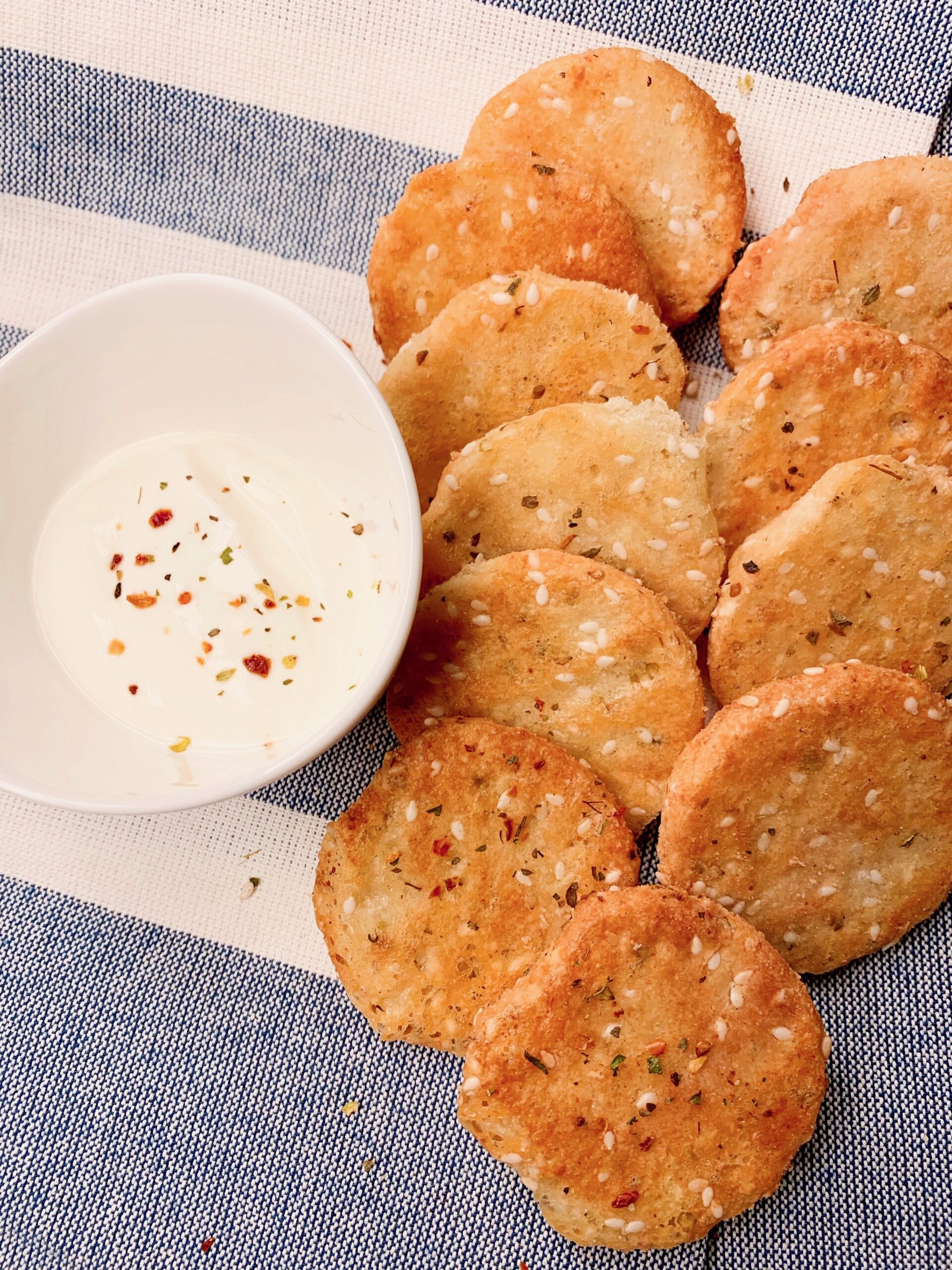 I have almond flour and coconut flour in my kitchen always. These two are staples of my kitchen pantry. The same stands for cheese. We never run out of cheese. Definitely, you can always find in my fridge shredded mozzarella, gouda, cheddar and some sheep or goat cheese for fancy evening with a glass of wine during the weekend.
Egg free keto crackers
For this recipe you can use mozzarella, gouda, Monterey Jack or any other similar cheese. If using mozzarella, it works better with shredded mozzarella. There is absolutely no need for adding eggs. Keto dough is so delicious and very easy to work with. It's not too hard or too sticky, it "behaves" like a real dough.
Keto pizza dough
This keto dough for crackers is also perfect for low carb pizza. The difference is how thin you roll it. For the crackers is the best to roll it as thin as possible. For the pizza don't roll it too thin. If you wish to make keto pizza, I have delicious and easy recipe for keto marinara or pizza tomato sauce. Check it here!
Easy to make low carb canapés
With these crackers you can prepare delicious keto canapés Just put a teaspoon of cream cheese or mayonnaise on top and a piece of ham, prosciutto, cheese or salmon on it and you get fancy little bites!
If you are looking for delicious low carb appetizers and finger food, here are some recipes from my blog you might try!
And some some sweets
Slice and bake low carb cookies with cranberries
If you like my recipes, leave a comment, it means a lot! Share your favorite recipes in your social network groups and for daily inspiration stay in touch and follow me on Facebook and Instagram!
Enjoy!
Ines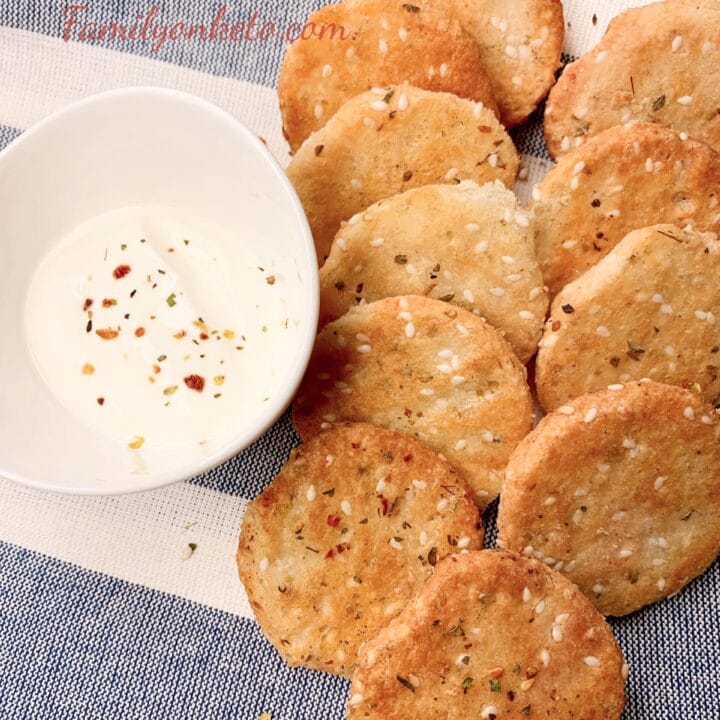 Keto crackers without eggs
Delicious and crispy keto crackers without eggs with low carb fathead keto dough. These crackers are low carb, gluten free cheese crackers for dipping or snacking.
Ingredients
Shredded gouda or shredded mozzarella cheese 2 cup/200 g/7 oz
Butter 1 TBS
Almond meal/flour ½ cup/50g/1.8 oz
Coconut flour ¼ cup/27 g/0.95 oz
Salt 1 pinch
Sesame seeds 1 TBS + 1 TBS to sprinkle (optional)
Pinch of dried oregano
Pinch of powdered garlic
Other spices optional (chili flakes, paprika, dried basil)
Instructions
In a microwave safe bowl, mix grated cheese with 1 TBS of butter, almond flour, coconut flour, sesame seeds, pinch of salt, pinch of garlic, herbs and sesame seeds.
Microwave on high for 1 minute. Remove from microwave, stir well all the ingredients and knead the dough with your hands. If it's still not possible to knead, microwave for 30 seconds more and then knead the dough.
Role the dough on a parchment paper and sprinkle with 1 TBS of sesame seeds if you like.
Cut the crackers in a shape you prefer. If you want your crackers to look fancy and want to use them for canapés, cut them round.
If you just want to have crackers without leftovers cut in cubes or triangles.
Bake on 190 C/375 F for 8 - 15 minutes (depends on your oven) until baked and golden brown.
Enjoy!
Nutrition Information:
Yield:

4
Serving Size:

¼th amount
Amount Per Serving:
Calories:

287
Carbohydrates:

8.75g
Net Carbohydrates:

5.62g
Fiber:

3.12g
Protein:

17.75g
This is for your information only. Please, calculate your own macros with ingredients you use.