This is the best keto meatloaf recipe with the best keto glaze! Tender and juicy keto meatloaf with easy and flavorful sugar-free homemade tomato glaze. True keto comfort food.
You can serve this easy low-carb meatloaf with mashed cauliflower, asparagus, or green beans. If you wish to ad few keto bread slices, I will list my favorite recipes.
My kids and my husband really love this meatloaf. I am sure your family will love it too. Even if you are not family on keto! xoxoxo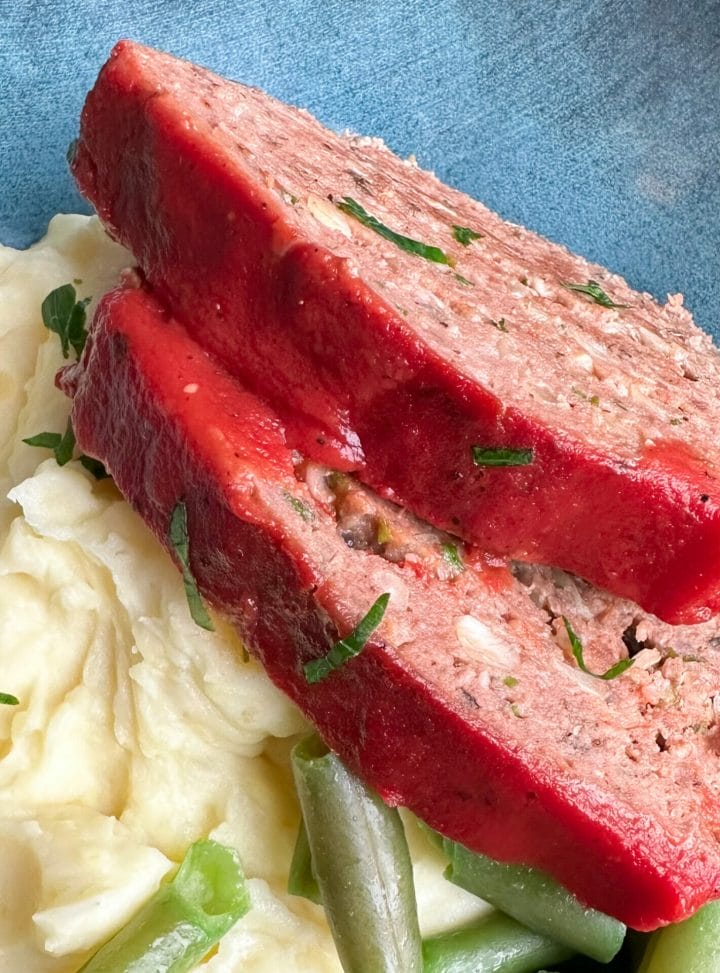 Other keto dinner recipes you might like
Ingredients for easy keto meatloaf
For this recipe, you don't need some extra ingredients. Everything is simple and you probably have it in your kitchen, or you can easily find it. Ground beef, onion, garlic, fresh parsley, egg, almond flour, and seasoning. It is perfect enough to get the juicy, tender, and super flavorful low-carb meatloaf.
Keto meatloaf sauce
This low-carb meatloaf glaze is actually a delicious homemade tomato sauce or homemade keto ketchup. It's perfectly safe for keto. There is sugar-free tomato passata, salt, pepper, garlic powder, apple cider vinegar, and a little bit of erythritol. Perfect flavor and a beautiful red color on top of your meatloaf.
HOW TO MAKE KETO MEATLOAF?
This is one of the easiest recipes. Combine all ingredients for the meatloaf. Gently combine, don't over-mix, and bake in a loaf pan layered with parchment paper for 40 minutes at 190 C or 375 F.
After 40 minutes add meatloaf sauce on top and bake for 20 minutes more, and voila! You can enjoy your juicy meatloaf or better to say keto meat cake! xoxo
Some common questions!
Can I freeze meatloaf?
You can definitely freeze this meatloaf. The best is to freeze the prepared meat before cooking. Just prepare everything and wrap it well in plastic wrap and freeze. Defrost it and cook when you like it!
Is meatloaf keto?
This meatloaf is definitely keto! You can enjoy it, it's low-carb and delicious. However, usual meatloaf recipes are better to avoid on keto. Very often they make them with sugar, breadcrumbs, et., and those ingredients are better to avoid when living a ketogenic lifestyle.
LIKE AND SHARE!
Do you like my recipes? Please leave a comment and share to support my work!
Want to calculate your macros? I have an easy-to-use, and reliable KETO MACROS CALCULATOR!
Connect with me on FACEBOOK, INSTAGRAM, and PINTEREST, and join my TELEGRAM CHANNEL. Scroll down and subscribe to my newsletter to get my recipes to your email!
Enjoy!
Ines
Keto Meatloaf Recipe
Total Time:
1 hour
10 minutes
This is the best keto meatloaf recipe with the best keto glaze! Tender and juicy keto meatloaf with easy and flavorful homemade tomato glaze. True keto comfort food. 
Ingredients
MEATLOAF
Ground beef 85% - 90% lean 900 g/31.74 oz
Onion, finely chopped 80 g/2.82 oz
1 large egg
3 garlic cloves
Tomato passata 4 TBS
Erythritol 1 tsp
Almond flour 1 TBS
Fresh parsley, finely chopped 3 TBS
Salt 1 tsp
Dried oregano ½ tsp
Dried basil 1 tsp
Ground paprika 1 tsp
Ground pepper ¼ teaspoon or more to taste
TOMATO SAUCE/GLAZE
Tomato passata ⅔ cup/150 ml
Erythritol 1 tsp
Salt ¼ tsp
Apple cider vinegar 1.5 TBS
Garlic powder ¼ tsp
Freshly ground pepper ¼ tsp
Instructions
Line a 23 cm x 12 cm or 9 inch x 5 inch loaf pan with parchment paper and preheat the oven to 190 C/375 F.
In a large bowl, add all of the meatloaf ingredients & combine.
Put the meat into the loaf pan, gently press meat down, and bake meatloaf in a preheated oven at 190 C/375 F for 40 minutes.
In a small bowl mix the sauce ingredients. Spread the sauce over the meatloaf after 40 minutes of baking.
Bake for 20 to 25 minutes more or until the internal temperature is 70 C/160 F.
Serve with cauliflower mash & enjoy!
Nutrition Information:
Yield:

8
Serving Size:

1 slice = ⅛th
Amount Per Serving:
Calories:

240
Total Fat:

105g
Net Carbohydrates:

1.85g
Protein:

3.7g
This is for your information only. Please calculate macros with the ingredients you use.