Beef ossobuco - keto osso buco recipe is really easy to make. Beef shank meat falling apart in rich low carb vegetable stew.
Osso buco is great meat for cooking in Dutch oven slowly, or in a slow cooker or even in the instant pot. How to cook beef osso bucco, you can decide based on your feelings. Because, any way of cooking of osso buco or beef shank that you choose with this recipe will be fantastic and flavorful!
Beef shank meat falling apart after cooking in a delicious, rich and flavorful gravy full of low carb veggies is one of my favorite meals.
I cook osso buco when I have my family around or when I need a rich and comforting food. This osso buco recipe is perfect when you crave tasty, nutritious meal.
It is fantastic dish for meal prepping because you can keep this beef shank stew it in the fridge for few days, you can freeze it and reheat when you need.
HOW TO COOK BEEF OSSOBUCO - KETO OSSO BUCO RECIPE
Browned beef shanks
To get the rich and deep flavorful ossobuco, you need to properly brown beef shanks. Browned meat is caramelized and giving special aroma to this dish. Also, when meat is browned, you get the taste and meat juices are "trapped" inside and preserved.
Caramelized onion
After browning the meat, next important step is onion caramelization. You need to sauté onion on lard or olive oil until translucent and golden brown. That is one more step to getting deep and rich flavor of vegetables stew in which meat is cooked.
When onion is translucent and golden brown you can add other veggies, like carrot cut in small cubes, mushrooms and tomatoes with spices.
Beef osso buco in cast iron Dutch oven
Last week I made ossobuco in cast iron Dutch oven. If you cook it on that way you will need to cook it in a preheated oven on 180 C/350 F for 2 hours until meat start falling apart.
Beef ossobuco - keto osso buco recipe in slow cooker
If you have a slow cooker and you can plan your cooking in advance, it's really delicious to prepare beef shank in slow cooker. I advise you to brown the meat, sauté onion and add all ingredients and cook it in a slow for 6 hours. You will get falling apart beef shank meat. It's wonderful way to prepare it!
Instant pot osso buco recipe
Instant pot or pressure pot is fantastic invention for all of us busy working people. Before this invention we could only dream about having a dish like this on our tables during the week. With pressure cooker this recipe for beef shanks is totally possible to make.
Again, you just need to brown the meat, sauté onion and other veggies, add spices and water or broth and cook for 45 minutes on high pressure. That's it! So easy and delicious!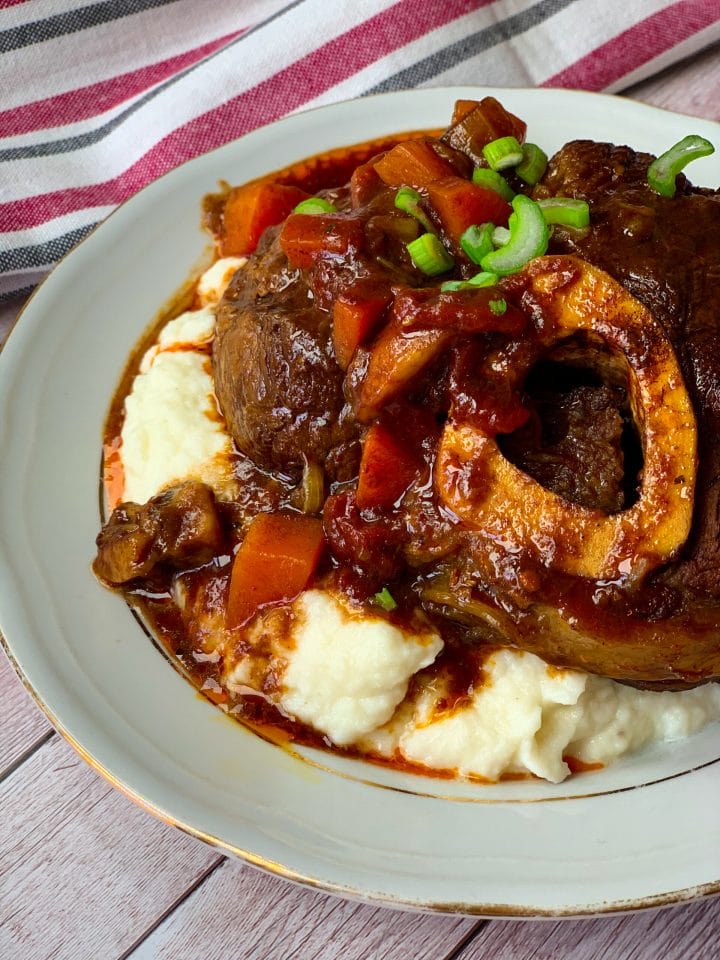 Here are my favorite instant pot keto soups and stews
Keto green bean soup with beef

Serving keto osso buco
The best way to serve low carb ossobucco is with this delicious cauliflower mash. Of course, you can serve it with cauliflower gnocchi also, or with broccoli and avocado mash.
Sharing is caring!
If you like my recipes, leave a comment! Connect with me on FACEBOOK, INSTAGRAM, PINTEREST and join my TELEGRAM CHANNEL. Scroll down and subscribe to my newsletter to get my recipes on your email!
Beef ossobuco – keto osso buco recipe
Beef ossobuco - keto osso buco recipe is really easy to make. Beef shank meat falling apart in rich low carb vegetable stew.
Ingredients
Olive oil or lard 2 TBS
Osso buco/beef shanks with bones in 4 pieces/1600 g/56 oz
Onion chopped 100 g/3.5 oz
1 carrot cut in cubes 100 g/3.5 oz
Mushrooms chopped 200 g/7 oz
Crushed canned tomatoes 1 can/2 cups/400 g/14 oz
Beef broth or water 4 cups/800 ml
Salt 2 teaspoon or less if broth is salty
Ground paprika 2 tsp
Ground turmeric 1 tsp
Dried basil 1 tsp
Bay leaf
Powdered garlic 1 tsp
Powdered unsweetened cocoa or cacao 1 TBS
Instructions
Prepare a large dish for cooking. It could be large cast iron Dutch oven, instant/pressure pot or a slow cooker pot.
Heat the lard or olive oil and cook each part of beef osso buco/beef shank on a hot lard or oil for 2 to 3 minutes on each side until browned.
Set the meat on a plate and sauté chopped onion on a remaining oil or lard for few minutes with continuous stirring until translucent and golden brown.
Add carrots chopped in cubes and chopped mushrooms, sauté for few minutes until golden brown on the edges.
Add crushed canned tomatoes, water and broth, salt, freshly ground pepper, ground paprika, turmeric, dried basil, unsweetened powdered cacao and powdered garlic.
Stir everything, put back the beef shank and cook covered in cast iron Dutch oven for 2 hours in the preheated oven on 180 C/350 F, or 6 hours in slow cooker or 45 minutes in pressure/instant pot.
Serve warm and enjoy!
Nutrition Information:
Yield:

8
Amount Per Serving:
Calories:

367
Total Fat:

15g
Net Carbohydrates:

4g
Protein:

34g
This is for your information only, please calculate your own macros with ingredients you use.